The Vampire Diaries Pictures: Who's Returning?!?
Paul Dailly at . Updated at .
The Vampire Diaries is saving a lot of crazy returns for the end of the series. 
Just released pictures for The Vampire Diaries Season 8 Episode 15 confirm that Melinda Clarke will be staging a comeback as Matt's horrible mother, Kelly Donovan. 
Kelly was last seen on The Vampire Diaries Season 1 when it became apparent she had a thing for younger guys, prompting Matt to tell her to leave Mystic Falls and never look back. 
There have been rumblings for quite some time that the character would be returning before the series concludes, but this is the first official confirmation of it. 
Considering the way she's holding a microphone in the pictures, it sure seems like she's trying to take on a leadership role. 
The episode will center on the gang throwing a fake wedding to lure Cade out of the darkness to take him out of the equation for good.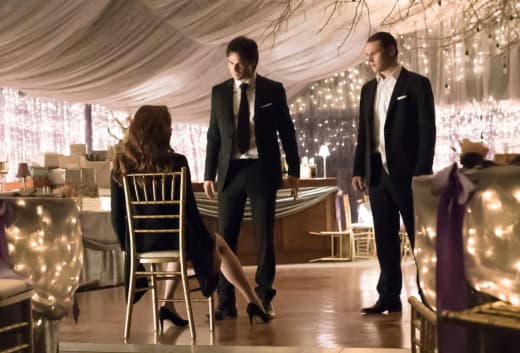 Kelly seems like the type of character to hold a grudge, so is it safe to assume that she could have a deal with the devil? 
Additionally, how will she react to her baby daddy, Peter Maxwell being back in town?
Could this encore be linked to that? 
We have no idea, but we're very intrigued to find out how it all ends for the characters of this iconic series. 
We already know that Nina Dobrev is returning as Elena for one last time, but Julie Plec revealed on Twitter that Katherine would be staging a comeback. 
Will she try and get revenge on Elena for force feeding her the cure on The Vampire Diaries Season 4 Episode 23?
If Katherine is not returning as a ghost, it would seem plausible that she could be working with Cade. 
It would be silly not to have one last link between the Doppelgangers before the series winds down for good.
Hopefully, that does not mean Amara is on tap to return. 
Her return would probably bring Silas back, and he was one of the most pointless villains of the entire series.
Let's not waste any precious screen time on those two characters.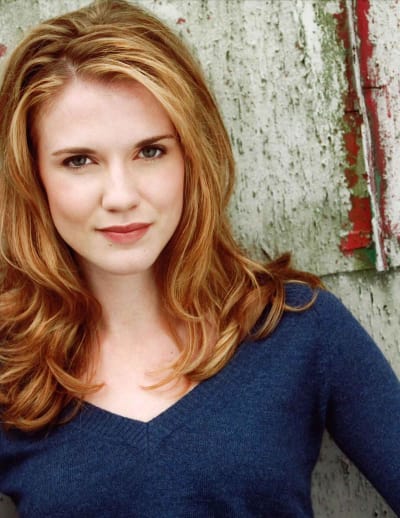 Also, it the show will gear up for a Gilbert family reunion. Yup, Sara Canning, David Anders and Steven R. McQueen are set to appear once again. 
With all of the returns, will there be enough time to give all of the current characters a meaningful send-off? We sure hope so. 
The Vampire Diaries concludes on March 10 with an essential character being sent to what's left of the supernatural afterlife. 
The Vampire Diaries Season 8 Episode 14 airs on Friday and will find Damon and Stefan going to extremes to find Cade's weak spot. 
Remember you can watch The Vampire Diaries online to get caught up with all the drama. 
What do you think of all the returns?
Hit the comments below!
Paul Dailly is the Associate Editor for TV Fanatic. Follow him on Twitter.