Grimm Season 6 Episode 10 Review: Blood Magic

Kathleen Wiedel at . Updated at .
One could once again fault the series for introducing new worldbuilding with only a precious few episodes left, but Grimm Season 6 Episode 10 made up for it with a definite poignancy to the A-story.
Alzheimer's disease and dementia are terrible enough on their own.
But someone suffering from dementia who also happens to be Wesen? A recipe for tragedy in so many ways.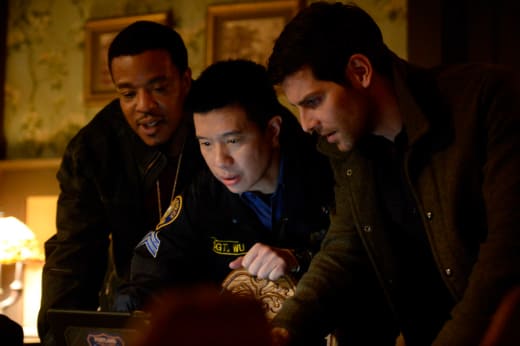 It made sense that the Wesen community would have come up with a way to handle the scenario, horrible as it is.
The story elicits serious questions of morality from the viewers. Is what the godfather of death does morally acceptable? Is it alright to kill someone suffering from dementia for the sake of the community?
The choice was made somewhat easier for Team Grimm, as they knew that Mr. Stanton had already been responsible for two deaths. Drang-zorn have previously appeared, and even small children can be deadly if uncontrolled.
If the godfather of death hadn't done his duty, it's likely that Nick would soon have been forced to do his as a Grimm.
From a viewer's perspective, the mystery of the murders wasn't that hard to solve; I had my eye on the man with the can the moment he appeared on the security footage.
But the characters and their emotional investment really sold the story for me, particularly Monroe and Rosalee. I have to say, I absolutely love those two together; they make such a fantastic couple.
Monroe: What if it's not just mirrors?
Rosalee: What are you talking about?
Monroe: Well, what if she catches her reflection in a window or, like, a china cabinet? Is this skull freak gonna pull her through those, too?!
Rosalee: Let's just stick to mirrors right now, alright?
To be honest, I enjoyed the A-story and the concept of the godfather of death and his unique place in the Wesen community. Though it does beg the question, do all of his kind perform this service? (And are they expected to?)
There's just so little time left in the series!
The B-story had Eve proactively looking into how to travel to the mirror realm to kill the green skull-face creature.
While I applaud being proactive (consulting Adalind's mother's books is a nice touch), I am definitely not a fan of the way Eve took off on her own at the end of the episode.
Not only was it painfully predictable (and downright foolish), pretty much every character had already told her not to do exactly that!
I think Eve's looking for a little redemption. Aren't we all.

Adalind
Then there was the C-story with Renard demanding to see the mystery markings in the tunnel, only to have Adalind (probably smartly) direct him to Nick, and Nick (definitely smartly) demand an equal exchange of knowledge.
I am aware that there are only 42 minutes or so in an episode, but I do wish that they would actually get this side-story going, especially given its link to Eve... who has already stepped through her mirror portal.
Did it ever occur to anyone that they might be creating a self-fulfilling prophecy, that in trying to stop something from happening they actually cause it to happen?
And why hasn't anyone interrogated Diana further on the topic of Eve's tunnel art, especially since Diana appears to be the only one who even vaguely understands it?
Some thoughts in closing:
There weren't a ton of snarky lines in this episode, but check out the Grimm quotes page for some of the notable quotes.
Will the unfortunate orderly simply be left to wonder what in the world happened to him, or will someone give him The Wesen Talk?
I am so glad that Adalind immediately told Nick what Eve was up to. How many problems could be solved, or avoided, through simple communication?
It's not surprising that North Precinct never solved their "animal mauling" case. That's the Black Claw precinct that Team Grimm slaughtered their way through Grimm Season 5.
Rosalee said that all Wesen apothecaries have the number for the godfather of death. Is there a godfather of death dispatch center...?
If you missed out, watch Grimm online to catch up! There are only three new episodes of Grimm remaining – tune in on Friday, March 17, 2017, at 8/7c on NBC for Grimm Season 6 Episode 11, "Where the Wild Things Were."
So, what did you think of "Blood Magic"? Did Team Grimm do the right thing in letting the godfather of death do his duty? Is there any better way for the Wesen to handle dementia?
Let us know in the comments below!