Keeping Up with the Kardashians Season 13 Episode 8 Review: Guilt Trip

Sarah Hearon at .
What happens in Dubai stays in Dubai... unless you're filming a reality show.
On Keeping Up with the Kardashians Season 13 Episode 8, Scott joins Kim on a trip to Dubai, and it doesn't take long (or much) for things to go wrong.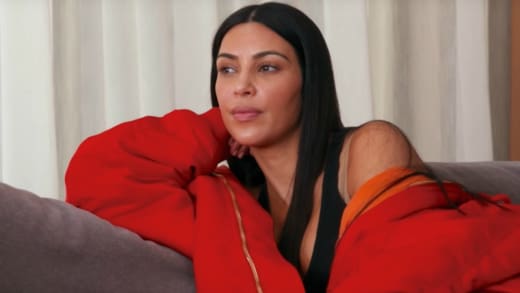 I'm going to go out on a limb and say Scott and Kris might be the most dynamic and entertaining duo on Keeping Up with the Kardashians.
Kris: This is cute. Where did you get it?
Scott: I don't know, do you want it?
Kris: Yes.
They open the episode by trying out Kris' "Fifty Shades Darker" gift set  (jokingly and fully clothed) like it's no big deal. Not many mothers have a relationship with their daughter's baby daddy quite like this one.
After his quick chat with Kris, Scott spends time with Khloe and Kim. They spend most of their time this season talking about his relationship with Kourtney.
Remember that trip Scott and Kourtney took to Aspen back in January? In case you don't follow both of them on Instagram, they spent most of the trip taking pictures and videos together after over a year of barely acknowledging one another on the internet (and in real life). 
Scott said everything was great between the two of them on the trip (they are SO hooking up), and drops a bomb when he casually mentions buying a ring to propose to Kourtney in the past. He claims he asked her to marry him, and Kourtney decided not to wear the ring to avoid the media and answering questions. 
Time went by and they never talked about it again. 
The biggest surprise of all of this is that it wasn't on camera.
Caitlyn built Kendall and Kylie a barn at her house in Malibu, and she wants Kendall to bring her horse out there. They're also going to buy horses for Caitlyn and Kylie, and maybe even a mini horse. #Casual.
This is the next episode in a row that Caitlyn has been featured in, and after the memoir drama, I can't believe they didn't cut her out.
Kim is starting to go back to normal and nothing says "Kim's feeling better" like posting on Instagram and Twitter for the first time in months.
I'm slowly coming back.

Kim
She's also going to make her first appearance since the robbery. It's in Dubai (again, #casual) and it's a makeup master class with her longtime makeup artist Mario.
Scott came along (I guess for moral support?), and of course the trip starts out with a shameless plug for the "Atlantis The Palm Hotel" in Dubai. 
Their suite includes an aquarium and a scuba diver holding a sign that says "Welcome Scott." It reminded me of the Boy Meets World episode where Cory follows Topanga to Disney World and crashes her date by showing up in the restaurant aquarium... do you think that's where the hotel got the idea? (Kidding... kind of).
At dinner, Kim is paranoid because people are taking pictures of her. She feels uncomfortable, but also understands that she is in public and this is part of her life.
Sidenote: Isn't it kind of absurd that they decided to go to Nobu (a trendy restaurant they frequent in LA) on their first night in Dubai? 
At least The Real Housewives of Beverly Hills ate camel on their trip to Dubai last year (I'm 99% sure they also stayed at the Atlantis hotel on their trip too).
Kim talks to her friends about Kourtney and Scott, and explains how hard Scott has been trying to stay sober. She thinks it's because he wants Kourtney back, and hopes it will work out between the two of them.
Jen: What do you call divorced people? A broken family?
Simon: A modern family?
Scott does an appearance at the Sugar Factory in Dubai, but is heartbroken to find out Kourtney has been hooking up with someone else. I have a hard time believing that Scott has been totally celibate during their time apart (insert pictures of him with models here), but I can't help but feel bad for him.
In a sad and unsurprising turn of events, Scott decides to drink after his friend confirmed Kourtney was with someone else. Kim's security team calls her and lets her know, so she calls Kourtney, who doesn't seem to care. 
It's true that it's not her problem anymore, but I agree with Kim that she sends mixed signals.
Back in LA, Kendall goes to see horses with Caitlyn. Kylie doesn't show up, and it hurts Caitlyn's feelings.
I'm here. I'm not good enough?

Kendall
Kendall gets frustrated that all Caitlyn seems to care about is where Kylie is, and she rides off ignoring her. Later on, Caitlyn has to apologize to Kendall because she continues to only talk and care about Kylie. The whole conversation is kind of awkward, and I can't decide how genuine I think Caitlyn is when it comes to her kids.
It's time for Kim's Dubai appearance, and her post- Paris anxiety is starting to get the best of her.
I live my life so publicly, but after Paris, I just feel like 'is this really what I should be doing?'

Kim
She's freaking out backstage, but manages to Snapchat her entrance, so deep down, she's still our Kimmy.
The appearance goes well, which makes sense because Kim has been a lot more active on in the public in recent months. 
Kourtney and Khloe briefly about Kourtney and Scott's relationship, and I still think they act like they're in middle school (just with an alcoholic twist). Travis Barker (of Blink 182) also comes over for a quick chat. Again I say, #casual. 
The best part of the episode comes at the end when Kim goes to pick up Scott and her assistant points out that there is a girl's purse in his room. 
They make excuses to walk around the entire suite to find her, and Scott's friends try to steer Kim away from the downstairs' bathroom. 
Kim storms in, and immediately starts calling the girl a whore and a groupie.
Fucking groupie. Get your shit, and security will escort you the fuck out of here.

Kim
It was dramatic to say the least, but made for great TV. Personally, I think Scott should be able to do what he wants, but he has to be smarter than to bring a girl home when he's on a trip with Kim.
It ends with a to be continued, so we will have to wait until next week to see how Scott tries to get out of this one.
Don't forget you can watch Keeping Up with the Kardashians online via TV Fanatic. 
Sarah Hearon is a staff writer for TV Fanatic. Follow her on Twitter.