Bianchi smacked his head on a bathroom sink. Julia offed herself, and Wozniak took a bullet, while Stahl held Harlee captive in the woods. 
Needless to say, the Shades of Blue season 2 finale was one heck of a ride, and our TV Fanatics, Stacy Glanzman, Jasmine Blu, and Christine Orlando, are here to break it down with our final round table.
Should Harlee have let Nava tell the truth about what happened with Bianchi?
Stacy: It's not the first murder Harlee has covered up. My issue with the whole thing though was wouldn't an autopsy show that Bianchi was suffocated and throw a wrench into the whole story? 
Also, how were there no cameras in the halls of the courthouse that showed Harlee going into the bathroom? 
Anyway, Harlee was doing what she thought was best to protect Nava. He's a good guy and shouldn't go down for accidentally injuring such a horrible person like Bianchi. 
Jasmine: I was thinking the exact same thing, Stacy. You can't just ignore asphyxiation. Do they have a coroner on pay roll? If not, they should at this point.
Plus, it's a court house, cameras are everywhere for reasons like that. Half the time there's a peace officer stationed somewhere near by too. I found all of that odd.
Harlee did what she felt she had to do to protect another loved one. It would have looked pretty bad for Nava. Even though he didn't set out to murder Bianchi, there is a strong possibility it would not have worked in his favor because of Harlee and all the ways he was connected to this case.
I felt so badly for Nava, though. When you go into the criminal justice system, particularly into law, you want to believe in the system, and justice and the truth prevailing. The reality is sobering, as is coming to grips with people like Harlee and Woz who take things into their own hands. Nava will not be the same person after this.
Christine: Yeah, we all had the same thoughts about the cameras and Harlee suffocating Bianchi. Setting that aside, Nava might have been charged with involuntary manslaughter, which could involve prison time and would have ruined his career. 
So I understand why Harlee did what she did, but she now has quite a list of cover ups behind her. I don't think Nava will ever look at her, or himself,  the same way again.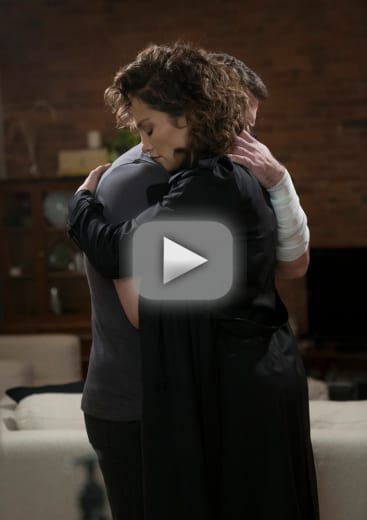 Bianchi's dead. Julia's dead. Do you wish either of them had survived to see season 3?
Stacy: Not really. I'm ready to move on from both story lines. To be honest I was sort of hoping Stahl would die too, so we could focus on new conflicts next season. But the cliffhanger was pretty crazy, so I am definitely looking forward to seeing how that plays out. I still think Stahl will have to die in order to ensure framing Miguel's murder on him sticks. 
Jasmine: No. I, too, am ready to move on from both storylines. I also feel like their deaths were inevitable given the lives they were leading. 
I'm with you, Stacy. I love Warren Kole but positively loathe Stahl, and at the rate he's going, I don't know how he can continue living. He's completely off the rails in a way that only ends in him being put down. I don't know how much more or much farther he can go anymore. That cliffhanger was insane though!
Christine: I'm happy Bianchi is gone. Julia could have been interesting considering how compromised she was and how close she was to Woz, but I'm okay with how her story ended.
As for Stahl, I hope he doesn't end up dead. Let them send him away for therapy and have him come back later claiming to be cured. Warren Kole is just so good in this role that I don't want to give him up just yet.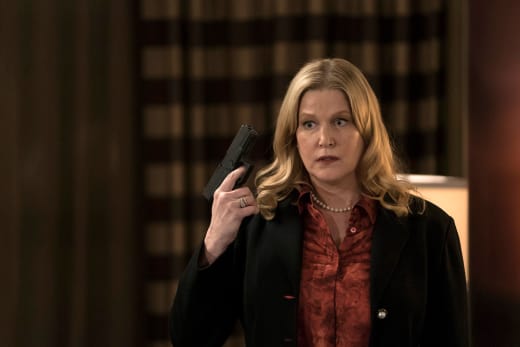 Should Wozniak have done more to save Julia?
Stacy: He could have taken the gun away from her if he really wanted to, but he let her make the choice to end it. I think in her situation, she would rather die than face what would have come next, so he probably figured letting her pull the trigger was showing her mercy. 
Jasmine: He clearly could have, but I don't think she wanted him to, and he was willing to give her that. Did she actually pull the trigger herself or did he help her along?
I'm not even sure she would have made it through a trial. Someone would have made an attempt on her life or she would have tried again later. This way she went out with the momentary glory that she won.
Christine: Wozniak's desire to save Julia ended when he found out she knew Bianchi was going to shoot up his house and she did nothing to stop it. In Woz's mind, letting her kill herself was a kindness.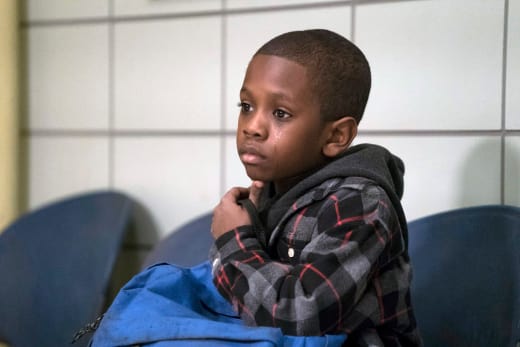 What was the most shocking twist on this two-part season finale?
Stacy: For me it was definitely that little boy shooting Woz. I did not see that coming. I was so anxious for Woz to get out the door and go save Harlee, it didn't even occur to me that he could be in danger himself.
Jasmine: There were so many shocking moments. My jaw dropped when the kid shot Woz. It happened so fast, but also  because I kept whispering "Why is the kid standing like that? What is he hiding under his coat?" 
I was floored when Harlee couldn't get the upper hand on Stahl. I thought it was the perfect time to successfully set him up or kill him off. It made me feel icky for thinking it, and the idea is abhorrent to me, but I found myself wondering if she would have done better actually sleeping with the scumbag just to lure him into some security before making her move. 
Ugh. Stahl is crazy, but I didn't expect he would hold her captive. There's no coming back from that. What's the plan? 
Christine: There were so many, how do you choose? I never thought that Bianchi would end up meeting his end by hitting a men's room sink. Talk about the opposite of going out in a hail of bullets! 
The moment I saw that Stahl had moved Harlee to some unknown house, I'd guessed it was in the middle of no where and she'd get stranded somehow. 
But the most shocking was Adrian shooting Wozniak as he's rushing out the door to save Harlee. I never saw that coming. Twists like that are one of the reasons why I love this show.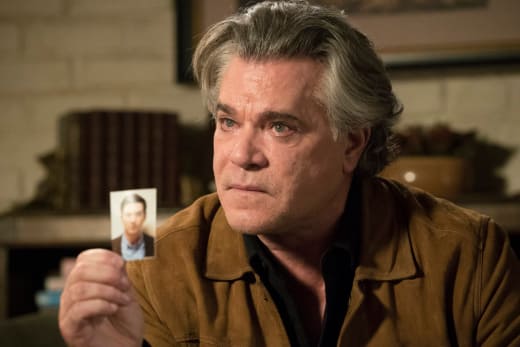 Grade Shades of Blue season 2.
Stacy: I'll give it a B+. I liked it more than Shades of Blue season 1, but there were also a few frustrating story lines. The finale was my favorite episode. 
Jasmine: I agree on all counts. I definitely give it a B+. It was much stronger than the first season. I also feel like they implemented all of the characters better than they did in the first season.
I hate that we were left hanging with some things. Like everything with Verco. The finale was my absolute favorite. I was glued to my screen. 
Christine: I'm giving it an A-. It wasn't perfect but I found myself anxiously anticipating each new episode.
All of the characters were more fleshed out this season and I cared about everyone, even when they made the wrong choices.
The entire cast really stepped up their game and every episode had some twist I didn't want to miss. 
What do you hope to see in Shades of Blue season 3?
Stacy: Well, for Woz and Harlee to survive for one thing, but that's pretty much a given (maybe Woz and Nate can share a hospital room). As great as Stahl has been this season, I'm ready to move on from him and introduce new bad guys as I said before. 
I'm glad Woz forgave Harlee, because I'm also ready for the team to be back on the same page again. Verco is still a problem that needs to be dealt with too.
Jasmine: OMG! Woz and Harlee have to be okay. I would love to see Nate and Woz share s hospital room if it means father-son bonding time. It gets me in the feels. 
I want fresh blood on the unit. Loman is still an underwhelming character for me, but he's basically become part of the gang and slowly adopted their penchant for slipping into the morally gray area. I would like to see someone new join the gang. 
Verco does still pose a problem and that has to be resolved. I kinda wish we had less of Cristina. She's such a frustrating character for me. I don't know where else they can go with Stahl, so maybe moving on from him somehow. 
Christine: I hope that Harlee's abduction ends quickly. I like that this show keeps things moving along and I'd hate for this plot twist to get dragged out more than one episode.
I'd also like see more of Nate, as I really enjoyed he and Woz's scenes this season. Less Cristina wouldn't be a bad thing, even though I think she's a realistic teenager. That's probably why she annoys people. 
I love seeing the team working together, and I agree that Loman is still the least interesting of the bunch. 
I really don't know what to expect next season but I know I can't wait for it to get here.
You're turn TV Fanatics. Grade Shades of Blue season 2.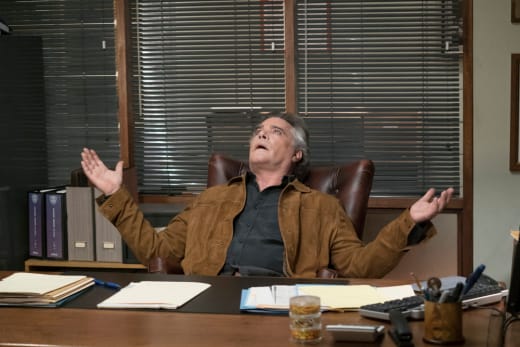 And while you're waiting for season 3, you can watch Shades of Blue online here at TV Fanatic. 
C. Orlando is a TV Fanatic Staff Writer. Follow her on Twitter.