Game of Thrones Season 7 Episode 1 Review: Dragonstone
Paul Dailly at . Updated at .
After a longer than usual wait, Game of Thrones is finally back, but did it live up to the tremendous hype? 
In true Game of Thrones Season opener fashion, Game of Thrones Season 7 Episode 1 checked in with much of the show's roster of characters. 
The opening featuring Arya ripping off Walder Frey's face was outstanding. We all watched in shock as The Red Wedding rocked Game of Thrones Season 3. 
At the time, it was one of the most shocking moments in the history of television. Arya has been on her mission to take out all of the people who wronged her family, and something tells me taking out Walder Frey and the men who orchestrated the death of her mother and brother was high on her list. 
Rightfully so. Revenge is a dish best served during a Westeros Winter, and having Arya leading the charge is especially exciting. Her little comment to the woman at the end of the scene solidified her presence as a force to be reckoned with. 
She may pick her battles, but she does so in a way that she knows how to win them. All of this killing is probably going to come back to haunt her down the line, but at least she's killing people who deserve to go. 
The dark opening scene felt like something would expect at the close of an episode. It's just a shame she Aria bumped into Ed Sheeran shortly after her big killing spree. 
You can tell Ed Sheeran's voice a mile off. That dude is talented as hell, but I'm not getting the best feeling about Arya mingling with soldiers. She could probably wipe them out without much preparation, but I hope she is not blindsided when the $hit hits the fan. 
She may have been hungry, but nothing is ever truly free, and I reckon the soldiers will quickly realize who she is, and that's not going to be good for them when they do. 
I do think Aria will be able to keep her wits about her, but still, it's difficult not to worry about The Starks. They may be rising from the ashes, but there's an element of dread every time they engage in any battle or argument.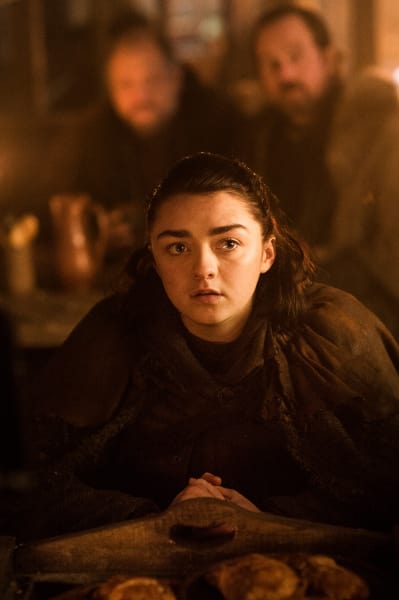 I'm getting so god damn excited for the Stark reunion. I know it probably won't happen until Game of Thrones Season 8, but it's going to be a crazy moment. 
Let's hope they all make it through this season without being killed off. I don't think that family could deal with any more of them being dealt a brutal death. 
Jon and Sansa butting heads was always going to happen sooner or later. They are two very different people, yet both of them yield the qualities required to lead a team. 
There were definitely pros and cons to each scenario they had for who to allow into the castle. Sansa, however, had the best argument. Alliances on this show shift on an episodic basis, so why should the people who ran off to help the Boltons be allowed safety for their families over the people who helped when they needed the men?
Having the two bicker is not going to send the best message to their enemies. Cersei will likely be laughing her head off when she inevitably hears about it after a few gallons of wine. 
Sansa is, of course, still scarred from the emotional abuse she suffered at the hands of Ramsey. God, the poor woman thought Joffrey was bad ... until she met Ramsay. 
Hearing Euron out was a good move on Cersei's part because she needs to even the odds before it's too late. It's difficult for me to even care about Euron. 
He has no loyalty and will go wherever the power is. He's an untrustworthy drunk who gets by killing his blood relatives in the hopes of landing on his feet. 
Cersei agreeing to marry him would secure his fate while raising his profile. Jaime was absolutely right to grill the man who could one day be getting to hit bone town with the love of his life/ sister. 
At this stage, the only thing I could see Euron doing to garner some praise from the power-hungry Queen is to kill one or all of the sand snakes. Cersei has an appetite for revenge, and Myrcella's death rocked her to the very core.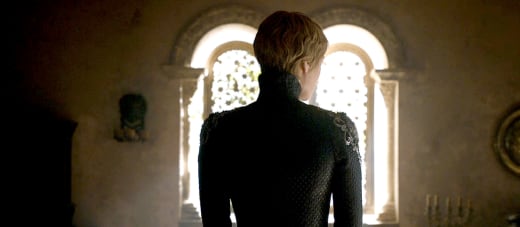 I'm struggling to come to a conclusion about whether Jaime is still madly in love with Cersei or if he's getting ready to take back seat from her. Deep down, he knows they are all going to wind up dead, and Cersei's desire for power is not doing them much good. 
There's also the possibility that Cersei will turn on Jaime. We've witnessed how she can change her mind at the drop of a hat, and she seemed pissed about Tyrion working with Daenerys. 
Of course, Jaime is being blamed for letting it happen. 
It was somewhat surprising we never got to see anything from Dorne, but the episode was already hopping through locations like crazy. Daenerys finally arriving in Dragonstone was worth the wait, but it would have been better to give us some more time with her in the premiere. 
Arguably, her storyline is the most exciting right now. What is there not to love about the mother of dragons? She has the wit, charm and a massive army at her disposal. 
Despite The Hound's storyline being dragged out, it still packed an emotional punch. He was racked with guilt for the way he treated the father and daughter who helped him and Arya out back in the day. 
That was back when it was he and Arya against the world. Getting to see The Hound thinking about those days and burying the bodies proved how far he has come as a character. 
He still hates everything, but getting to see something in the fire will likely change his stance on things from here on out. I'm not saying he will lose his attitude or anything, but he's not going to be as scared of fire.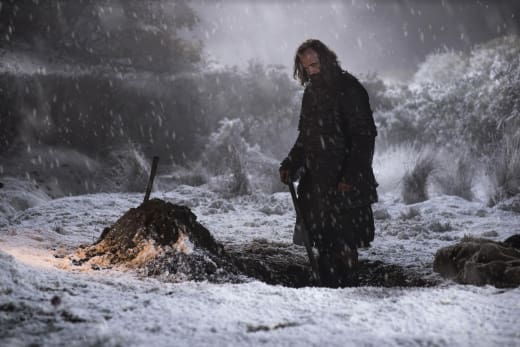 All told, "Dragonstone" was not my favorite episode of this HBO hit. Some of the scenes seemed to drag on for dear life and would have benefited from some snappier editing.
We have just twelve episodes left now, and I don't have time for slow scenes that seem to be slow in the name of dragging out the runtime of the episode. 
There was a lot to like. We got to see a lot of the characters make their way on some interesting paths, but I hope they don't try to focus on too many characters per episode because of the decreased episode order. 
Other tidbits from the episode:
Can Lyanna Mormont get a spin-off in which she just tells people what she thinks of them? I would watch eight seasons of that and probably be looking for more. 
Bran and Meera finally made it to The Wall! But, that vision was perhaps one of the grimmest yet and makes me wonder what the heck is going to happen when this war goes into overdrive. 
How nice of Cersei to threaten Jon Snow. Sansa, Arya, and Bran should pay the Lannisters a visit to let them know who is really in control. 
I'm not digging Samwell's storyline. The only saving grace from it was Ser Jorah being alive. That dude may be greyscaled, but at least he's still hanging on for dear life.
Cersei was brutally honest about her feelings on Tommen essentially being dead the moment he betrayed her. At this point, I think Cersei came to the conclusion she was going to lose all of her children. She probably sees her butt sitting on the Iron Throne as a severance package from the gods for dealing her a bad hand. 
Brienne and Tormund are TV gold. The two of them need to get it together before the season is over. They would be one of the best power couples around. 
The dragons have clearly been taking some steroids in the down time. THEY ARE HUGE. 
Over to you, Game of Thrones Fanatics. What did you think of the penultimate Season opener?
Sound off below. 
Note: Game of Thrones Season 7 Episode 2 airs July 23 on HBO.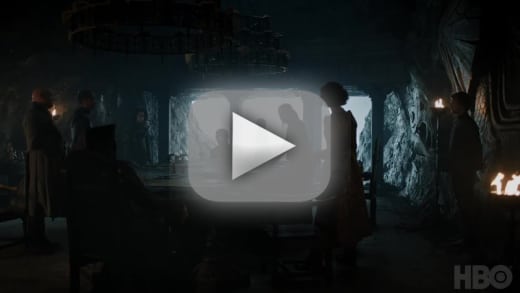 Paul Dailly is the Associate Editor for TV Fanatic. Follow him on Twitter.