Teen Wolf Season 6 Episode 11 Review: Said the Spider to the Fly

Allison Nichols at . Updated at .
On Teen Wolf Season 6 Episode 11, there's definitely a new person that you should keep an eye on, and no, it's not the hellhound. It's the guidance counselor.
Right away, it was obvious that there's something up with her. She's far too pushy, and she's not too subtle about her other motives – talking about the supernatural in Beacon Hills.
Her being a hunter is expected, but the predictability isn't frustrating or annoying. From the previews leading up to this season, we knew that Gerald and a bunch of hunters were going to be the villain, or one of the villains, of the season, so it hunters were bound to show up eventually.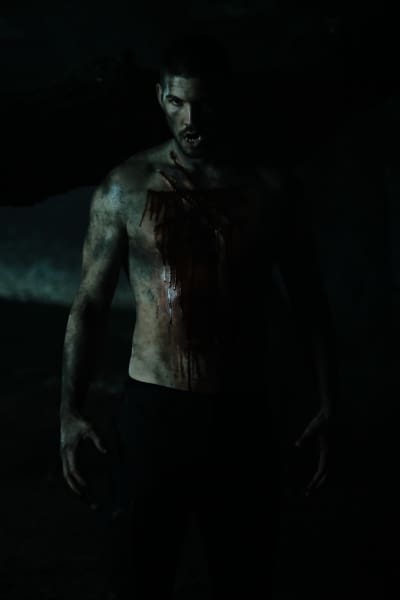 What was aggravating was the death of the hellhound.
Seriously, the only person who knows what escaped through the portal dies before he can share what escaped? 
This is a sad attempt to get the audience excited for what's to come. It's almost like a cop out. Oh look, there's something terrible headed our way, but don't worry there's one person who knows what's coming and can tell us how to prepare. Wouldn't it be terrible if something were to happen to him?
Cue the eye roll. 
Honestly, it would have been better if the hellhound only popped up to be killed by the hunter, no ominous words of what can't stay hidden. There had to be a better way to learn that something escaped, like through Lydia's beyond creepy spider web vision.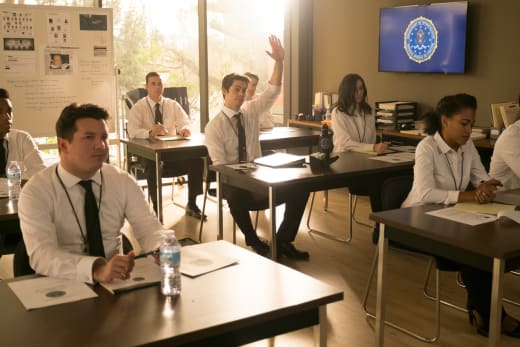 What's really bad is that I was expecting Teen Wolf to pull this kind of stunt. Anyone have any guesses as to what escaped from the portal?
Finstock: If you don't get Dunbar out here in three, this will be your last day as assistant coach.
Scott: This is my last day as assistant coach.
Finstock: I can still dock your pay.
Scott: I'm a volunteer! You want my whistle?
Finstock: Who gave you a whistle?
It's really sweet watching Scott and Lydia prepare to leave Beacon Hills. They both go and double check that everyone will be okay without them because they both know that Beacon Hills attracts a violent crowd.
We catch a glimpse of what life in Beacon Hills would be like without the original pack, as well as a glimpse of what Scott, Lydia, and Malia's lives could be once they leave Beacon Hills. If I were Malia, I would have definitely hopped on that plane to Paris.
I think it's safe to say that all we want, as viewers, is for the pack to be happy and live danger-free lives, or as close to danger-free as they can get. They've fought so hard, lost so much, and saved so many lives. They deserve to be happy and safe.
Learning that Scott is still planning on being a vet evoked pride. Our baby alpha is growing up and moving on from Beacon Hills, even if it's only for a couple years.
Then, as expected, Scott, Lydia, and Malia have to stay in Beacon Hills. I mean it's the final season, and we do not want to spend it watching Liam and Mason solve the problem by themselves (no offense, guys, but the original pack owns our hearts). 
It's nice that we catch a glimpse of what the pack's future could be and hopefully will be. They weren't planning on staying in Beacon Hills forever; they made plans to move on with their lives.
The only thing that still needs to be done is having someone like Melissa sit down with the pack and go over the pros and cons of postponing college, or whatever he, Lydia, and Malia are doing by staying in Beacon Hills.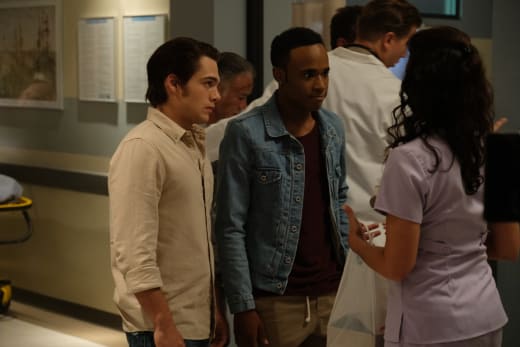 Yes, they are staying to protect their loved ones and their home but staying is jeopardizing their futures. It's not something that can be glossed over.
Considering we saw Malia, Scott, and Lydia weighing the pros and cons of telling Stiles about what's going on, I think we'll get that conversation. I doubt Melissa will be happy to learn that Scott's staying. I'm expecting yelling. What about you?
Scott: You guys didn't hear his voice. He sounded really excited to be there.
Malia: Just play the voicemail.
Stiles: Hey, Scott, so I'm here. I'm in Quantico, Virginia at the FBI. I'm at the freaking FBI! It's real. I'm really here. Look I kinda told Lydia that I miss her, and I can't wait to get home, but listen, Scott, whatever you're doing right now just make sure you're still getting out of Beacon Hills. Maybe you think that, you know, the whole thing falls apart if you're not there, which I get, but you have to. I know you're supposed to drive out tonight, so if you don't call me back, just promise me that you're going. Just get in the Jeep and go.
Stiles telling Scott to leave Beacon Hills is exactly the kind of brotherly advice that you'd expect Stiles to give. Stiles knows that Scott feels a duty to stay and protect Beacon Hills, even if there are other people who are capable of protecting the city just fine.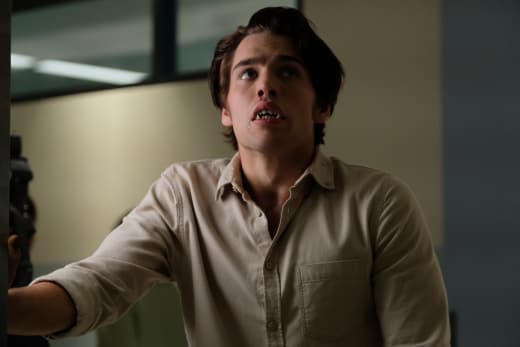 Hopefully, Stiles' words will resonate with Scott. If anyone can encourage Scott to take the leap and leave Beacon Hills, it would be his brother.
What did you think of the episode? Is anyone else dying over Derek popping up on video during Stiles' lesson at Quantico? Leave your thoughts in the comments below.
Remember you can watch Teen Wolf online anytime via TV Fanatic.