The Bachelorette Finale Review: The Final Rose (And Final Argument)

Sarah Hearon at .
Rachel Lindsay's "journey" to find love has come to an end, and she's got a ring to prove it.
The Bachelorette Season 13 Episode 11 opened up with Rachel joining Chris Harrison on stage for the live finale.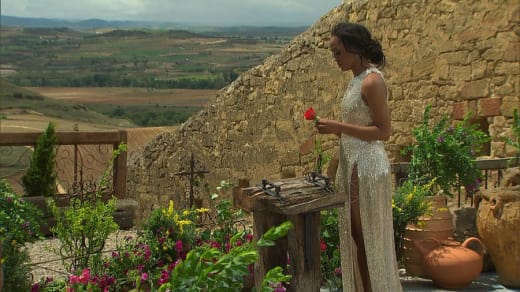 The lead usually never joins Chris until after the finale airs, and personally, I think it is unnecessary. If I want commentary, I'll go on Twitter.
Plus, It's been 11 minutes and we haven't seen one actual scene. I love Chris Harrison, but I prefer him on a beach in Mexico.
I don't know if you're enjoying this, but I am.

Chris Harrison
Since there wasn't an official episode last week, I forgot that we haven't seen all of the fantasy suite dates yet.
We pick up in the middle of Peter's date, and the tension between the two of them is at an all-time high. 
Peter and I are both falling in love with each other, so I feel like there has to be a way to fix this.

Rachel
You can tell if Rachel and Peter met on normal terms, they could be a perfect match, but the pressure of a proposal (and free Neil Lane ring) is getting to them.
I don't blame Rachel for waiting a commitment (and again, a free Neil Lane ring), but I respect Peter's honesty.
Bryan's overnight date is up next. (Eric's aired two weeks ago). 
This feels like a fantasy. This feels like a dream.

Bryan
Rachel seems a little disconnected from Bryan at first, but it doesn't take long for them to start making out again like normal.
I've said it once and I'll say it 2597275 more times: Bryan is giving me Josh Murray vibes and they will not work out in the real world. The passion and chemistry is there, but if she picks him, it will implode within a year of them getting engaged.
You can tell Rachel is conflicted between Peter and Bryan, and that she's already said goodbye to Eric in her head.
It's so on brand for ABC to throw a causal advertisement for  "Kevin Probably Saves The World" in between segments. You can tell Chris Harrison will NOT be watching, but the real question is what will have a better success rate:  "Kevin Probably Saves The World" or Rachel's engagement?
Rachel brought all three men into the fantasy suite (go girl!), and it's time for a rose ceremony.
She sends Eric home (and he's the only person in America who is shocked).
It's important to understand that I do love you, I'm just not in love.

Rachel
I feel bad for Eric, but I knew he was in the friend-zone weeks ago, and he should have too.
During the rose ceremony, Peter noticed that Rachel was looking right at him when she said she wanted a proposal and a husband. I love that she is going after what she wants, but I stand by the fact that I think dating Peter is better than being engaged to Bryan (#SorryNotSorry).
Eric (and his new beard!) join Rachel on stage after his departure. You go, Glenn Coco! 
The most important thing (besides his previously mentioned revenge beard) that I got out of the segment was he confirmed he met Rachel's dad. This means Rachel's dad was in fact at her hometown date, but just pretended to be out of town because he didn't want to be on TV. 
Eric makes a point to say he's a man now and is ready to find love with someone else. In other words, Eric is ready to bring a date to his Bar-Mitzvah! 
Now my life really can begin.

Eric
All jokes aside, Eric seems great and I hope we see him and his beard again in Bachelor Nation.
*Another ad for a new ABC TV show by Chris Harrison: Drink!*
Back in Spain, Rachel is standing in a the middle of a field (wearing a crop top and winter coat) waiting to meet Bryan. They go on a hot air balloon ride together, and the whole date just further confirms to me that their relationship is perfect in Bachelor-land, but will not work in the real world.
Sidenote: if Rachel is watching live for the first time with Chris Harrison on stage, we should have a live reaction shot from her in the corner throughout the whole episode. Let's either commit to this new format or not, ABC.
Bryan says "he's said everything he could ever say to this woman" and that should be enough. I know Bryan has SAID everything right, but has he MEANT everything he's said?
On her date with Peter, she takes him to a monastery to meet with a monk. SUBTLE.
I'm getting Sound of Music vibes on this date. #HowDoYouSolveAProblemLikePeter???
They continue to disagree about getting engaged, and I'm so over it. I've loved Peter from the beginning, but even his salt and pepper hair can't stop watching the same conversation over and over again from being boring.
In the end, Rachel walks away from Peter because she knows that if he does propose, it would be because he feels pressured into it.
I don't know if Rachel's seen the Neil Lane rings that this show offers, but she should know it isn't worth saying goodbye to Peter. I'm not saying she doesn't love Bryan too, but how could you cry that hard over one guy and get engaged to another in less than 24 hours?
Bryan's mom cannot be happy right now.
I cried my eyelashes off.

Rachel
Also, it's so weird that the show is revealing the winner this way. Couldn't they have just teased Peter showing up to propose? We all know the editors on this show are talented.
Rachel and Peter's reunion on stage is awkward and super tense. I honestly think Rachel is super frustrated that everyone in America is obsessed with Peter (and not Bryan) so she's trying to ruin his chances of being The Bachelor.
I don't think this world is for you.

Rachel
Sorry, but if Rachel was super happy with Bryan, she wouldn't be this bitter during her segment with Peter.
Despite all of that (and a whole lotta wind), Bryan did in fact propose, and Rachel is engaged.
All that is left to do now is watch Rachel and Bryan's relationship develop on Instagram, and see if they break up before Nick and Vanessa.
This season of The Bachelorette might be over, but you can always watch The Bachelorette online via TV Fanatic.
Sarah Hearon is a staff writer for TV Fanatic. Follow her on Twitter.