Law & Order True Crime The Menendez Brothers: Premiere

Tosh Smith at . Updated at .
On Law & Order True Crime: The Menendez Brothers Season 1 Episode 1, we learned that not all stories are meant to be retold. At least not in the same way as every other murder mystery.
NBC seems to be trying to capture the magic of OJ: American Crime Story, mixed with the format of Law & Order (complete with the "dun, dun" sound effect for scene changes). 
Maybe, it's because this pilot episode is meant to set up characters and backstory, but Erik and Lyle Menendez are about as interesting as a Wikipedia page. 
The story of the notorious Menendez brothers starts out with Detective Les Zoeller driving up to the Beverly Hills mansion where the bloody bodies of Jose and Kitty Menendez are found.
There, Zoeller is met by his partner, Detective Linehan. The two immediately become suspicious of the crowded crime scene when they notice the shotgun shells from the murder weapon are missing.
Every time something bad happens here, the good citizens of Beverly Hills say it's got to be the bangers, or the mob, or Charlie Manson. Always an outsider, cause nobody bad lives in Beverly Hills.

Detective Zoeller
As Erik and Lyle Menendez are introduced in an interrogation room, straight away, we see the differences between the siblings. Older brother Lyle remains calm and collected during questioning, while the younger Erik is hysterically crying about his father.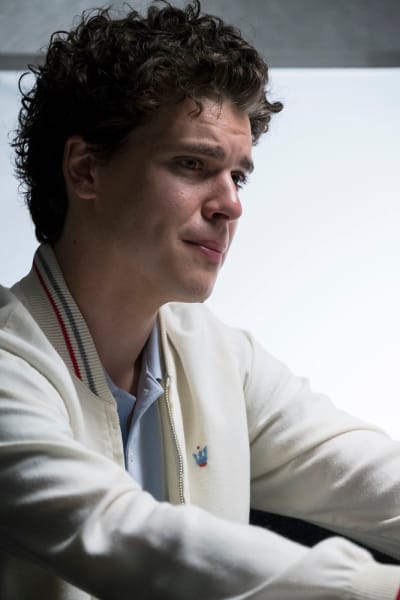 Although it's true that everyone grieves differently, the stark contrast in Erik and Lyle's behavior signals that they may know more about what happened to their parents than they are letting on. They even went back to the house to get their tennis equipment. Huge red flag there.
I saw smoke and blood everywhere. How could dad let it happen?

Erik
This scene was funny in some ways because, if someone didn't know any better, they would think that Olivia Benson was about to step into the interrogation room.
Benson probably would have been a better detective than the one interviewing the Menendez boys. This sympathizing officer believed Erik and Lyle's story about not being home at the time of the murder because they were watching a Batman movie and meeting a friend.
Speaking from experience, real-life criminal investigators are usually suspicious of the person with a perfect explanation for every question. Did Lyle really think the cops weren't going to question the friend they were supposed to meet that night?
Turns out, the friend was Lyle's old tennis coach, and Lyle was the one who didn't show up to their meeting. That wasn't the only crack in Lyle and Erik's story. The police learn from Erik's former friend that Erik once wrote a screenplay about a boy who kills his parents for inheritance.
When Lyle and Erik are given their father's company card to tie them over until their parent's will is found, the boys immediately buy tailored suits and expensive watches.
Lyle and Erik come across as pretentious and spoiled. They even quoted Winston Churchill between tears at the memorial service. Lyle and Erik are much less Alex P. Keaton on Family Ties and much more Henry Evans in The Good Son.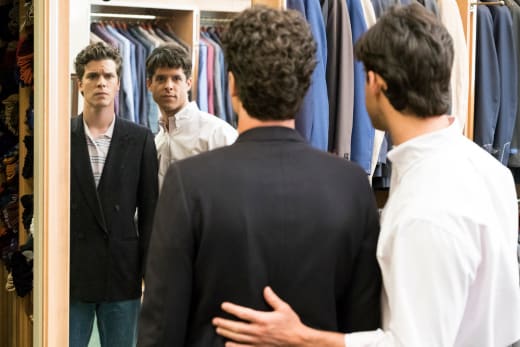 Lyle even pays a computer tech to erase a file from his mother's computer that is believed to contain an amended will that leaves the boys nothing. This alone is probably the single dumbest thing a Princeton student could do, but then again, Lyle was suspended for plagiarism so fraud was probably not beneath him.
The evidence begins to pile up against Erik and Lyle, but in the late 1980s, the siblings probably didn't understand what kind of evidence could be used against them. The police didn't even know how to retrieve data from a hard drive, something kids do nowadays.
Get rid of your parents. Get rid of the new will. Sounds like a plan to me.

Detective Zoeller
Without a will, the brothers are set to inherit $14 million. Lyle expresses his interest in buying a restaurant, with the dream of expanding to every college town in America. It's hard to tell whether Lyle is trying to uphold the legacy of his father as a businessman, or is just flexing his newfound financial muscle.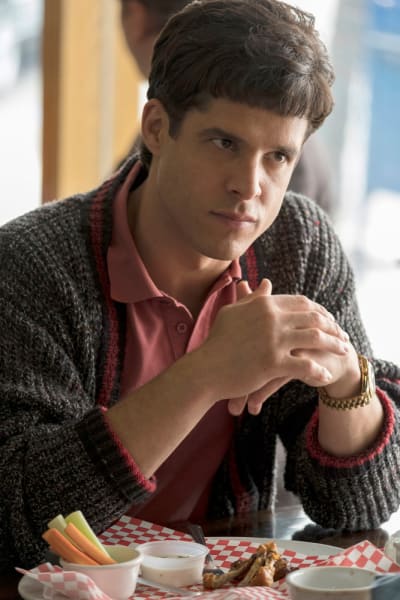 Meanwhile, Erik reveals in a flashback that his mother battled debilitating depression. A condition that Erik seems to also be afflicted with. 
At times, Lyle seems more insecure and immature than Erik. Lyle admits to his girlfriend that he was never taught how to balance a checkbook, and doesn't know how to manage money.
Erick, on the other hand, is so preoccupied with his mother's depression that he doesn't mind if his parents were recording his phone conversations. He just wanted his mother to be happy.
If you want success, you project it. You want people to be intimidated.

Lyle
One bright spot is hot-shot defense attorney Leslie Abramson (Edie Falco), who enters the equation as the voice of reason throughout. Instantly, her gut instincts tell her the brothers are guilty. 
15 shots from a shotgun... those poor people were blown to bits. Point blank to the face, back of the head. That is capital 'A' anger. There's only one thing that can generate that level of anger. Family.

Leslie Abramson
Leslie seems to have no problem defending morally-bankrupt clients, but the job of a lawyer is not to judge innocence or guilt but to advocate for the rights of the defendant. Her straight-shooter approach is realistic of most attorneys. Although, some might not be as cheeky as she was with the judge presiding over her hit-man case. 
Speaking of the judge, Anthony Edwards was a welcomed surprise in the role of Judge Stanley Weisberg. Most haven't seen him since his ER days, but he's sure to bring some excitement to the role. 
Overall, the episode was more informative than suspenseful. The flashbacks do attempt to provide some context, but at times, they seem more like scattered spoilers than plot devices.
Viewers were introduced to many supporting characters who are sure to be liabilities for the Menendez brothers over time. Lyle's girlfriend Jamie has an iffy past, Erik's psychiatrist is more interested in having an affair than treating his patient, and the siblings' cousin found secret tape recordings.
All in all, the episode's pace was a tad too slow. Hopefully, the dialogue picks up a bit next week.
Do you think the brothers killed their parents?
Is Lyle pretending to be bad with money to throw others off the scent?
Why are the boys constantly speak of their father, rather than their mother?
Share your thoughts on this initial episode of the fictional take on the Menendez Brothers story. If you weren't around for the original (and I'm sure you weren't), it was as big as the OJ trial (if not bigger) because they weren't celebrities. It created the true crime genre.
Weigh in below!!!