Murtagh lives!!!
There was at least one pleasant surprise for fans on Outlander Season 3 Episode 3. Jamie may be locked up, but he's found his clansman. And we finally get to meet (a grownup) Lord John! Prison isn't turning out to be so bad after all, huh?
Claire's situation seemed worse than Jamie's in many regards, even if she does have the conveniences of modern living. The slow decay of her relationship with Frank was agonizing, and his death left us all with a lot of mixed feelings.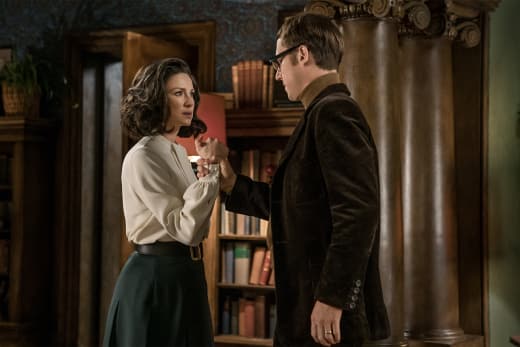 I'll certainly miss Tobias Menzies. He brought both Frank Randall and Black Jack Randall to life with great skill, giving both of the characters depth and nuance. 
Of course, I also wouldn't count out an occasional return from Menzies. As the showrunner's pointed out in the after-the-show interview, Outlander is a show centered on time travel. 
I doubt that Frank (or Black Jack) will be traveling through any stones anytime soon, but as a rerun of Battlestar Galactica recently reminded me, Ron Moore has a habit of using flashbacks to explain a character's motivations. I could easily see Bree reminiscing on key moments in her life with Frank in upcoming seasons.
Frank: You couldn't look at Brianna without seeing him, could you? Without that constant reminder, mightn't you have forgotten him? With time?
Claire: That amount of time doesn't exist.
If Outlander does decide to use that tactic to bring back Menzies, I just hope that it's more artfully done than the flashbacks shared of Jamie and Lord John's first meeting.
That was a low point in an otherwise excellent hour of television. Reusing material from Outlander Season 2 is lazy and shows a lack of respect for the audience. It was a play straight out of a 1990's sitcom, a cliche that was better left dead. 
If producers really felt it was necessary to remind us of the circumstances of their meeting, they should put it in the "Previously On" intro. But it wasn't necessary. It was a fairly recent event in the story (especially for those who binge), and it was just referenced on Outlander Season 3 Episode 1. 
If you found a 16-year-old shitting himself with fear a worthy opponent, Mr. Fraser, it is little wonder the Highland Army was defeated.

Lord John
Jamie's time in Ardsmuir was full of important plot points, but I have to say that it was the slow death of the Randall marriage that held my attention.
Maybe it's that Menzies and Catriona Balfe play off of each other so well, or maybe it's that the death of a marriage is something we all fear, something that we can all relate to in some way or another. It was mesmerizing.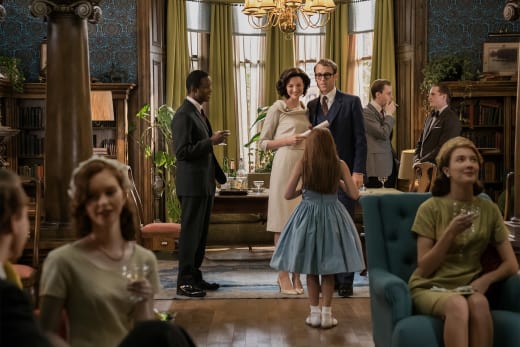 And it served to give Claire back the moral high ground. She may not have been emotionally available to her husband, but she wasn't bringing her lover round to the house in the middle of a party. And she was gracious the first time that divorce was brought up, offering joint custody of Bree. 
Claire: Have you fucked her in our bedroom? Have you?
Frank: I think our bedroom is far too crowded already. Wouldn't you agree?
Even after all of the misery they caused each other, Frank's death was devastating to Claire. Balfe nailed that scene. I can't tell you how many times I hit rewind and watched her tear land on Menzie's face as she said her final goodbyes.
In contrast to the highly emotional scenes in Boston, Ardsmuir just felt a little flat. Maybe it's the ramrod up Lord John's arse, but I just didn't feel emotionally connected when he talked about losing his friend lover. 
Granted, Lord John and Jamie had a lot to squeeze in with very little time. From pure hatred to unrequited love (or at least lust) in 60 minutes? That's asking a lot.
Lord John: You gave me my life all those years ago. Now I give you yours. I hope you use it well.
Jamie: Yer brother discharged that debt.
Lord John: For the sake of the family name. I discharge for the sake of my own.
And that's just the emotional side of things. This is where I really wish that cable shows had longer seasons. Not that I want to keep our protagonist a second longer than necessary, but the pacing at Ardsmuir just felt off.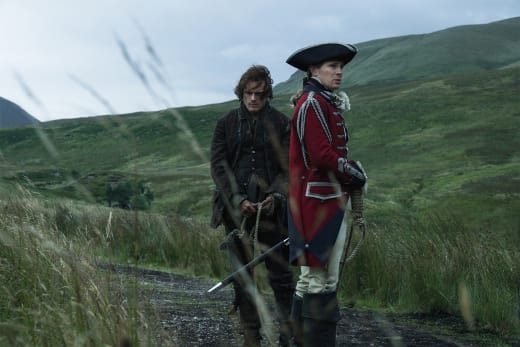 At least we got to see Jamie the Haggler and Jamie the Leader. It is truly amazing how that Scot can command the respect of just about anybody. 
Who else would go into an eighteenth-century jail a broken man and manage to rediscover himself? If I faced the kind of extreme privations that MacDubh's men faced, I'd probably just give up, not find my purpose in caring for others.
I think perhaps the greatest burden lies in caring for those we cannot help, not in having no one for whom to care.

Jamie
But Jamie's been taken from his men and his home once more, banished to England. His experiences as a Scot in exile will be showcased on Outlander Season 3 Episode 4 ("Of Lost Things"). Meanwhile, Claire will rejoin Bree and Roger in the search for Jamie.
But how will they find him? Lots of dust and photocopies and library visits to be sure. And some good old-fashioned Highland luck. We're one step closer to the reunion of a lifetime.
If you missed "All Debts Paid," you can always catch up by watching Outlander online, or checking out our reviews. 
Was it a relief to see Murtagh, or just a cruel tease having him ripped away again? Was Claire right allowing Frank such a close bond with Bree when it hurt her own relationship with the girl? Was Frank right staying as long as he did? 
We want to know what you think, so share your thoughts in the comments below!
Elizabeth Harlow was a staff writer for TV Fanatic. She left the organization in October 2018.