Modern Family Season 9 Episode 2 Review: The Long Goodbye

Tiffany Staton at . Updated at .
Manny finally went to college.
It's been a long time coming. Especially considering he's basically a 30-year-old stuck in a 15-year-old's body.
On Modern Family Season 9 Episode 2, Manny takes a big step forward while Hayley takes a big step sideways?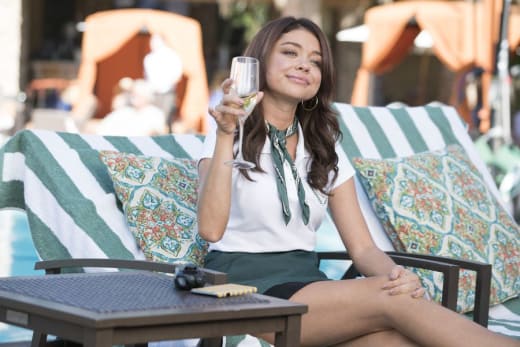 Manny wanted nothing but a short, unemotional goodbye.
He's been trying to act more mature, and not crying in front of his new roommate is a good start, but Gloria struggled with this.
He's her little boy. For a long time, he was the only one she had; the only person she could count on. 
Still, she knew this day was coming. Manny has been destined for college since the day we met him. So she did her best, mustered a half hug and offered some cold, stiff condolences.
We will keep in touch, son.

Gloria [dropping Manny off at college]
Claire and Phil have their own college-related struggles. 
Alex is on her own, and they're worried she can't handle it. They're convinced – or at least Claire is and Phil is happy to go along – that she needs them.
Although, how much did she ever really need them? She was always the most self-sufficient of the Dunphy children.
They plan to show up with snacks, cleaning supplies, and a bicycle and rescue their daughter.
Only, it's not necessary because when they show up, her room is clean, the snack cabinet is fully stocked, and she's on her way out to the robotics lab.
Their concerns were clearly more about them than her. Like Manny, their little girl has grown up, and she doesn't need them anymore.
Luke: Why does Alex get a care package and not me?
Claire: You live in a care package.
Of course, kids always need their parents, just a little bit less as they get older. It becomes more about emotional support rather than physical.
For example, Alex didn't need the snacks, but she did need her parents to follow her to the robotics lab, fight their way through the air shower, and force her to confide in them about what's bothering her.
She's a female in college, so there's always something. I can say that. I was once a female in college. 
Alex still feels like an outcast; it's a feeling that's probably followed her everywhere she goes. The great thing about college though, is it's nothing like high school. In fact, it's often the complete opposite of high school. 
What's matters in high school – popularity, wearing the right clothes, or dating the right person – doesn't mean a thing in college. 
College is all about finding your true self and letting your freak flag fly.
College is Alex's jam. She's going to do great there. She just needs time to figure that out. Claire and Phil were the ones to tell her that and, in the end, they all walked away feeling better. 
Jay: If I didn't say it, it's a big deal, you going here.
Manny: If I didn't say it, I couldn't have done it without you.
Now, if only Hayley could stop making immature decisions and selling herself short.
Luke had the right idea, even if he only wanted to keep an employee working. 
He tried to be the angel on her shoulder. Literally, at one point he was dress in white over her shoulder in the distance while Rhonda was dressed in red over the other shoulder.
The devil won, as it tends to with Hayley.
Rhonda, by the way, was played by the brilliant and beautiful, Vanessa Williams. 
While I didn't love the reason the devilish opportunity disappeared – not all older women are threatened by younger women – I did love that Luke was there to immediately welcome Hayley back with open arms.
Even if it meant crushing the dreams of the first ever male car girl.
The other storyline had Cam and Mitchell returning from a walk to find their kitchen burned to a crisp.
Whether Cam left the oven on or Mitchell ignited a fireball while making his smoothie, the kitchen is destroyed.
Although their banter is always hilarious, the plot just didn't hold a candle to other two.
Let's face it, like Drew Barrymore, I am an adorable fire starter.

Cam
That being said, I wouldn't mind seeing more of the process as they go through it; washing dishes in the shower, having tea on the mantle and making smoothies in the living room.
I can see things getting frustrating pretty quick. Even with smoothies.
Mitchell: What're you doing?
Pam: I'm making one of your fruit smoothies.
Mitchell: Uh Pam...
Pam: Fine, I'm making one of your homosexual smoothies.
We may not have gotten a long goodbye as the title suggests, but we got a few short, sweet ones and that's what matters.
Claire and Phil were leaving Alex with her new friend, patting themselves on the back for killing it as parents.
Luke and Hayley were sharing a hug as he gave her back her job without hesitation.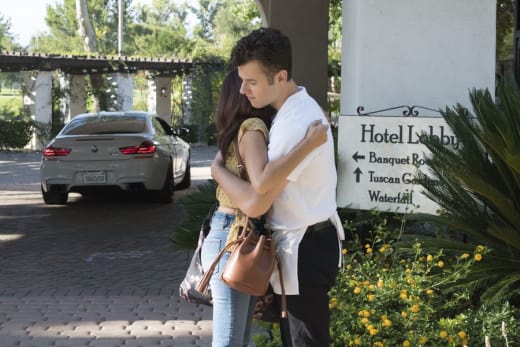 Gloria and Jay were showing up at Manny's dorm, accidentally on purpose, to get one last hug.
Those are the moments that made this episode great.
Postscript: Joe trying to pick up where Manny left off was adorable, as was his plan to trap Santa and have Christmas every day of the year.
If you missed it, make sure you watch Modern Family online via TV Fanatic.
Tiffany Staton is a staff writer for TV Fanatic. Follow her on Twitter.