The Exorcist Season 2 Episode 6 Review: Darling Nikki

Lisa Babick at . Updated at .
Nikki is not so darling.
It got intense on The Exorcist Season 2 Episode 6 as Andy became more and more influenced by Nikki.
Rose didn't want to believe what Marcus and Father Tomas had suggested, but by the end of the hour, she knew they were right.
If Nikki is as ancient as Marcus and Father Tomas believe, they have their work cut out for them. 
Andy lost complete control of himself when Grace became Nikki. He still hadn't recovered from her suicide which gave the demon the opportunity it needed to weasel its way into his life.
Turning into Nikki was the perfect way for the demon to gain full control of Andy. He couldn't resist even though he knew deep down that something wasn't right.
Andy's behavior was out of line and quite bizarre during dinner with Father Tomas and Marcus. He was weird when Grace was around, but it climbed to a different level once Nikki arrived.
Rose recognized that Andy wasn't acting right, but she tried to deny it like any normal person would. She obviously still had feelings for Andy and didn't want to believe that he could be possessed, especially after what she experienced with Harper and her mom.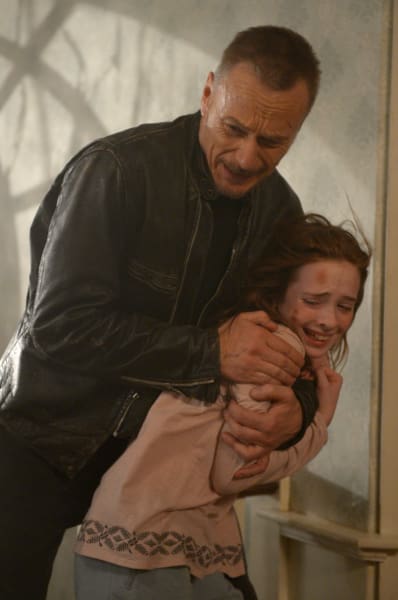 Possession isn't something anyone would believe unless they saw it first hand, but all the signs were there even before Tomas and Marcus talked to her.
Marcus got his groove on at dinner when Andy couldn't control himself. He finally had something to sink his teeth into, and he knew that he and Tomas would be dealing with something much more powerful than they had before.
He was so excited about the prospect of a new fight that he started to relax about Tomas' dance with the devil which seems to be getting more serious. Marcus did have a point, though. Had Tomas not had his visions, they wouldn't have found Andy and his family.
But Marcus doesn't realize that the demons are working overtime to integrate with Tomas. The visions are just showing up whenever they want. Tomas is starting to lose control, and Marcus is in danger.
Andy lost control at dinner. He was acting bizarre challenging Marcus and Tomas about their work. I had to laugh at Andy's outbursts, especially when he said "Ramen" at the end of the prayer.
After dinner, it was even more intense. Marcus knew a demon had attached itself to Andy, and he took great delight in taunting it. Nikki did her best to get Andy to calm down, but it was too late.
Marcus had already started to put on his battle gear.
Even after all the weirdness, Rose still didn't want to believe there was anything wrong. She blinded herself and gave into her feelings when Andy kissed her. He might have been able to fight Nikki had she not shown up in bed, but once that happened it was over.
When Harper's mom showed up, I thought it was another demon incarnation. I was surprised she was real, but I was more surprised when Andy killed her. He didn't even realize or care that he killed the woman in front of the kids.
At least Marcus and Tomas are in the house. Had the full integration happened before they arrived, they might not have been able to get back into the house to work their magic and save not only Harper and Rose but all the other kids, too.
Did anyone else think Marcus was going to kiss Tomas when they were outside praying? I got the distinct feeling that Marcus wanted to lock lips at that moment because he was so turned on from his run-in with the demon.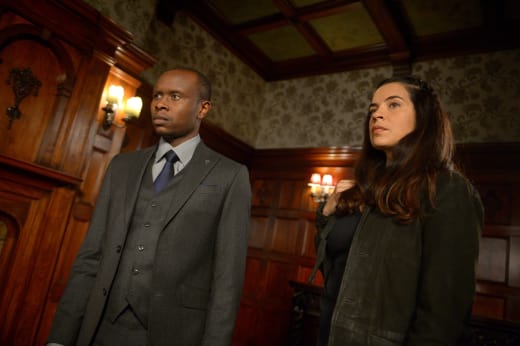 I have to be honest. I don't want that ship leaving port. I like them better as a platonic team. Becoming lovers would just add unnecessary complications, but it can't be denied there is chemistry there that goes beyond their working relationship.
Speaking of working relationships, what's the story of Mouse and Marcus? She didn't want Maria spilling the beans to Father Bennett and shot her before we learned what happened at The Abbey.
Bennett isn't going to let it slide if he lives. Eventually, the truth will be revealed, and Mouse will be reunited with Marcus whether for good or bad. That's where I see the story heading.
Marcus and Tomas are going to need all the help they can get. The Nikki demon is more powerful than anything they've experienced before. Marcus has seen a lot in his life, but he hasn't seen anything like this. 
How many times has he been lifted off his feet by a demon? My guess would be zero, and with Tomas fractured because of his visions, Mouse may be Andy's only hope.
What do you guys think? How did you like "Darling Nikki"? Was it scarier than any of the previous episodes?
Will Marcus and Father Tomas be able to fight the ancient demon inside Andy? Will the kids be okay?
Hit the comments and share your thoughts.
You can catch up on past episodes when you watch The Exorcist online right here via TV Fanatic.
Lisa Babick is a staff writer for TV Fanatic. Follow her on Twitter.