Once Upon a Time Season 7 Episode 11 Review: Secret Garden
Paul Dailly at . Updated at .
Farewell, Rapunzel. 
On Once Upon a Time Season 7 Episode 11 the polarizing character lost her when she sacrificed herself to save Drizella, and it made for an exciting hour of this soon-to-conclude ABC drama. 
It was only a matter of time before Rapunzel redeemed herself, and it was obvious she was gearing up to swap places with her daughter the moment Drizella was caught inside Gothel's spell.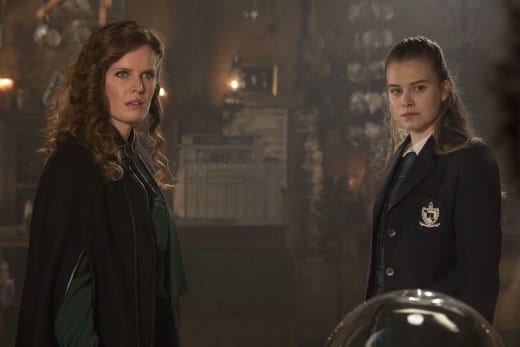 The icy demeanor from Rapunzel towards Drizella was at times cumbersome, but having the mother-daughter duo at odds has made for some of the best moments of this rebooted season of the series. 
If you watch Once Upon a Time online, you will already know the true extent of their hatred for one another, but it's a big thing to have one of them die for the other.
I'm not so sure Drizella would have done the same thing had the roles been reversed.  
Related: Once Upon a Time Canceled After Seven Seasons!
Given the way Rapunzel wheeled, dealed and double-crossed everyone in sight to get Anastasia back into the land of the living, one would think she would have wanted to stick around. 
But it seemed that even the character knew her purpose on the show was to bring her daughter back to life and disappear quietly into the afterlife. 
Regina: Hey, how are you? How's Lucy?
Henry: She's stable, but she's not getting any better. Me? There's nothing I can do to help, so there's that.
Regina: Hey, don't give up. Lucy needs you right now. She needs your help; even she can't ask for it. I may not have known you long, but I can tell. You're a believe Henry. Even if you don't know it. Just like Lucy.
Henry: Yeah, well thanks for the pep talk.
Who said nobody takes accountability for their actions in Hyperion Heights?
This twist will present some exciting episodes for Drizella as she comes to terms with the fact that the woman she thought hated her gave her another shot at life.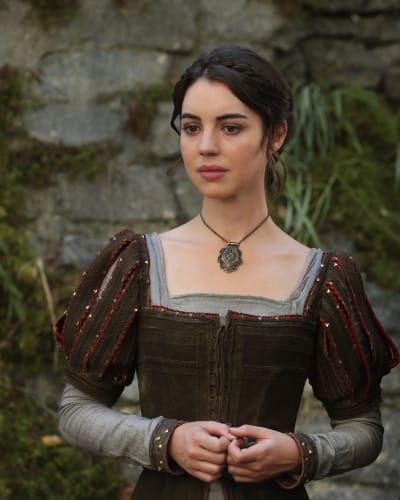 Drizella has been consumed by hatred for so long that it will be a complete 180 to watch her do something else. There's a good chance she will join the rest of the gang in the fight to take down Gothel, but I won't be surprised if Regina does not dole out some revenge on her.
It's been tough to watch Regina act like everything has been fine since she was awoken by Drizella from her curse-fueled slumber early in Once Upon a Time Season 7. 
Related: Once Upon a Time: Jared Gilmore Returns!
It's unclear whether Drizella will continue to fight with Regina, but her new lease on life might find her picking her battles more as opposed to rushing into feuds. 
I struggled to get through the scenes with Robin. There was something about the character that felt off, and I cannot fathom what it was. I understand that she was supposed to be this angsty teenager, but her storyline was about as engaging as the love story between Henry and Jacinda. 
The only saving grace from her scenes was her reaction when she used the bow. It felt like a natural progression for a convoluted character. 
Not everyone is cut out for magic, but it seems like the name is not the only thing Robin has in common with her father. 
Am I the only one who still does not care about Henry and Jacinda getting closer? As I've said multiple times before, there is no chemistry whatsoever between the two characters. 
Related: Once Upon a Time: Who's Out?
It makes it difficult to take any of their scenes seriously, and everything in the hospital played out like a terrible Lifetime movie. It was typical that the doctor was killed off just as she found out that Henry was Lucy's biological father. 
The positive from all of it is that a murderer is on the loose, and I'm going to bet the person pulling strings is Nick. He is the only other person who would make sense at this stage. 
It would be frustrating If it turns out to be someone like Tiana who had zero presence in the episode. Nick is close to Lucy, and Jacinda. He seems like the most likely candidate to me. 
He's not related to Lucy, so he has to have some other purpose on the show, and I refuse to believe he's going to find out about Henry and then disappear into the ether. 
What would be the fun in that?!
"Secret Garden" was a solid return for the series which is in its final season. It successfully set up some exciting storylines as the show builds towards a conclusion. 
It's just a shame the powers that be seem intent on pushing Jacinda and Henry together because they are one of the worst couples on all of TV. How are we supposed to get on board with the couple that has no connection?
It's like trying to get blood out of a stone, and I would much rather see Henry get together with Drizella. Those two are made for each other. 
Okay, Once Upon a Time Fanatics. What did you think of the episode?
Were you surprised Rapunzel sacrificed herself to save Drizella?
Hit the comments below. 
Once Upon a Time continues Fridays on ABC!
Paul Dailly is the Associate Editor for TV Fanatic. Follow him on Twitter.