George Brown's entire adult life turned out to be one big lie on Bull Season 2 Episode 19, and the person it hurt the most was the woman he loved.
I can't say that I didn't feel sympathy for George, aka Jim Grayson. He was only 18 years old when his entire life was turned upside down.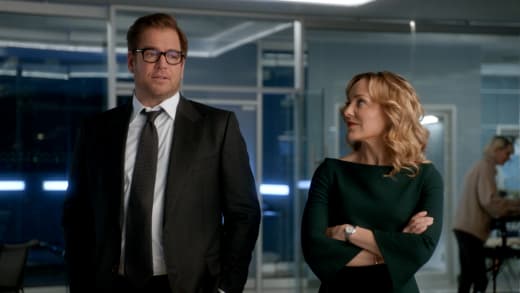 George's parents were dead, and his only family was his older brother, Richard, who had just committed a robbery where a man died. So when Richard told George to run, he ran. 
I almost couldn't blame him for that or for buying a new identity. 
Related: Get CBS All Access via Amazon Channels for Hit Shows, Exclusive Originals & Live TV!
It was when he got married and had three children and never told his wife, Kristen, anything about his past that my sympathy began to waver.
Yes, one could say that keeping her in the dark meant she honestly didn't know she was harboring a fugitive, but he let her base their entire married life and family on a lie.
I was impressed by Kristen from the start. Even when her husband was denied bail, she didn't blame Benny or Bull because, as she stated in this Bull quote, she could see what they were up against.
Apparently he's been making them look like fools for 20 years. I don't think Johnnie Cochran could have gotten him off.

Kristen
George obviously wasn't the brightest bulb if he didn't think twice about submitting his finger prints for a liquor license. Did he just think everyone would forget he was wanted for murder?
The most heart wrenching moment was when Kristen realized that even the origin of their children's names was a lie. Malone wasn't named after her husband's favorite baseball player, but after his deceased father. 
George could have told her that. I'd guess he'd told her his parents' were deceased, or else she would have expected to meet them, so why not say he wanted to name their children after them?
My children are named after parents I never knew anything about and a brother-in-law I never met. Why would he do that? That's not a lie he needed to tell me and how many more of those are there?


Kristen
And that's just it. Their entire marriage has been built on lie after lie after lie. 
Chunk had the most sympathy for George because he'd been lying to his own daughter for the majority of her life, but that correlation only made me like George that much less. 
CBS Sets Season Finale Dates For The Big Bang Theory, NCIS & MORE!
Kristen not only got blindsided by the police at her door arresting her husband for murder, and finding out that Jim Grayson wasn't who he was at all, she got blindsided yet again in open court by more of her husband's lies. 
And still, she showed back up to support him. 
Kristen and George, formerly Jim, obviously loved one another a great deal but despite Bull's heartfelt tears at the end, I'd expect their marriage would hit a pretty rocky road after this. George has a lot of trust he needs to rebuild.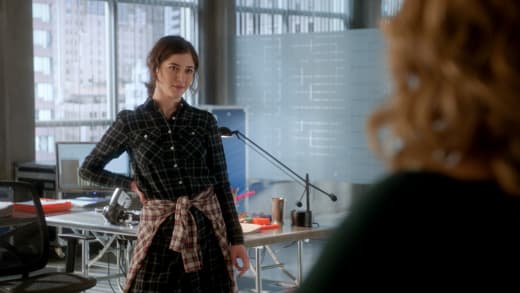 The case itself had just enough twists and turns to keep it interesting. 
I thought the credit card fraud case was a little flimsy, and would a restaurant really have time cards still available that many years later? And how many employees would still be around who would remember a dishwasher?
I was a little surprised that it took Benny and Bull so long to speak with the brother who was already in prison for the crime. I know his testimony would be tainted by the family relationship and the fact that he's a felon, but I would have thought they'd want to hear his side of the story as soon as they took on the case. 
One of my favorite moments was when Danny woke up in th middle of the night because something about the video surveillance was nagging at her.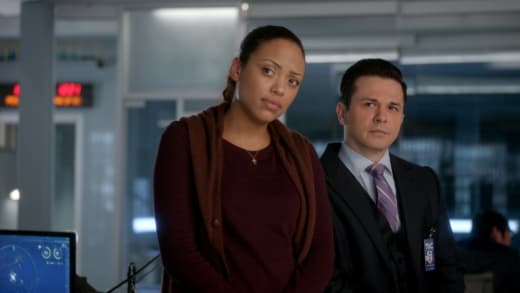 I expected the prosecution to say that Kurt raised his hands because Richard was threatening him and told Kurt he had the gun in his pocket before he pulled it out. That could have been a plausible story considering there was no audio to go along with the video, but they never made that argument. 
The part that didn't make sense to me was the Assistant District Attorney dropping the charges before the jury had reached a verdict. 
It was really only Richard's testimony that backed up the story that George knew nothing about the robbery.
But I will admit that Dr. Jason Bull gave one heck of an impassioned speech...
Mr. Assistant District Attorney, you're not a stupid man. You know you're not getting a conviction against George Brown. Not today, not ever and that's with me and my team having about a week to prepare. You put my client through another year of this hell and I promise you I will spend every day of that year getting ready for the new trial, and when we meet again, you won't know what hit you.


Bull
If I were in the ADA's shoes, I would have let the jury deliberate and then dropped the charges if it had been declared a mistrial, but perhaps the man really believed that George was innocent and just decided to do the right thing. 
But how often does that really happen?
SEAL Team and S.W.A.T. Renewed at CBS!
And there may not be crying in baseball, but thanks to Jason Bull's mushy heart, there appears to be some tears in trial science. 
So TV Fanatic, tell me, if you were in Kristen's shoes would you have been so quick to forgive George?
Check back in for my review of Bull Season 2 Episode 20, and until then, you can watch Bull online here at TV Fanatic. 
C. Orlando is a TV Fanatic Staff Writer. Follow her on Twitter.