The 100 Season 5 Episode 2 Preview: Everything is Fine

Yana Grebenyuk at .
The 100 premiered with an unforgettable premiere, most of which explored Clarke and Madi's adventures on the ground and the SpaceKru preparing to finally come down to join them.
The end of The 100 Season 5 Episode 1 though effortlessly transitioned into the bunker's current state, or more specifically the blood-soaked world that Octavia seems to be in charge of. 
The second episode of the season is using the title "Red Queen" which we can safely assume means Octavia. And the synopsis for the episode is, "Octavia (Marie Avgeropoulos) is forced to take guidance from an unlikely ally when the future of the bunker and all those inside it is jeopardized."
Now, this preview may contain some light teases about the second episode, with a specific focus on characters and scenes that have been discussed before or have been included in promotional videos and/or photos.
Proceed with caution if you like to be kept in the dark, but really, who likes that?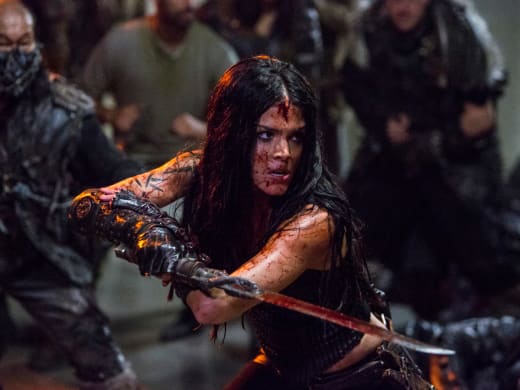 Similar to the premiere, this episode will follow the people in the bunker from around the time that they end up stuck because of Praimfaya to the present day that we caught a glimpse of in the last few moments.
It is clear that a lot has changed under Octavia's leadership after six years and the vivid imagination that Bellamy seems to be using when talking about his sister is far from the actual truth.
There is no better way to describe what is happening down there outside of that gif where the dog says everything is fine while everything around him is burning.
But this was an episode that I do not doubt that many will appreciate because of the storytelling that went into covering six chaotic years in under an hour. 
In fact, it felt almost like watching an action movie that covers so much ground, pun intended, and yet still leaves us curious about all the gaps that haven't been filled in for us yet.
Related: The 100: Mental Health and The Necessity of Moving On
Season 1 Vibes Maybe?
Binge watching The 100 Season 1 still feels fresh in my mind because I remember doing it in about two days and the scenes on the Ark always ended up leaving me at the edge of my seat.
Like literally, I would end up sitting at the edge of a chair because I couldn't relax when so many twists were making their way through each episode.
That is mostly how I felt watching Red Queen because it was a self-contained story that forced me to realize that I had no idea what was going to happen but that a considerable population was at stake with every decision.
The Ark also had many of the same issues, because when it came down to it, all the laws that they inflicted came from a need to make sure their population had enough food, water, and air.
As painful as it was to stomach some of the choices that the leaders made, it was even harder to imagine people dying in significant numbers instead.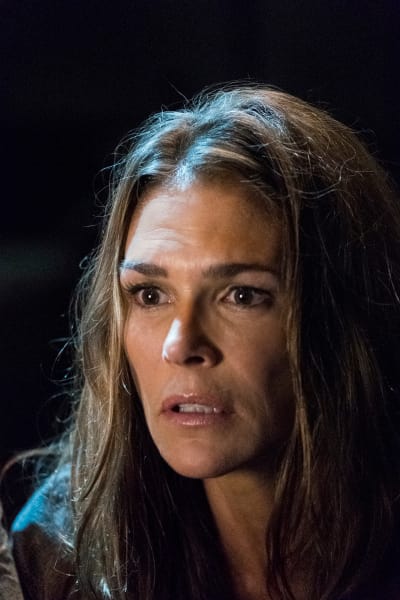 The Bunker may represent this predicament considering they have the biggest population to look after compared to Clarke's two girl team on the ground and Bellamy's kickass sky team.
The characters are in there for six years instead of the projected five and at some point that has to impact their decision-making process.
They need to survive another year, if not more since they don't know what we know. There is no TV down there so they couldn't have caught up on The 100 in time.
This issue looming over their heads makes for a much darker chain of events, one for which none of them may be prepared. 
One thing is for sure though, the parallels and the ways that power has shifted over the years on this show is ironic and unexpected.
Related: The 100: Clarke Griffin's Positive Bisexual Representation 
Characters Both Old and New
The 100 continues to have some of their strongest scenes when character development is at the center of it. 
Octavia is no doubt involved heavily in this story, and you should look out for her transition to a leader.
We know she had a lot of thoughts about it as far back as The 100 Season 2, but the reality of it after she found her place as a warrior will be intense. 
But Octavia isn't alone; there are also characters like Jaha that are worth watching closely because even I was shocked to name him a standout character on "Red Queen," but here we are.
Within all these dynamics though are familiar faces like Gaia and Indra, their views haven't always matched up to their integral roles.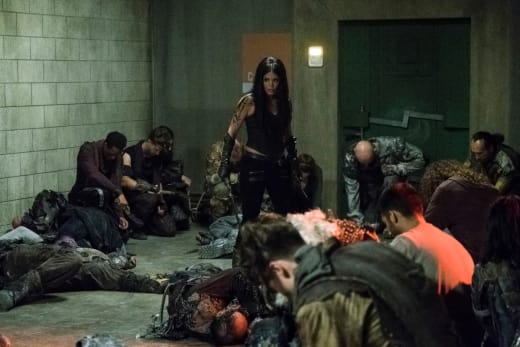 No matter how different their opinions may be, they are heard by both Octavia and us, and it is safe to say that they will stick with us throughout the episode and the season.
Niylah is also around, and like I mentioned there is a scene between Octavia and her that upon a rewatch may make you realize something else but initially, it mirrors a scene we all know very well from our The 100 Season 3 days.
But what are established characters without the influence of new ones?
Without giving much away there is a new character I didn't realize would turn out to matter much but has already left their mark.
And then there are characters that we didn't know much about before but growth can happen both development wise but also literally in front of our eyes. I wonder what that means and where a child can end up after six years in the bunker. 
Related: The 100: Bellamy and Clarke's Destruction of the Friend Zone
Relationships Bring Everyone Together or Tears Everything Apart
Relationships between characters, both romantic and platonic always hold a remarkable amount of weight on the show. 
On The 100 Season 5 Episode 2, we can safely mention we'll check in on the relationship between Kane and Abby.
As we have seen with the exclusive clip from the episode, somehow Abby knows that Clarke is trying to get into the bunker and with Kane's help she thinks she will be able to reunite with her daughter quicker than expected. 
That doesn't happen because of the rocks that have collapsed at the entrance, which upsets Abby but that also doesn't make her relationship with Kane any easier.
Last we saw them, Kane ignored Abby asking him not to keep her in the bunker and the question of how that would affect their relationship slide into place then and there.
When we first check in with them, that obviously is still a very fresh wound in their relationship and in my opinion that makes it all the more realistic.
Couples go through rough patches, and the literal end of the world has got to offer some of those little obstacles.
But this episode also sets up Kabby very much at the center of certain events, and how they handle them gives us a glimpse of where that will leave them six years later.
Another relationship worth keeping an eye on is Jackson and Miller, they are also both down there and from the looks of the trailer still living their semi-best lives?
And even though those two are killing it on screen together, this time around their circumstances in the bunker makes it fascinating to see them outside of that.
Both Miller and Jackson are involved in what is happening down in the Bunker, with a few surprises, if you can imagine that.
Related: Enjoy UNLIMITED access to thousands of Movies and TV shows with Amazon Prime Video. WATCH ANYWHERE. CANCEL ANYTIME!
The 100 airs Tuesdays at 9/8c on The CW.
Stick around TV Fanatic for more episode previews and reviews of this upcoming season, and watch The 100 online if you need to catch up on the adventure.
Yana Grebenyuk was a staff writer for TV Fanatic. She retired in April 2021.