Ambien Fires Back at Roseanne Barr: Racism Is Not a Known Side Effect!
Paul Dailly at .
We think it's fair to say that Roseanne Barr's career is in tatters. 
And her latest tweet storm has only made things worse. 
The actress had already placed herself on an embargo from social media after the racist comments that got her ABC comedy canceled. 
But she returned to social media to open up about what happened before the tweet that got her show canceled. 
Her first tweet read: "guys I did something unforgiveable so do not defend me. It was 2 in the morning and I was ambien tweeting — it was memorial day too — i went 2 far & do not want it defended — it was egregious Indefensible. I made a mistake I wish I hadn't but…don't defend it please."
Instead of taking aim at a person, she went after Ambien, reiterating that "Not giving excuses for what I did(tweeted) but I've done weird stuff while on ambien — cracked eggs on the wall at 2am etc."
Related: Roseanne Canceled at ABC!
She subsequently retweeted a variety of different things, with some being for her show being canceled and others being against it. 
But Sanofi, the pharmaceutical company that produces the drug has hit up Twitter with a statement that certainly makes things worse for Roseanne. 
"People of all races, religions, and nationalities work at Sanofi every day to improve the lives of people around the world," the Tweet reads. 
"While all pharmaceutical treatments have side effects, racism is not a known side effect of any Sanofi medication."
Related: Roseanne Showrunner Breaks Silence on Show's Cancellation
Roseanne shocked the world early on Tuesday morning when she compared Barack Obama's former adviser Valerie Jarrett to an ape. 
"Today my words caused hundreds of hardworking people to lose their jobs," Barr said upon realizing the true extent of her comments when ABC canceled the show.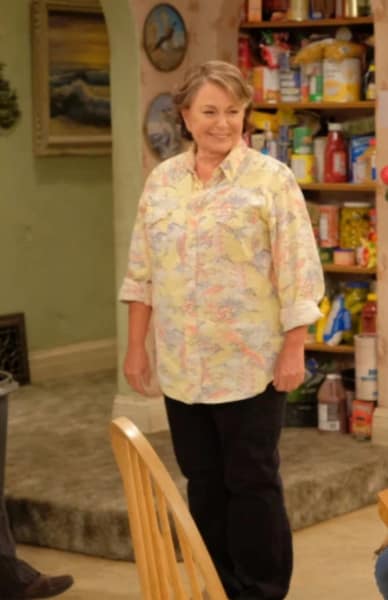 "I also sincerely apologize to the audience that has embraced my work for decades. I apologize from the bottom of my heart and hope you can find it in your hearts to forgive me."
This latest outburst, and blaming Ambien is a bit bizarre when you consider the fact that she tried to backtrack on what she said earlier. 
What do you think about all of this?
Hit the comments below. 
Paul Dailly is the Associate Editor for TV Fanatic. Follow him on Twitter.