Roseanne Barr Talks Valerie Jarrett: I Thought the Bitch Was White!
Paul Dailly at .
It's been almost two months since the controversy surrounding Roseanne Barr's racist tweet which was aimed at former Barack Obama adviser Valerie Jarrett. 
In the tweet, Barr compared Jarret to an ape. The tweet did not go unnoticed, and it paved the way for ABC to part ways with Roseanne, and press on with The Conners, a Barr-less series. 
Now, Roseanne has opened up once again about what happened and is sticking by her initial claim that she thought Valerie was a white woman when she sent the tweet. 
Barr does not seem impressed in the video and is fidgeting. We don't get to find out why she's so annoyed, but she smokes a cigarette while the interviewer talks about a potential presidential scandal. 
"I'm trying to talk about Iran!" Barr yells at the interviewer.
"I'm trying to talk about, Valerie Jarrett wrote the Iran deal! … That's what my tweet was about!"
Related: Roseanne Canceled at ABC Following Barr's Racist Tweet
"I know," the interviewer says in response. "You've explained this literally 300 times."
This sets Barr off, and she shouts the following at the interviewer:
"I thought the bitch was white! Goddamnit! I thought the bitch was white! F—k!"
Barr has apologized multiple times since her tweet. The first time was hours after she sent the hate-filled message. 
The most recent apology was on the July 6 episode of the Rabbi Shmuley Podcast. "The work of your hands … makes me feel threatened," she said at the time.
Related: Roseanne Star Emma Kenney Breaks Silence on Cancellation
"I shouldn't have said, you know, like you said — don't make it personal. But you kind of have to when it's, like, the work of your hand is what I'm against — not you personally — but the work of your hands."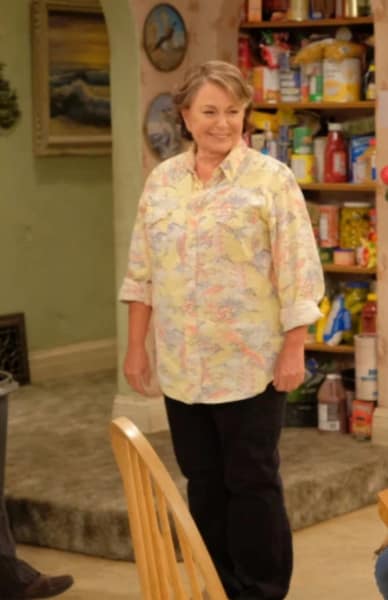 Given that Roseanne was the one who uploaded the video, it is likely that the rest of the interview will follow. 
Have a look at the full video below, and join us in the comments with your thoughts on the matter.