Once Upon a Time Season 7 Episode 22 Review: Leaving Storybrooke
Paul Dailly at .
It's not very often shows that are running on steam go out with a worthy series finale, but Once Upon a Time Season 7 Episode 22 was a perfect conclusion for this once-popular ABC hit. 
There's nothing more nostalgic than a show honoring its past, and boy, and this final hour almost brought me to tears. The one big positive from the episode was that it focused on the right characters. 
The biggest flaw of Once Upon a Time Season 7 was the lack of focus, and that came down to some of the more pointless characters being focused on for a little too long.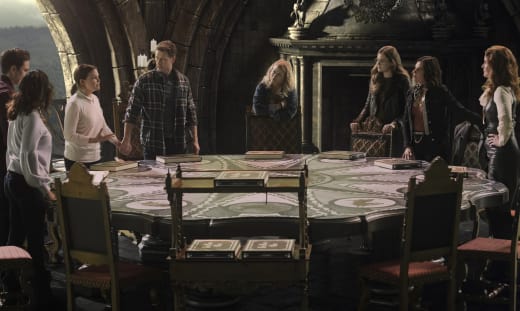 Let's talk about Gold's last stand. Going into this finale, I knew there was going to be a big sacrifice for the greater good, and with the Guardian being gone, there was no way Rumple could return to Belle and his son. 
Robin: The lady looks thirsty.
Regina: Robin? Is this a dream?
Robin: Well, if it is, it's an excellent one.

That's why it was so darn obvious that Gold would be the one to bite the bullet if things went wrong. It would have been too easy for him to find happiness after everything he's done, but doing so in the afterlife was poignant because it showed that even in death, there were happy endings. 
Related: Once Upon a Time Season 7 Episode 21 Review: Homecoming
Gold has flirted with darkness throughout Once Upon a Time's entire run, and while he's been one of the show's most tedious characters since the beginning because of him never genuinely straying from his wicked tendencies, it's good to know that he found peace in the afterlife. 
I do feel a little short-changed that we never got one last epic Rumbelle dance scene, but it was evident where the scene was going, and what we got will have to suffice.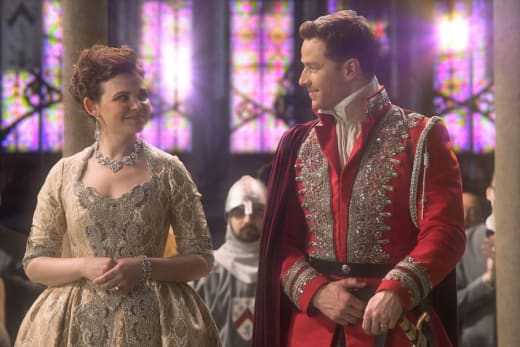 The fade to white also helped drive home the fact that this 'ship had found peace despite everything, and that's something I never expected. It's a tired old trope to have the villain sacrifice themselves at the final hurdle, but it's not common to witness their version of peace. 
Rumple: I'm not weak.
Wish Rumple: You could have fooled me.
The moment I heard Regina confirm that another curse was going to be cast, I immediately rolled my eyes, but her plan was her best one yet. Why have all these realms when everyone could co-exist together?
Related: Enjoy UNLIMITED access to thousands of Movies and TV shows with Amazon Prime Video. WATCH ANYWHERE. CANCEL ANYTIME!
On paper, it sounded complicated, but Regina made it happen, and I have to give credit where credit's due. She really came through and united everyone in a way that never seemed possible. 
Regina being declared "The Good Queen" by Snow as she was elected the Queen of the United Realms was a perfect throwback to Once Upon a Time Season 1 Episode 1. 
If you watch Once Upon a Time online, you will recall that the Evil Queen stormed into that same room and made her intentions clear about wanting to make Snow's life a living hell. 
These characters have developed a lot since then, and I was so sure Emma was going to storm into the room in the present and balk at the idea of Regina being given such a powerful position. 
But Emma already has a happy ending of her own. She's happily married to Hook, her son is all grown up, and she has a beautiful baby girl who is poised to be a central character in the revival that will likely start in the next few years. 
Regina Mills, I now crown you the Good Queen. Long may she reign.

Snow
Nothing is out of the ordinary these days, so it's doubtful that we will never get another adventure set in the Once Upon a Time universe. Regina said it herself: There is no such thing as an ending because it sure seems like these characters are still going to be continuing with their lives as we, the viewers, head out of Storybrooke.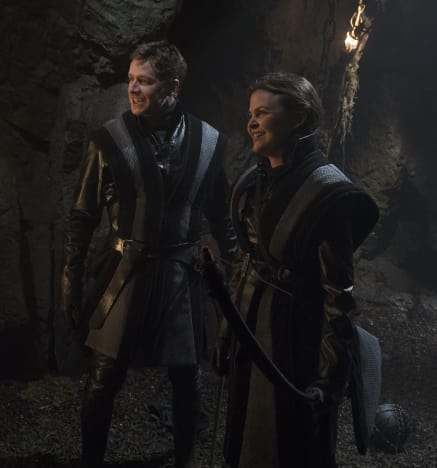 The only thing that irked me about this final hour was that Wish Rumple was taken out so easily. I get that Gold wanted to do the right thing and save Wish Hook, but it all seemed a little too quick to get rid of the character. 
That's not to say the following scenes were not great. They were, but some parts felt a little bit too rushed to take seriously. I'm not going to sit here and say that Once Upon a Time Season 7 was a worthwhile affair because it was mostly a half-baked mashup of ideas that failed to mesh together naturally. 
Related: Once Upon a Time Canceled After Seven Seasons!
The show should have ended last year, but "Leaving Storybrooke" helped bring everything full circle in a way that I never thought possible, and the writers really pulled out all the stops to celebrate the show. 
I would have loved an episode dedicated to finding Lily's father because it felt like a throwaway scene that had little purpose, but there was a lot of focus on Lily at one point. 
It could have replaced one of the many filler episodes of Once Upon a Time Season 7!
Other tidbits from the episode:
A part of me thought everyone had managed to get a version of Robin Hood into the United Realms and that Regina was getting thrown into a wedding with him. While that would have been great, her eventual fate had a much more profound impact. 
Robin and Alice going on the run when the residents of Storybrooke yelled "Intruders" at them was a highlight of the entire series for me. 
What's going to happen to the Wish versions of the characters? Will they start posing as the other and cause some trouble, or will they all manage to live in peace?
Snow and Charming showing up to help Henry save Regina was perfect. It was so obvious people we knew were going to be under those masks, but I was shocked when it was those two!
Wish Hook holding on for dear life to Alice even though it was killing him was very powerful. Alice struggled to be without her father, but that heroic act must have proved to her that he loved her. 
Gold's conversation with Wish Hook about not hating him was bizarre. Did he mean it for Real Hook? 
Okay, Once Upon a Time Fanatics!
What did you think of the final episode? Was it the ending you wanted?
Hit the comments below!
Paul Dailly is the Associate Editor for TV Fanatic. Follow him on Twitter.