Fear the Walking Dead Star Opens Up About Shocking Departure
Paul Dailly at .
Fear the Walking Dead is no stranger to big deaths, but Sunday's midseason finale change the course of the whole show forever. 
In a stunning twist, Kim Dickens' alter ego Madison Clark was killed off in order to save the lives of other key characters. 
"It's so sad," Dickens admitted during The Talking Dead on Sunday night following her final episode.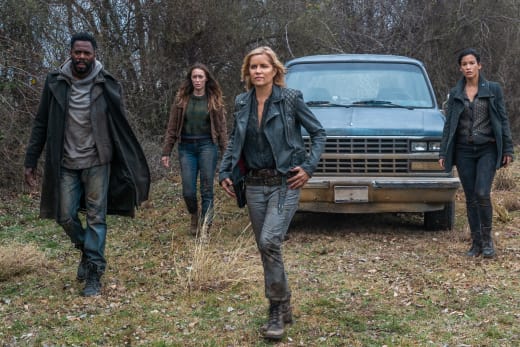 "Madison has been an incredible character to play. I feel like I worked my whole career to get to this point to play her. It's been an honor."
Fear the Walking Dead Season 4 has thus far been a soft reboot of the series, with a raft of new characters, and intriguing new storylines. 
Related: Fear the Walking Dead Season 4 Episode 8 Review: No One's Gone
The story has been told from multiple time periods, but the character of Madison was not shown in the present, and it meant fans have been questioning her fate all season long. 
With Madison apparently dying off-screen, it certainly begs the question whether she really did perish after luring the zombies away from her family. 
"She died doing that one thing giving her a reason for living: protecting the ones she loved," said presenter Chris Hardwick during the companion series. 
"This is a complicated woman with a dark past with a very strong and good instinct," Dickens said, confirming that it was a difficult process to say goodbye. 
Related: Cable Ratings: Fear the Walking Dead Tops Westworld
"She's a mother. When you inform your story from there, it turns things on its head. It spins you out from the stories you can tell."
Ever since it was announced that Andrew Chambliss and Ian Goldberg were taking over the showrunning duties on the series, there has been an air of mystery. 
It was widely expected that they would want to leave their mark on the series, and they did so in shocking fashion early in the season when Frank Dillane's Nick was killed off. 
The shocking thing about it is that there are just two original series stars on the show now. They are Alycia Debnam-Carey and Colman Domingo.
"I think there's a bit of symbolism in the shown in how she holds the torch," said Domingo.
"Kim Dickens is someone who you have to burn something down to light someone else's way. Kim has become such a dear friend and comrade. She's a pro, through and through."
"She's been such a ferocious, kind and gentle leader," continued Domingo. "That's exactly what you need in a show like this."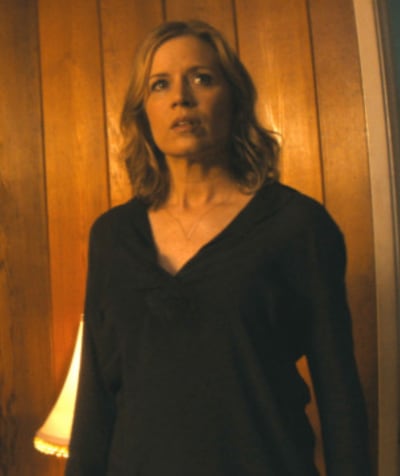 "Kim has become one of my role models as a woman, as an actress," said Debnam-Carey.
"I've learned so much from her. How to lead a set. She has the most gravity out of any people I've ever met. ... I can't explain how much I've learned from her."
"I'm going to continue learning from her. It's been the greatest blessing being part of this show, growing from a young girl to a young woman and having [Dickens] right there."
"I was so moved by her performance," said Dickens of her co-star.
"I was brought to tears. I'm so proud of her. She's so incredibly talented, and she has been since we started. I've seen her her grow into a young woman."
"Frank, too; I've seen him grow into a young man. It was so moving. That performance, I said to a friend, you could turn the sound down and you can watch her, it was so powerful. When you watch the video? I couldn't take it. It was so beautiful. She's a star."
Remember you can watch Fear the Walking Dead online right here via TV Fanatic. 
Fear the Walking Dead returns Sunday, August 12. 
Paul Dailly is the Associate Editor for TV Fanatic. Follow him on Twitter.