We're making our picks and predictions simple for 2018. The full nominees' list for the categories listed below is in the order we think deserve the award. Those shows in italics indicate who we believe will take home the award even if we believe differently.
Surely you have your own list of picks and predictions, so let us know in the comments what shows and performers you are hoping take home a statuette and why they get your vote.
On to the show!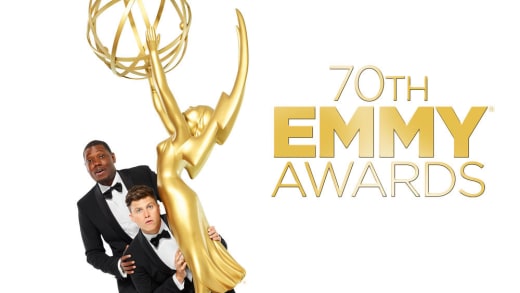 Drama Series
The Americans (FX)
The Handmaid's Tale (Hulu)
Game of Thrones (HBO)
The Crown (Netflix)
Westworld (HBO)
This Is Us (NBC)
Stranger Things (Netflix)
I'm going all in with The Americans for drama series even though the odds are currently on The Handmaid's Tale to win.
I want to believe that after six seasons of excellence, the Academy of Television Arts and Sciences members will look beyond the flash and harrowing (though poignant) negativity of The Handmaid's Tale Season 2 and finally recognize The Americans for all that it was and the incredible achievement that came by way of The Americans Season 6.
While there is a chance another show could upset the applecart, my belief is the race is between The Americans and The Handmaid's Tale even with Game of Thrones back in the race.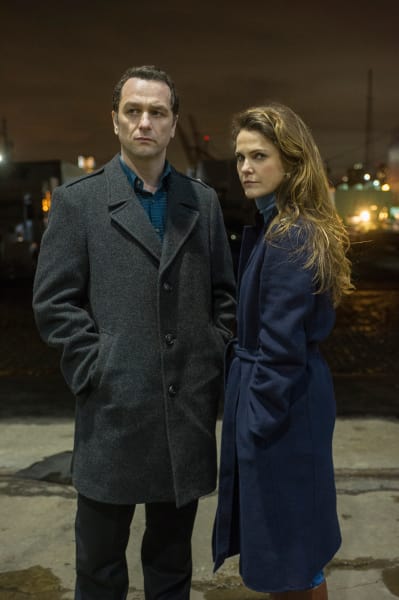 Comedy Series
The Marvelous Mrs. Maisel (Amazon)
Atlanta (FX)
Barry (HBO)
Black-ish (ABC)
Silicon Valley (HBO)
Curb Your Enthusiasm (HBO)
GLOW (Netflix)
The Unbreakable Kimmy Schmidt (Netflix)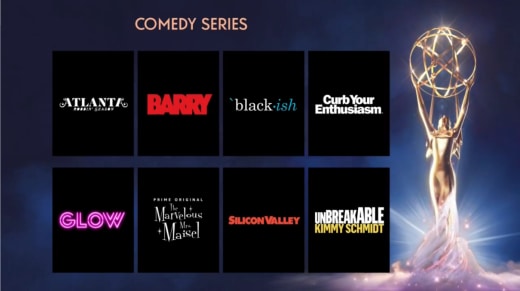 Atlanta is the thing, sure, but Childish Gambino just won big at the Grammys, so I'm allowing some room for The Marvelous Mrs. Maisel to claim her fame.
The Amazon series is refreshing, hopeful, irreverent, and features a strong cast with a beautiful flair for the time period. It popped even amongst this strong crowd. black-ish ventured outside its normal vein to great success, GLOW featured its ensemble in Season 2 and Curb Your Enthusiasm returned. Still, Midge shined.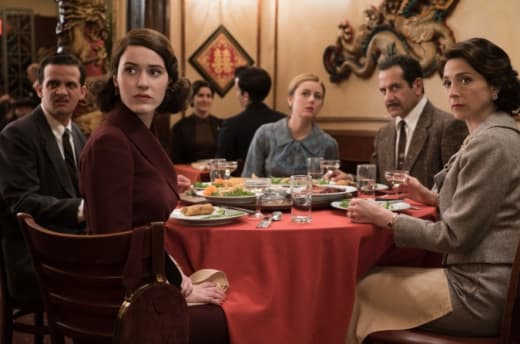 Limited Series
Godless (Netflix)
The Assassination of Gianni Versace: American Crime Story (FX)
Patrick Melrose (Showtime)
Genius: Picasso (NatGeo)
The Alienist (TNT)
Godless was a stunning western in the traditional style stocked with women and fascinating messages about faith and forgiveness, but the fictionalized story of a killer who took out one of our most talented designers leads the way this award season. 
Ryan Murphy has a way with the audience, and his next venture will be on Netflix.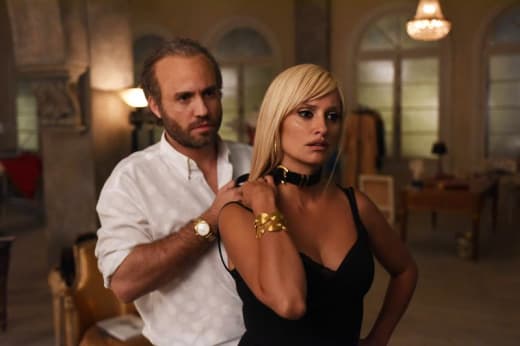 Lead Actor in a Drama Series
Matthew Rhys (The Americans)
Sterling K. Brown (This Is Us)
Jeffrey Wright (Westworld)
Milo Ventimiglia (This Is Us)
Ed Harris (Westworld)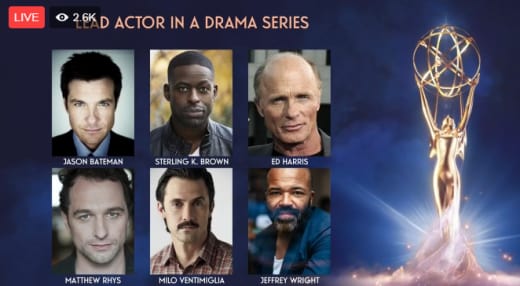 These categories only get more difficult as we move forward.
All of these actors did wonders for their shows this past season, and it would be impossible to imagine any one of them not making this list. This was Matthew Rhys' last year for The Americans and for an accumulation of all his work, this goes to him. 
His transformation throughout the series was as true as a character arc can get, and to feel as if you know someone as well as you kknew Philip Jennings if you watched The Americans is an honor.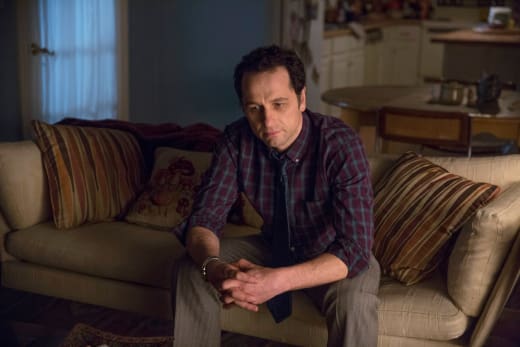 Lead Actress in a Drama Series
Keri Russell (The Americans)
Elisabeth Moss (The Handmaid's Tale)
Sandra Oh (Killing Eve)
Tatiana Maslany (Orphan Black)
Claire Foy (The Crown)
Evan Rachel Wood (Westworld)
Just as the category before it, Keri Russell may not have changed as much with Elizabeth Jennings as husband Matthew Rhys did as Philip, but her passionate performances never wavered.
She was nearly impossible to read at times making her work during the final season with Elizabeth losing everything for which she had fought so hard a credit to the craft.
Lead Actor in a Comedy Series
Bill Hader (Barry)
Donald Glover (Atlanta)
Anthony Anderson (black-ish)
Ted Danson (The Good Place)
Larry David (Curb Your Enthusiasm)
William H. Macy (Shameless)
Donald Glover is going to take it. He's Donald Glover. Right now, he can do no wrong.
That doesn't mean that Bill Hader didn't do something fantastic and equally deserving with Barry. He's always done comedy, but what he did with Barry was the newfangled comedy, that's not too funny and sometimes too funny to laugh. Maybe what I mean to say it Bill Hader can act.
Anthony Anderson and Ted Danson were also great on their respective shows, and I'm not counting them out.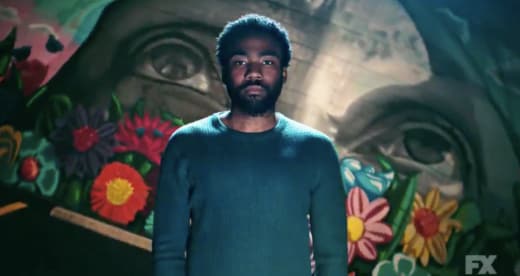 Lead Actress in a Comedy Series
Rachel Brosnahan (The Marvelous Mrs. Maisel)
Tracee Ellis Ross (black-ish)
Pamela Adlon (Better Things)
Lily Tomlin (Grace and Frankie)
Allison Janney (Mom)
Issa Rae (Insecure)
Every woman in this category deserves the award. They should be in a straight line across the page. The Marvelous Mrs. Maisel, though, was a bright spot on the schedule and Rachel Brosnahan, who had come from a more dramatic edge, knocked it out of the park. She was believable in every way.
Tracee Ellis Ross, on the other hand, had the opportunity to go dark with the break-up material on black-ish and was so incredibly moving I can't bring myself to delete the episodes from my DVR. 
All of Better Things deserves recognition, and it's a shame only Pamela Adlon's acting gets a nod, but any nod is better than none at all. To be nominated at all is still a thing, right? And with this group of powerful women, it's not a load of hooey.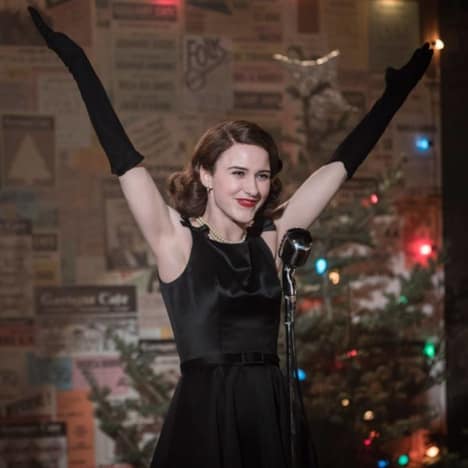 Lead Actor in a Limited Series or Movie
Darren Criss (The Assassination of Gianni Versace: American Crime Story)
Jesse Plemons (USS Callister)
Antonio Banderas (Genius: Picasso)
Jeff Daniels (The Looming Tower)
Benedict Cumberbatch (Patrick Melrose)
John Legend (Jesus Christ Superstar)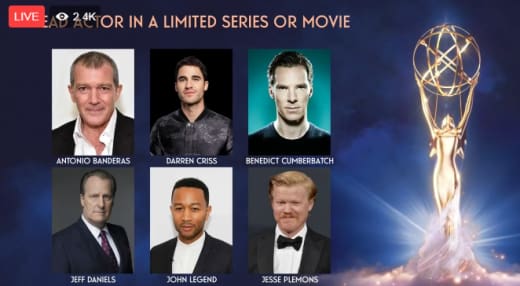 I may not have enjoyed the series as much as Godless, but I can see a good performance in the piece, and Darren Criss became someone utterly other than himself in the role. Good on him!
I didn't see Jesus Chris Superstar so I can't speak to it, but I understand John Legend was legend. It wouldn't surprise me if he loomed up from the crowd and took the award.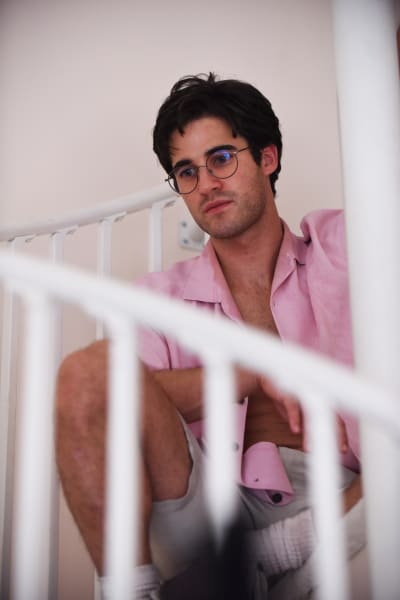 Lead Actress in a Limited Series or Movie
Laura Dern (The Tale)
Jessica Biel (The Sinner)
Michelle Dockery (Godless)
Edie Falco (The Menendez Murders)
Regina King (Seven Seconds)
Sarah Paulson (American Horror Story: Cult)
My love affair with Laura Dern continues to this year's Emmys. She can do no wrong in my eyes. 
It's a strong field, though, and The Sinner and Godless were good shows, Godless being superior, but Jessica Biel's performance was quite surprising as we've come to expect excellence from Michelle Dockery. 
I'm going with Dern.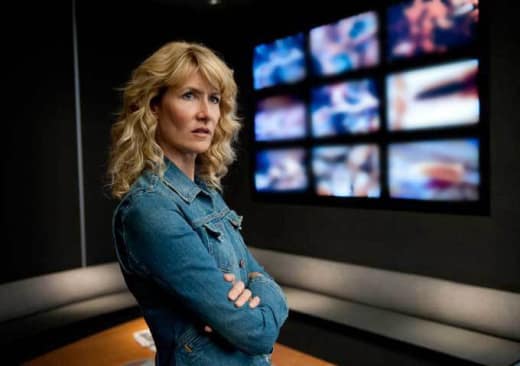 Supporting Actor in a Drama Series
Matt Smith (The Crown)
Joseph Fiennes (The Handmaid's Tale)
Peter Dinklage (Game of Thrones)
Nikolaj Coster-Waldau (Game of Thrones)
David Harbour (Stranger Things)
Mandy Patinkin (Homeland)
It's another tough category. Matt Smith was terrific as Prince Philip, and his portrayal of a father making a stand against the Queen of England to ensure power equality in their marriage at the expense of their son's wellbeing was riveting. 
At the same time, knowing Joseph Fiennes' internal struggle to play such a dastardly male in society so oppressive to women makes his part as the Commander more interesting during the second season.
The fan favorite, though, is David Harbour from Stranger Things, a series I have a hard time with, but an actor I adore. Tough call, and it's a guess at best here.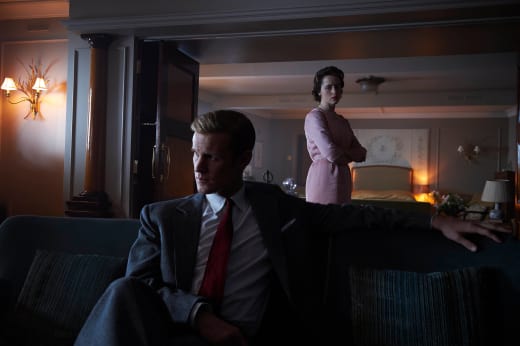 Supporting Actress in a Drama Series
Yvonne Strahovski (The Handmaid's Tale)
Vanessa Kirby (The Crown)
Alexis Bledel (The Handmaid's Tale)
Ann Dowd (The Handmaid's Tale)
Thandie Newton (Westworld)
Millie Bobby Brown (Stranger Things)
Lena Headey (Game of Thrones)
Oh geez. The women across the board for 2018 are worth their weight in gold. Vanessa Kirby was simply transcendent as Princess Margaret. The Crown Season 2 was as much hers as it was Matt Smith's, just like The Crown Season 1 belonged to Claire Foy. 
But Yvonne Strahovski took the enigmatic and troubled Commander's wife Serena Joy on an emotional journey that had even me, with the hardest of hearts, hoping she swings wildly in another direction to do the impossible, almost believing she could do it.
The others from The Handmaid's Tale were equally as enthralling but didn't get the airtime nor the complex stories of Strahovski.
Supporting Actor in a Comedy Series
Henry Winkler (Barry)
Tony Shalhoub (The Marvelous Mrs. Maisel)
Brian Tyree Henry (Atlanta)
Louie Anderson (Baskets)
Tituss Burgess (Unbreakable Kimmy Schmidt)
Kenan Thompson (Saturday Night Live)
Alec Baldwin (Saturday Night Live)
Henry Winkler gets the nod here because although he's a comedy ace as terrible acting coach Gene Cousineau on Barry, he's being taken seriously as an actor in a role that's not for the little ones. He's so good!
Tony Shalhoub is hilarious as Abe Weissman on The Marvelous Mrs. Maisel, and his win wouldn't upset me one bit. But Winkler getting the great opportunity on Barry stands out more than Shalhoub's Weissman.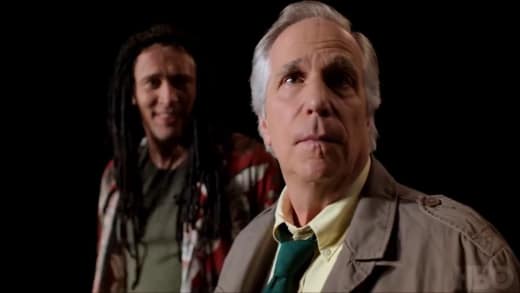 Supporting Actress in a Comedy Series
Alex Borstein (The Marvelous Mrs. Maisel)
Betty Gilpin (GLOW)
Zazie Beetz (Atlanta)
Megan Mullally (Will & Grace)
Kate McKinnon (Saturday Night Live)
Aidy Bryant (Saturday Night Live)
Leslie Jones (Saturday Night Live)
Laurie Metcalf (Roseanne)
The last category I'm going to weigh in on isn't a competition as far as I'm concerned because Alex Borstein as Susie Myerson is another scene-stealer on a series full of them. It seems impossible there is room for all the stars on The Marvelous Mrs. Maisel, but somehow they all work side by side.
Betty Gilpin is fantastic on GLOW, but she's not funny as much as a great actress. Sheer giggles go to Megan Mullally, but there's more to this category than that. 
I haven't been able to reconcile the inclusion of Saturday Night Live sketch work with traditional comedies, and that's on me, but Kate McKinnon is a gem. 
--------------------------------------------------
Now you get to share your thoughts on who might walk away with the wins tonight. Hit the comments and then drop by tonight for the winners' list!
The 70th Annual Emmy Awards air tonight at 8/7c on NBC.
Carissa Pavlica is the managing editor and a staff writer and critic for TV Fanatic. She's a member of the Critic's Choice Association, enjoys mentoring writers, conversing with cats, and passionately discussing the nuances of television and film with anyone who will listen. Follow her on Twitter and email her here at TV Fanatic.