Homecoming Review: Julia Roberts is Radiant in Amazon's New Thriller

Carissa Pavlica at .
Movie star Julia Roberts finally finds her way to the small screen with a buzzy series from Sam Esmail and an exciting role the likes of which Roberts hasn't had the opportunity to flex her muscles in a long time.
Based on the fictional podcast of the same name and adapted for the screen by creators Eli Horowitz and Micah Bloomberg, Homecoming shuffles viewers between two time periods in the life of Heidi Bergman, a caseworker at a center helping assimilate recently returning veterans back into civilian life.
In 2018, Heidi is a successful, stable, and caring counselor, if a bit harried and overworked. Jump four years into the future, and she's waitressing at a waterside seafood restaurant, living with her mother, and sugarcoating the past. What happened to cause such a shift?
Homecoming is a mystery that relies heavily on the chemistry of the characters, and Roberts works beautifully with her co-stars.
Stephan James (Selma, Shots Fired) is Walter Cruz, central to the unfolding drama surrounding Heidi. A recent recruit to the center, he's so well-adjusted after his return from active military duty that it's the first clue that there's more than just job anxiety and a hovering boss (Bobby Cannavale as Colin) eating away at Heidi.
Related: Marvelous Mrs. Maisel Season 2 Premiere Date Revealed — Watch Extended Trailer
Heidi isn't the character we're used to Roberts playing. She's not sporting her signature grin or breaking into a loud laugh when someone she's caught off-guard. Everything about Heidi is slightly reserved and very professional as if she has the weight of the world on her shoulders.
That's because Colin is a helicopter boss who is never present. Heidi runs the facility and must be available at a moment's notice for everything.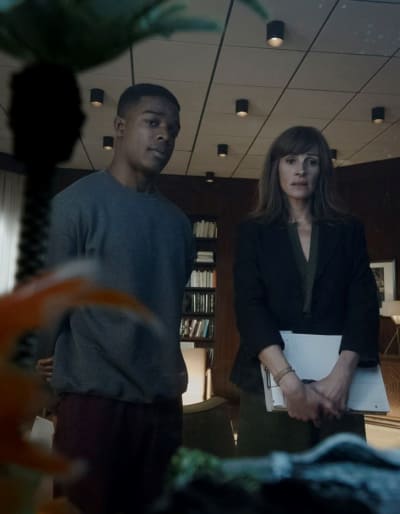 We learn the ins and outs of the Homecoming program through Heidi's interactions with Walter, a soldier she gets to know well because he's so affable upon his return. They change each other, and with that change, we're swiftly sent reeling into the future to see how Heidi came out on the other side.
Roberts and James make a formidable on-screen pair, and their scenes together run the gamut from electrifying to anguished without skipping a beat. 
Related: Blake Lively Plots TV Return: Get All the Details!
The shock is that Heidi remembers relatively nothing of her time at the facility, and the more that is revealed, the more perplexing it becomes.
Esmail ensures there is no issue with timeline detection not only by way of the characters look and act (and the division can be quite stark), but by a clever shift in the framing of the scenes from a wide shot to a more standard definition frame.
It's not only a welcome format for the obvious reasons, but a fun way to set off the difference.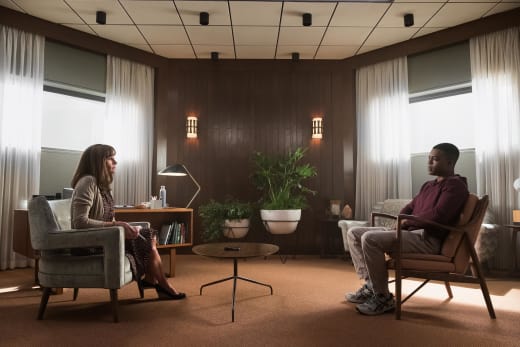 If you're used to watching Esmail's work on Mr. Robot, the camera shots might not be anything new to you, but they are anything but typical for the television format and convey an unsettling feeling throughout the ten episodes that heighten the tension, and you need to know what's around the corner.
As with many other movie actors turned television award hopefuls when given the chance to spread her wings beyond two hours, Roberts soars to new heights with insight into Heidi.
Whereas she might have had to pull a specific look beyond her signature in two hours, she's allowed to explore Heidi and all of her quirks across five (the episodes run about 30 minutes each).
Related: The Man in the High Castle Season 3 is One of Transition and Change
The set is phenomenal and yearns for a viewer walkabout. Nothing about the Homecoming center, in particular, feels as if it's in 2018 or 2022 but rather as if it's from a time only in our imagination, as it very well is.
The costumes are also aesthetically pleasing, especially Cannavale's. He's always tastefully dressed, but for playing such a relative creep (spoiler alert) much of the time, he always looks very smart.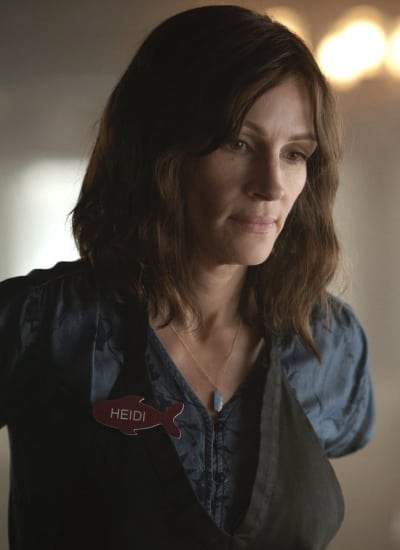 Homecoming is a story about a hard-working woman who loves her job, cares passionately about the people she helps and who wants to make a difference in the world. Then she gets hit in the face by the cold, hard reality that if it seems too good to be true, it probably is too good to be true.
This Amazon Original is very easy to binge given the episode length and desire to know what lies ahead as each draws to a close. You won't want to say goodbye to the characters, and the good news is you won't have to say goodbye. 
Related: The Wheel of Time: Amazon Orders Female-Driven Fantasy Series
Homecoming has already been renewed for a second season by the streaming giant, and when you get to the end, you'll see the infinite possibilities of where a second season could go.
If you've streamed the podcast and/or plan on watching the series, share your thoughts below. Are you excited for Julia Roberts to conquer a longer-form character? 
Let's also not forget that Roberts reunites with her My Best Friend's Wedding co-star Dermot Mulroney on Homecoming. 
If nothing else, you want to see if they can make it a second time around, right?
Did I intentionally leave him out of this review so you'd take a look at what's to come from this decades-old couple?
Homecoming arrives on Friday, November 2 and is available on Amazon Prime. 
Carissa Pavlica is the managing editor and a staff writer and critic for TV Fanatic. She's a member of the Critic's Choice Association, enjoys mentoring writers, conversing with cats, and passionately discussing the nuances of television and film with anyone who will listen. Follow her on Twitter and email her here at TV Fanatic.