Penny Dreadful Sequel Ordered at Showtime
Paul Dailly at .
Showtime is not done with Penny Dreadful quite yet. 
The premium cabler has placed an order for Penny Dreadful: City of Angels, a follow-up to the 2014-16 drama series which spanned three seasons. 
At the moment, there's no word on whether some of the original stars will be back, but the press release from Showtime states this will feature all new characters. 
According to Showtime, "the next chapter opens in 1938 Los Angeles, a time and place deeply infused with Mexican-American folklore and social tension."
Related: Penny Dreadful Canceled After Three Seasons!
"Rooted in the conflict between characters connected to the deity Santa Muerte and others allied with the Devil, PENNY DREADFUL: CITY OF ANGELS will explore an exciting mix of the supernatural and the combustible reality of that period, creating new occult myths and moral dilemmas within a genuine historical backdrop." 
"We were so thrilled when John Logan came to us with this wildly original take on the Penny Dreadful mythology that explores both the human spirit and the spirit world here in California," Levine said.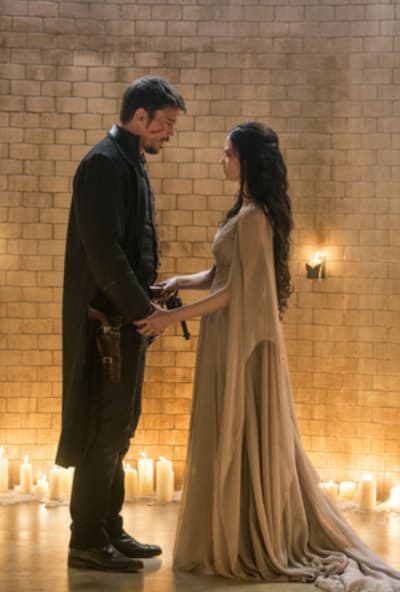 "PENNY DREADFUL: CITY OF ANGELS promises to be an extraordinary saga of familial love set against the terrifying monsters that are around us and within us.
"PENNY DREADFUL: CITY OF ANGELS will have a social consciousness and historical awareness that we chose not to explore in the PENNY DREADFUL London storylines," Logan said.
"We will now be grappling with specific historical and real world political, religious, social and racial issues. In 1938, Los Angeles was facing some hard questions about its future and its soul."
"Our characters must do the same. There are no easy answers. There are only powerful questions and arresting moral challenges."
"As always in the world of PENNY DREADFUL, there are no heroes or villains in this world, only protagonists and antagonists; complicated and conflicted characters living on the fulcrum of moral choice."
Related: Penny Dreadful Season 3 Episode 9 Review: The End
Penny Dreadful amassed 13 Primetime Emmy nominations throughout its run and solid reviews from critics. 
News of the original show's demise came following its third season finale, and many fans were unimpressed at the way it ended. 
Given that this new show is being positioned as a different entity, it's difficult to imagine us getting answers to some of the show's most burning questions. 
What are your thoughts on this news? 
Hit the comments below.
Paul Dailly is the Associate Editor for TV Fanatic. Follow him on Twitter.