Supergirl Season 4: Jeremy Jordan Not Returning
Paul Dailly at .
We have some bad news for fans of Supergirl. 
Jeremy Jordan, who exited The CW drama as a series regular last year is not slated to appear in any episodes of Supergirl Season 4. 
The actor was downgraded to a recurring player, and the plan was that he would return when his Broadway show wrapped. 
American Son concluded in January, and many fans thought that meant Jordan would be reporting for duty on Supergirl's Canada set. 
Showrunners Jessica Queller and Robert Rovner have now shot down the notion that he will be back this season. 
Related: Supergirl Shocker: Who's Out as Series Regular?
"We love Jeremy Jordan, we love Winn," Rovner recently told EW.
"It looks like, in terms of our storytelling, something we'd like to do at the beginning of next season as opposed to this season. "
"We have a lot of stories that coincided with his availability at the end of the play. We don't want to short shrift Jeremy or the character. So, we think it's something that's better served in season 5," he added.
The good news here is that there are plans to bring Jordan back into the mix, but it won't be until Supergirl Season 5 at the earliest. 
Thankfully, Supergirl snagged an early renewal for its fifth season earlier this year. But a lot can change between now and when the show returns to production. 
Supergirl Season 3 concluded with Winn leaving National City behind in a bid to go to the future with the aim of restoring order. 
Here's the full statement Jordan released in June:
As many of you have heard by now, Winn will no longer be a series on Supergirl. However, this is not goodbye.
Although you may not see him puttering around the DEO every week, I love everyone in National City too much to stay away forever. Winn WILL return in season 4.
Nevertheless, I wanted to say a few words. I came to LA three and a half years ago searching for a new adventure, and in a matter of weeks, I was best friends with a super hero. I mean, come on.
It's been the adventure of a lifetime, and breathing life into that brilliant, quirky, puppy dog nugget named Winn has been a true joy.
But lately, my gut has been telling me that I'm once again ready to begin a new chapter in my life... and if I've learned anything, it's that you gotta listen to your gut.
Related: Supergirl Shake Up: Chris Wood Departs!
So I want to thank everyone behind the scenes at Supergirl for understanding it was time for me to return home... to spend time with my wife and friends, and focus on crafting the next stage of my career.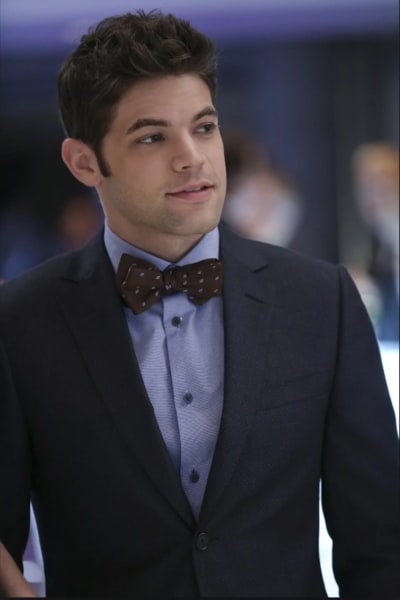 I also want to thank all of the incredible fans of the show for your kindness, humor, patience, and most of all, your support.
Finally, a special thank you to my Supergirl family. More than anything else, I'm going to miss spending every day with you amazing, beautiful dorks.
However, as I have said, this is not goodbye. Your favorite little cardigan wearing hobbit has plenty of stories left to tell. See you in the future.
Supergirl Season 4 continues Sundays at 8/7c on The CW. 
Paul Dailly is the Associate Editor for TV Fanatic. Follow him on Twitter.