Grey's Anatomy Round Table: Amelia and Link Brought the Sexy, But Did You Like It?!

Jasmine Blu at .
A new relationshp has begun, and an old one may cause a few issues. 
On Grey's Anatomy Season 15 Episode 17  Amelia and Link brought the sexy, and Owen may come between Teddy and Tom. Also, Vincenzo spiraled out of control, Helen took a trip back home, and Jo learned about her birth mom.
Join TV Fanatics Stacy Glanzman, Rachelle Lewis, and Jasmine Blu as they discuss the episode.
What were your thoughts on Vincenzo overstepping and his outburst? Are you surprised the Vincenzo storyline wrapped up this soon?
Stacy: His overstepping was terrible. He should not have gotten that couple's hopes up like that, especially when he knew his method hadn't been tested and didn't have approval yet. I'm kind of glad they aren't dragging the storyline out. DeLuca's reaction to the outburst was heartbreaking and a good way to wrap it up.
Related: Grey's Anatomy Season 15 Episode 17 Review: And Dream of Sheep
Rachelle: He was so out of line. He had no business suggesting his method to the couple and as a doctor, he should have known better.
I, too, was glad it wrapped up quickly. I was not all that interested in the storyline, but I suspect it is a set up for something bigger. I felt bad for DeLuca and figure it will have a significant impact on him, maybe even affect his new relationship with Meredith.
Jasmine: Vincenzo crossed the line, period. I cringed when he was speaking to the couple. I felt awful for Carina and DeLuca after Vincenzo's outburst, but I'm surprised this storyline wrapped up so quickly.
Is that it, for real? Ciao, 'Cenzo!
How do you feel about Helen's short stay and departure?
Stacy: It felt a little abrupt. Nothing really happened while she was there. I would have liked to see her stick around a little longer, but I imagine we'll see her again.
Rachelle: I thought it was too short. I don't really understand the point of having her come visit. Was it just to get Jo to find her own family?
I honestly expected more when she first showed up and was surprised Alex was taking her home already. I hope there is more to this story because I like her and the dynamic she has with Alex and Jo.
Jasmine: I guess it was to lead to Jo finding her mother. Her appearance was abrupt, and so was her departure. I enjoyed her moments with Alex, but yeah, I guess we'll see her again sometime?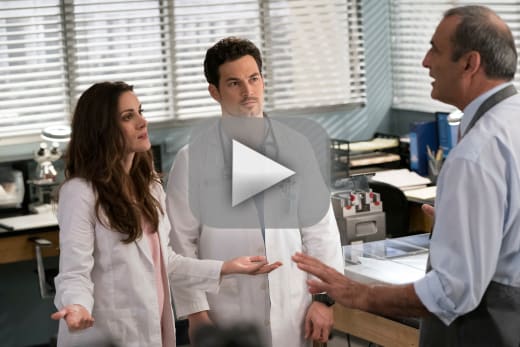 Do you think Owen is trying to win over Teddy again or was he being her supportive best friend? How do you think Tom will respond after seeing them hugging each other?
Stacy: It looked like they were trying to hint at an Owen/Teddy reunion. He may have been trying to be a supportive friend, but that doesn't change the fact that he still has unresolved feelings for her. I wouldn't be surprised if Tom has the same reaction that Amelia did and decides to remove himself from the circle.
Rachelle: I think Owen can't be alone. He goes from one woman to the next, and so now that Amelia has dumped him, he is going to try and get Teddy back.
There are definitely unresolved feelings for both of them. They can't decide if they should just be friends, be more or what, but they need to get it figured out before the baby comes. Personally, I don't like Owen and Teddy together. I like her with Tom, they have good chemistry.
Related: Station 19 Season 2 Episode 2 Review: Under the Surface 
Jasmine: I agree, Rachelle. Owen doesn't know how to be alone. He needs to focus on raising Leo and his new baby on the way. Owen cannot shake Teddy carrying his child, and the closer they get to the due date, the more he's going to want them to be a complete family.
Tom is happy, so he's going to fight for Teddy. I like them together too. I hope she stays with Tom.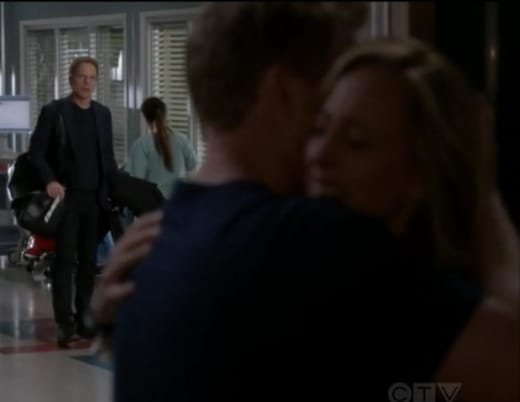 Did you enjoy learning more about Link's backstory and how he almost gave up medicine?
Stacy: I wish we could have actually heard more of it. I felt like we only got a snippet of the story. I'd like to learn more about his year off and his decision to go back. I do like that they are slowly fleshing out his character.
Rachelle: Yes. It has taken Link a while to grow on me, and I think it was because I did not want him to be with Meredith.
The more we learn about him, the more I become a fan, but I agree with Stacy in that I wish we had learned more. We keep getting great tidbits about Link, but I want more after want we have learned so far.
Jasmine: I adore Link, and it took long enough for them to start developing him, so I guess I'm grateful for the scraps. I'm curious about the year off, too. He and Amelia were one of my favorite parts of the episode.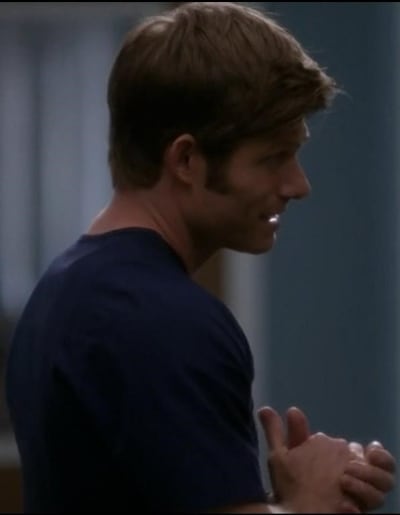 Do you like the Amelia and Link relationship? Was it too soon for them to hook up?
Stacy: I don't like it at all. To be honest, I'm tired of all these new relationships/hookups. Is no one allowed to be single?
As soon as Owen picks Amelia, they put Teddy with Tom. As soon as Meredith picks DeLuca and Amelia leaves Owen, they put those two together. It's probably just a matter of time before Owen and Teddy get back together, and they'll probably stick Tom with someone else.
I'm tired of all the "recycling" and have lost interest in all non-stable (Alex/Jo, Bailey/Ben) Grey's relationships.
Related: Whiskey Cavalier Season 1 Episode 3 Review: When in Rome
Rachelle: I like it, but I don't see them becoming anything serious, which is why I am a fan. I see them more of having a fun casual relationship. I 100% agree with Stacy in terms of recycled relationships. It is getting old.
Jasmine: LOL! Tell us how you really feel, Stacy!
I am surprised at how easily I enjoyed this pairing. They're cute and fun. Amelia is a pretty sexual person, so after all the Omelia angst, why not? I don't mind three out of the four new relationships introduced this season; it's shocking.
I don't expect anything else from Grey's, to be honest.
Casey found Jo's mother. React!
Stacy: I'm actually pretty excited for this storyline. I'm curious to see if it goes well a la Maggie and Richard, or if it goes poorly a la Jackson and his father. I hope it goes well and Jo isn't disappointed.
Rachelle: I am excited to see how this plays out, but I don't want to see Jo hurt. She went through so much as a child. I do think it is what she needs to do though in order to be ready to have a family with Alex.
Related: Siren Season 2 Episode 8 Review: Leverage 
Jasmine: I'm excited about this storyline as well. For one, shoutout to Casey who is easily the coolest intern for finding Jo's mom. I have a weak spot for lovable hackers.
Jo and Alex have been mostly sidenline this season, and I look forward to Jo having a meatier storyline. It's something exciting and positive (hopefully). I hope it goes well for her.
What was your favorite or funniest moment from the episode?
Stacy: The funniest moment to me was Alex accusing Bailey of being prejudiced against mental illness and her calling him a jackass under her breath.
Rachelle: I liked when Richard had a fish fry from the left-over fish Jackson used on his Merman. It was a fun gathering and a nice way to not have any fish go to waste.
-Related: Stream your favorite British shows anytime, anywhere, commercial free with Acorn via Prime Video Channels! -
Jasmine: I enjoyed Amelia and Link, Casey eavesdropping and scratching his itch, the fish fry was cute, and I loved Jackson and Meredith and the jokes about Jackson being the king of Atlantis.
Over to you, Grey's Fanatics! Hit the comments with your thoughts and tell us if you agree with us. 
Grey's Anatomy airs Thursdays on ABC. 
You can watch Grey's Anatomy online here via TV Fanatic. 
Jasmine Blu is a senior staff writer for TV Fanatic. Follow her on Twitter.