Supergirl Season 5: First Look, New Cast Members Revealed, & More!
Paul Dailly at .
When Supergirl returns in the fall for her fifth season, there will be a string of new additions to the cast. 
During the show's San Diego Comic-Con panel, it was revealed that Julie Gonzalo (Dallas 2.0) and Staz Nair (Game of Thrones) would be new series regulars. 
Gonzalo is on board as DC Comics character Andrea Rojas (aka Acrata), "a polished businesswoman and heir to a Central American tech empire [who is] now making a hostile advance into the world of media."
"Unapologetic and unafraid to make waves, she also holds a mystical secret." 
The character is taking over as head of CatCo, meaning we already know who James Olsen's replacement at the firm will be when Mehcad Brooks bows out of his role in the fall. 
Related: Supergirl Shocker: Mehcad Brooks Quits
Nair will play as "hardened reporter William Dey, an original character created for the series."
"On the surface, he's a cynic and a sellout who looks down on Kara's earnest idealism."
"Dey's not interested in making friends, he just wants to get the story — but his ties to the criminal underworld could prove problematic."
Another exciting addition to the cast is Meghan Rath aka Supergirl series regular Jesse Rath's sister. 
Meghan is tapped to appear as a female Brainiac 5. 
Related: Supergirl: Jeremy Jordan Returning for Season 5
Also released is a first look photo from Supergirl Season 5, which shows Kara's new super-suit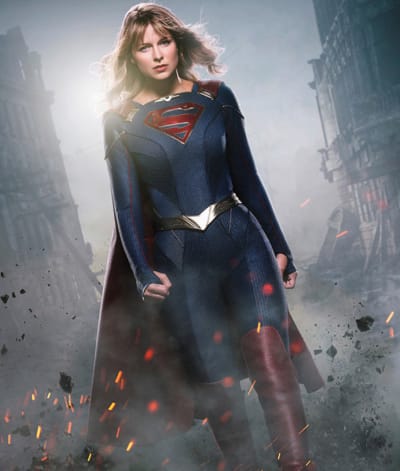 As you can see, the superhero is ditching the skirt and tights combo in favor of pants. 
Finally, a brand new trailer was released for the fifth season, and it shows the immediate aftermath of the fourth season finale. 
If you watch Supergirl online, you know that Lena learned the truth about Kara's super status.
"I don't want to kill Supergirl. I just want her to experience the same hurt she inflicted on me," Lena says. "And soon enough, she will."
Yikes. 
To top it off there was even a little cackle from someone that sounded a lot like Lex Luthor. 
Sheesh. 
Have a look below. 
Supergirl Season 5 gets underway Sunday, October 6. 
Paul Dailly is the Associate Editor for TV Fanatic. Follow him on Twitter.