Emmys 2019 [Updating Live]: All the Winners!

Carissa Pavlica at . Updated at .
The night before the fall season means it's time for the Emmy Awards Presentation!
Who won for outstanding achievement in all of the major categories? Check out our coverage below.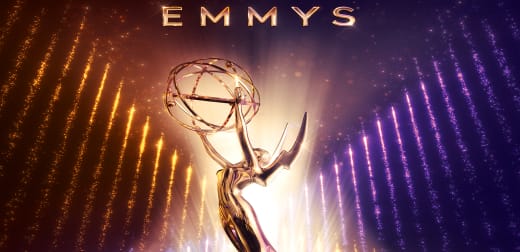 There isn't a host this year, so after a few star appearances and comedy bits, they got right down to business.
The first winner was...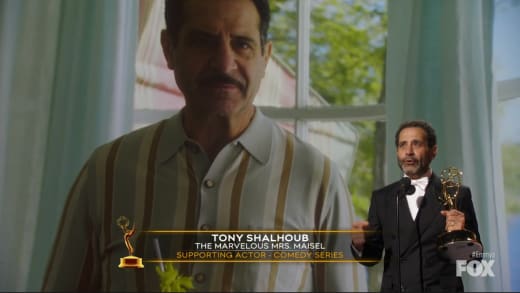 Tony Shaloub for Best Supporting Actor in a Comedy Series for his role as Abe Weissman on The Marvelous Mrs. Maisel.
Was one of his costars able to follow his lead with Best Supporting Actress in a Comedy?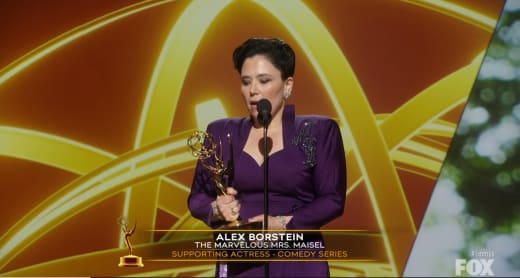 Yes, indeed! It was Alex Borstein for her second win for Susie Myerson on The Marvelous Mrs. Maisel, but this year she didn't give her topside the extra support before heading to stage!
What to Watch Fall Preview 2019: Best Bets for Weekly Television
Susie is a once-in-a-lifetime character on one of the best shows on television, so congrats to Alex!
Writing in a Comedy Series was the next category with a lot of terrific entries.
Phoebe Waller-Bridge won the Emmy for Outstanding Writing in a Comedy for Episode 1 of Fleabag, admitting that she finds writing very very difficult.
She continued that she struggles so because winning an award makes it all worth it.
It was hard not to wonder what the Emmys would look like without a host, and the answer seems to be that there will be more commercials than ever before. 
Is that the best tradeoff? 
Jane Lynch and Luke Kirby won Emmys for Guest Stars in a Comedy for their gigs on The Marvelous Mrs. Maisel, and they presented the award for Best Director of a Comedy Series.
Harry Bradbeer won the Emmy for his direction of an episode of Fleabag.
The reading of the nominees for Grammy of Leif Garret in a Cowboy suit -- better known as Lead Actor in a Comedy series -- took a very long route.
But the winner is most deserved!
Bill Hader, the creator, a director, and the lead on HBO's Barry takes home the trophy for Lead Actor in a Comedy.
Are you getting ideas for watching more subscription television from the awards so far?
By about the time that Stephen Colbert and Jimmy Kimmel tak the stage, they're not the only ones lamenting the lack of host. Awards shows kind of need the steady stream of enteratinment.
Oh well, at least Alexa took over the nominations for a giggle.
And the first double Emmy winner is...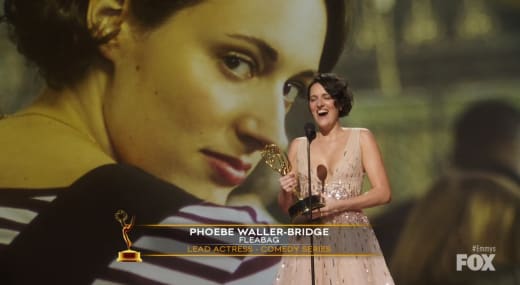 Phoebe Waller-Bridge wins for Best Actress in a Comedy! 
Fleabag Season 2 Review: Fleabag Searches For A Miracle
That gives Fleabag three Emmys during the presentation by this point. But now it's time to honor reality TV.
A couple of Kardashians take the stage to present.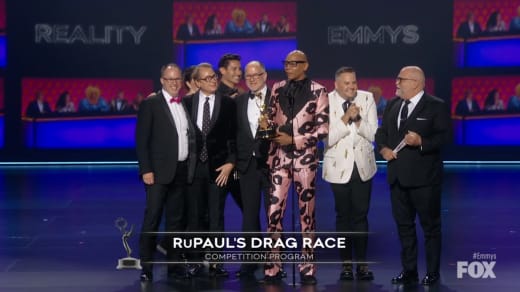 RuPaul's Drag Race wins the Emmy for Competition Show.
He celebrates by calling up everyone on stage with him.
Seth Myers presents the Best Drama nominees Game of Thrones with some funny insights about the uselessness of wedding planning and how heritage was all word of mouth before 23 and Me.
Yes, John and Dany could have used a DNA kit, but it didn't matter for Cersei and Jamie. The entire cast gathered to present the award for Lead Actress in a Limited Series, and they got a standing ovation.
The loudest applause went to Gwendoline Tracey Philippa Christie.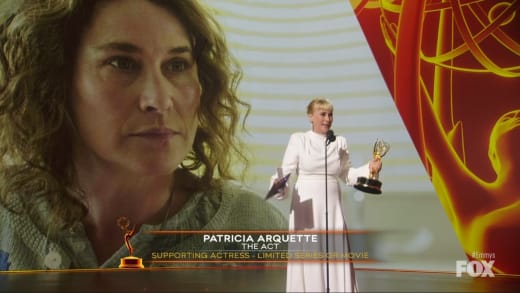 Patricia Arquette, looking a lot like Princess Leia, won the Best Actress in a Limited Series award for her role in Hulu's The Act.
She took her time on the stage to cry for her sister, Alexis, who passed away, and Patricia's hope that there will be trans rights for all.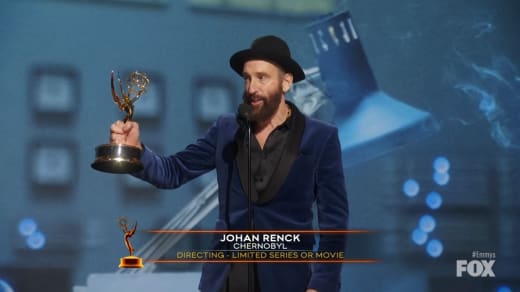 Next, Johan Renck won the an Emmy for Directing in a Limited Series or Movie for his work on Chernobyl.
Chernobyl Is a Harrowing and Worthy Look at One of the World's Worst Man-Made Disasters
Chernobyl was arguably one of the best things on television so far in 2019.
There are all kinds of enternment related commercials during the broadcast including the two-month nod to sign up for Disney+, ads for the new season of 9-1-1 as well as for  fearless FX.
Emmy winners Bill Hader and Phoebe Waller-Bridge present the award for actors in shows that are canceled (or Limited Series and Movies) with good jokes.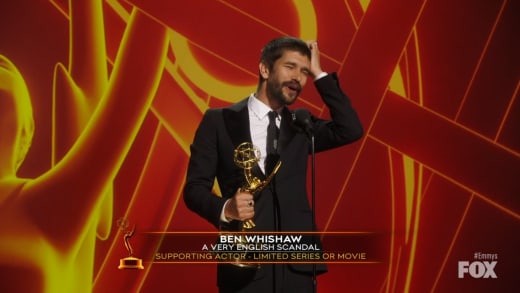 Ben Whishaw won an Emmy for Best Supporting Actor in a Limited Series or Movie for A Very English Scandal.
He was hungover. Yes, he announced it.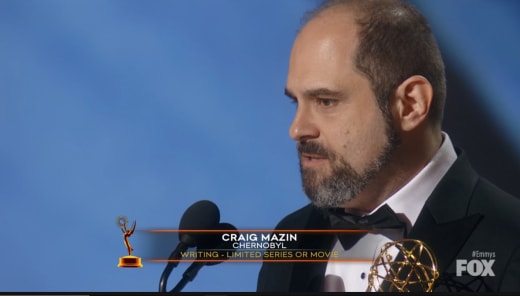 The Emmy for Writing in a Limited Series or Movie went to Craig Mazin for Chernobyl.
Lead actor in a limited series was presented by 9-1-1 stars Peter Krause and Angela Bassett.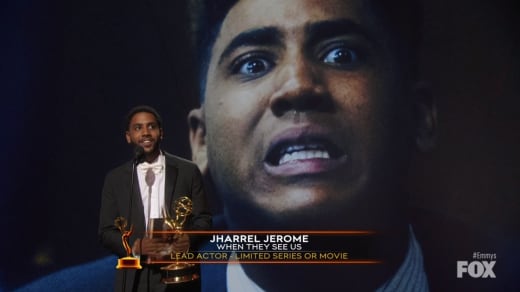 The Emmy for Lead Actor in Limited Series or Miniseries goes to Jharrel Jerome for When The See Us, who also stars on Mr. Mercedes.
Jerome offered a shoutout to the Exhonerated Five who were in the audience.
The Emmy award for Television Movie goes to Netflix's Bandersnatch.
Next up is Hugh Laurie who presents the swan song for Veep.
It's the second juggernaught HBO series to get a standing ovation as the cast takes the stage.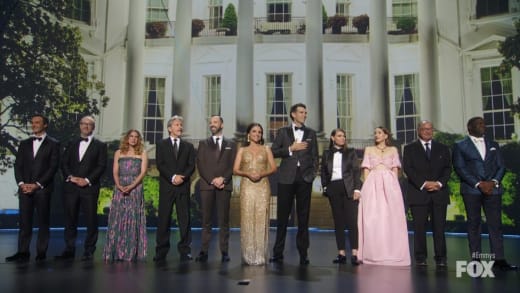 The group is there for more than our entertaiment, though, as they present the award for Lead Actress in a Limited Series or Movie.
Julia Louis Dreyfus wanted to be on stage alone, but gets pretty close when she and Tony Hale present the award.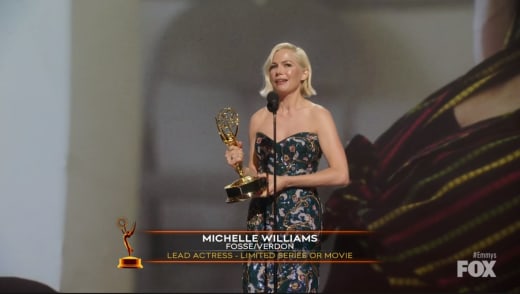 Michelle Williams expresses thanks for the producers for equal treatment and equal pay when she wins the Lead Actress in a Limited Series or Movie Emmy for her role as Gwen Verdon in Fosse/Verdon.
She also shows supports for women of color who might win an award in the future and will take the time to thank them for their treatment, too.
The next award is for Limited Series. Were they always presented separately from Television Movie?
Chernobyl wins for Limited Series, and Craig Mazin gives props to the truth and the ability of the film community to give important stories new life that then lasts forever.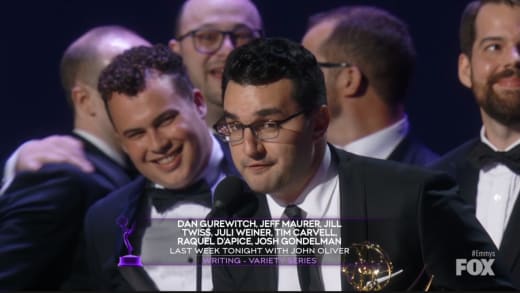 Last Week Tonight with John Oliver won for Writing on a Variety Series.
The next award is for Variety Sketch Series.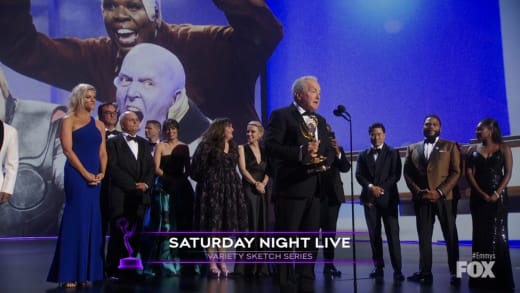 Saturday Night Live gets the award with Lorne Michaels thanking politics and warm moments like a Chris Farley tribute for keeping them on the air.
Might I repeat that this is awards show is dragging on without a host? It's not at all entertaining for anyone outside of the nominees and presenters.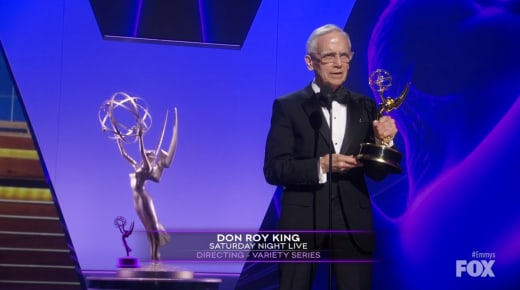 Don Roy King won for Directing on a Variety Series for his work with  .
Honestly, I'd rather have watched the guest stars win their awards than the variety series awards which were poised between Limited Series and Drama awards to force viewer to stick with this program for its entirety.
Up next John Oliver won another award.
Last Week Tonight with John Oliver won for Best Variety Series.
They rolled right into the shows we're going to miss because they're going off the air montage.
There are some big shows that went off the air in 2019, and many will follow suit in 2020.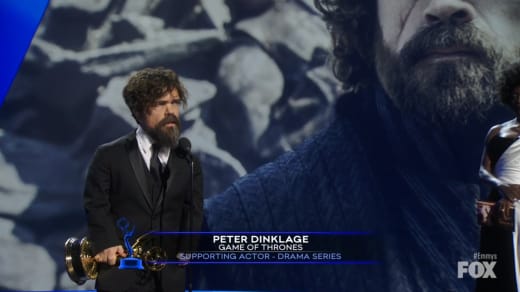 The next award goes to Supporting Actor in a Drama with Peter Dinklage winning for Tyrion Lannister on Game of Thrones.
He noted they did a lot of sweating for eight years to make that series, but there was also a lot of laughter.
Is this when the Emmys become the Game of Thrones show?
Not so fast! Cherry Jones, whose episode of The Handmaid's Tale was nominated for Writing gave the award to...
Jesse Armstrong won Writing for a Drama for Succession's "Nobody Is Ever Missing," and I screamed out loud.
The screaming continued when one of my favorites won the next award.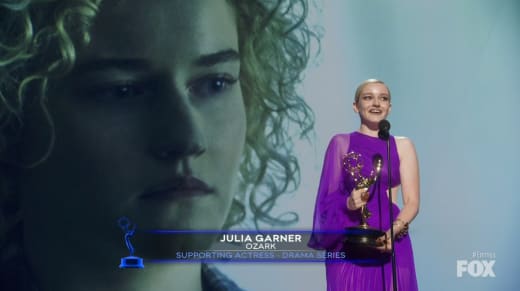 Julia Garner wins Supporting Actress in a Drama for Ozark!
She's such an incredible talent across the board, so getting acknowledged after her massive body of work on shows like The Americans, Maniac, and Dirty John among many others is terrific!
The list of people we lost during the In Memorium segment playing behind Time After Time was too long and filled with talented, kind souls that will live on through their contributions to the entertainment community.
And now we're up to the final few awards.
Who will win the best acting categories for Drama?
Kerry Washington watches history unfold when she presents the award for Best Actor in a Drama.
Pittsburgh native Billy Porter takes home the award besting all of the Thrones cast as well as Jason Bateman and others in the category for his incredible role on the FX series, Pose.
Worry not, as Game of Thrones still has some chances to win as they have three nominations in the next category.
Brittany Snow and Timothy Hutton from Almost Family present the directing Emmy.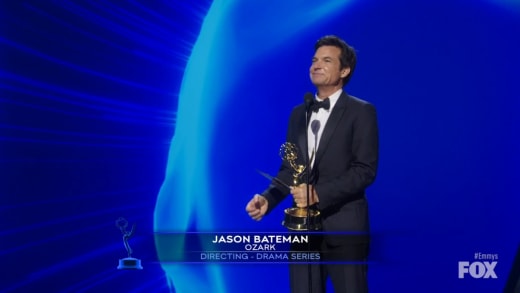 And Thrones is shut out again!
A second award for Ozark and first win for Jason Bateman for his Direction of Ozark.
The surprised look on his face and that of his friends said it all. He never saw it coming! Way to go, Jason!
Killing Eve: 31 Times Villanelle Was a Giant Mood
Gweneth Paltrow reads the winner for the Lead Actress in a Drama from a very crowded category.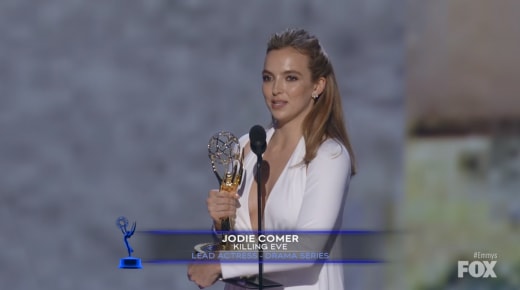 And the winner is Jodie Comer from Killing Eve is Best Lead Actress in a Drama!!
The varied wins for drama categories has definitely made up for the overly dull presentation.
Oh, the fun continues in the last segment of the Emmy Awards!
Can you even venture to guess the best drama or best comedy? If anyone won their office pool with these results, they deserve all of your money!
Fleabag wins for Best Comedy with a stunned Phoebe Waller-Bridge accespting the award.
Someone who won previously failed to thank his wife and took heat before the entire world to make amends.
And that leaves just one final award. Michael Douglas steps up to present the Outstanding Drama Series from a pool of eight nominees.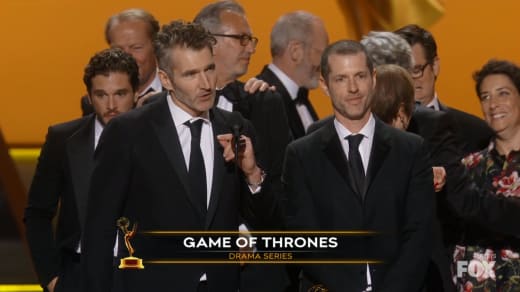 Game of Thrones wasn't the biggest winner of the night, but they take home the coveted Best Drama prize.
So there you have it!
What surprised you the most? Did anyone get robbed?
Hit the comments with your thoughts.
Carissa Pavlica is the managing editor and a staff writer and critic for TV Fanatic. She's a member of the Critic's Choice Association, enjoys mentoring writers, conversing with cats, and passionately discussing the nuances of television and film with anyone who will listen. Follow her on Twitter and email her here at TV Fanatic.