Days of Our Lives Spoilers Week of 10-7-19: A Widow Takes Revenge!

Jack Ori at .
Do you feel sorry for Gabi?
Just as she found happiness after all with Stefan, he took a bullet for Vivian and now he's brain dead.
Gabi is devastated by the news, but the spoiler video for Days of Our Lives during the week of 10-7-19 suggests she's not going to wallow in grief -- she's going to go into revenge mode again!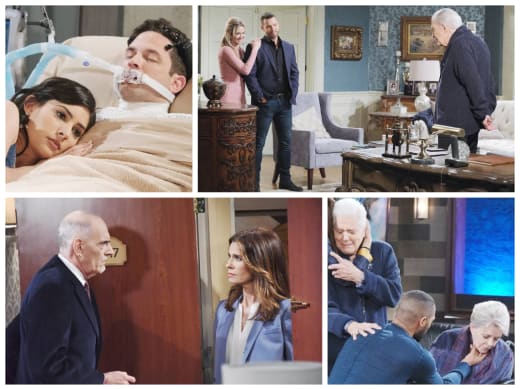 In the video's opening scene, Gabi holds Stefan's comatose body and cries.
But later, she tells a shocked Eli, Lani, Jack, and Jennifer that if they want her to donate Stefan's heart to Julie, they're going to have to beg for it!
Related: Days of Our Lives Review: Still the Most Beautiful Girl in the World
Meanwhile, Victor laughs about something, but that likely has to do with something else altogether, perhaps whatever plan he comes up with to stop Kristen from using her unborn baby to control Brady.
In any case, it's hard to predict what this latest story will do for Gabi's character.
Vengeful, angry Gabi has turned fans off by going too far in the past.  But will this time be different?
After all, she finally opened her heart to Stefan and discovered true happiness, only for him to be snatched away from her in the blink of an eye.
At the same time, she did walk away from Julie during her first heart attack and then was upset that people thought she did it on purpose. So refusing to help Julie now isn't a good look for her.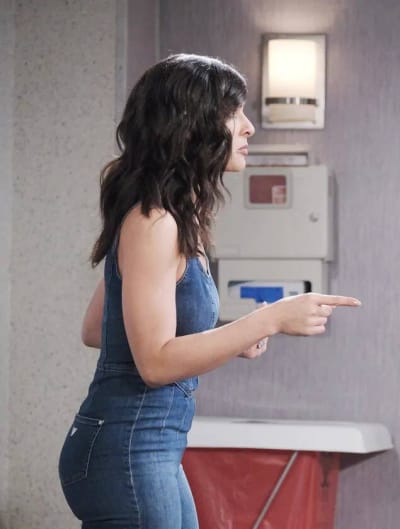 Plus, Vivian is a lot more to blame for Stefan's death than anything else. He was trying to stop Lani from shooting her while Vivian was not only running from the cops but threatening Lani with a gun.
In any case, there is sure to be a ton of high drama surrounding Stefan's death and Julie's prognosis. Check out our Days of Our Lives spoiler photos below to get the full scoop about that and everything else that's happening!
Eve runs into a distraught Vivian.
Vivian's relationship with Stefan was weird.
He locked her in one of the secret rooms in the tunnels below the Dimera mansion to protect "Gabby" and warned her not to make him choose between the real Gabi and his mother.
Related: Days of Our Lives Round Table: Which Crazy Character Should Go?
And she threatened to destroy him if he didn't help her escape arrest for shooting Kate.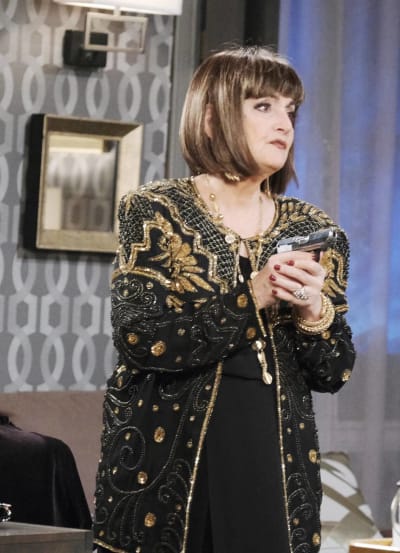 Nevertheless, Vivian deeply loved Stefan and is sure to be as devastated by his death as Gabi.
The question is, what does Eve have to do with any of this? 
Eve recently decided to leave town, and shortly before that, she had wormed her way into Vivian's good graces. Could the two of them go on the run together?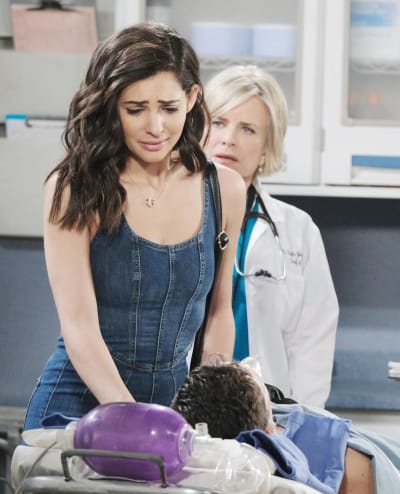 Gabi is devastated when she learns of Stefan's prognosis.
Kayla already told Gabi that Stefan is brain dead, but it may take time for it to sink in that he's dead.
Gabi has reason to disbelieve Kayla. After all, Kayla said Kate would never wake up from her coma either! But once she accepts the prognosis, her heart is going to be broken.
We know that Gabi doesn't take heartbreak well. But before she goes into revenge mode, she probably will grieve at Stefan's bedside and those are sure to be some powerful, emotional scenes.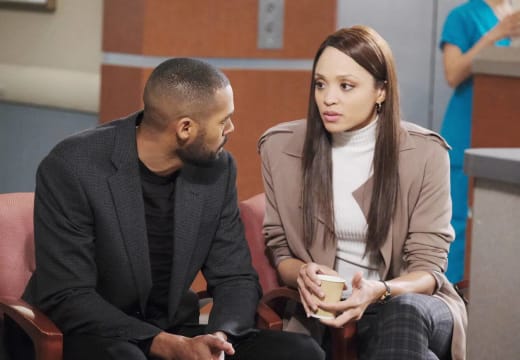 Lani and Eli contemplate asking Gabi to give Julie Stefan's heart.
It sounds like a terrible idea. Lani shot Stefan, and while it was an accident, right now it makes Lani the only person that Gabi hates more than she hates Julie.
Any organ donation request is best left to Kayla, who has a slim chance of getting through to Gabi and professional experience with making these types of requests.
Related: Chicago Med Review: Never Going Back to Normal
But that wouldn't be nearly as dramatic as if Lani and Eli made the request themselves, so most likely that's exactly what's going to happen!
Gabi is NOT going to take this well at all, and it'll take a miracle for her to agree to give her arch-enemy her dead lover's heart. Will anyone be able to pull it off?
Brady breaks the news to Victor that Kristen is pregnant.
From the photo, it appears that Kristen is part of this conversation. Bad idea, Brady!
Victor wouldn't take the news well in any case, but there's no way he'll believe that Brady plans to be there for the child and not reconcile with the child's mother when Kristen is standing right there, smiling!
Most likely what's going to happen with this is that Victor will rant and rave and then throw Brady and Kristen out of the house, or he'll fire Brady, or he'll do both!. Then he'll come up with a plan of his own to deprive Kristen of her child.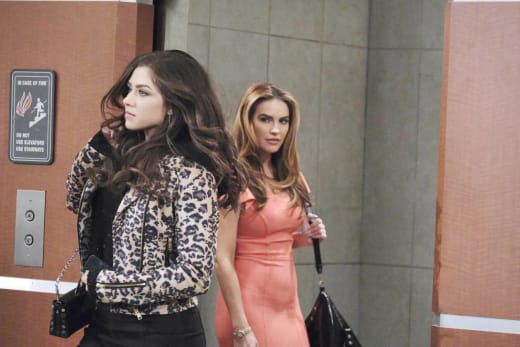 Ciara finds herself in close quarters with Jordan.
Ciara won't be able to resist shaking Jordan to see what comes out, given her suspicion that Jordan is the one who tried to run her over.
The only question here is whether Ciara and Jordan just find themselves sharing an elevator or if they get stuck in one.
Related: Get True Crime Files by ID via Prime Video Channels for Over 1,000 Real-life Mystery & Suspense Shows!
Getting stuck together could lead to a new understanding between the two women, but it's more likely that Ciara will pull the emergency stop lever to try to force Jordan to confess if she wants the elevator to keep moving!

Eli pleads with Gabi to save Julie's life.
It looks like Eli is going to do as Gabi asks and beg.
It will be both emotional and humiliating, but will it move Gabi one bit?
She's still hurt and angry that Eli refused to believe that she didn't leave Julie to die on purpose, and this situation gives her the upper hand over everyone who rejected her.

Hope struggles to escape from Rolf.
Hope was freaked out when she and Rolf crossed paths briefly at the hospital. Now it appears she is going to have a scarier, dramatic confrontation with her!
In the past, Rolf switched Hope with the evil Princess Gina.
Related: Days of Our Lives: 13 Things That Only Happen in Salem
Princess Gina was last seen in the afterlife when Marlena had an out-of-body experience, but Tony was there too, and now he's alive. Besides, where Rolf is involved, anything is possible.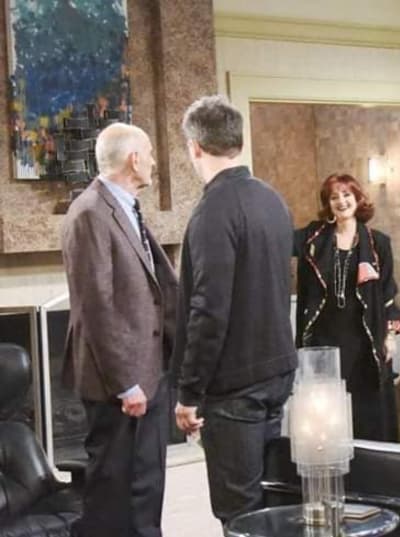 Plus, the current writing team LOVES doppelganger stories. It's been almost a month since faux Nicole was revealed to be Kristen, so Rolf will likely get away with this.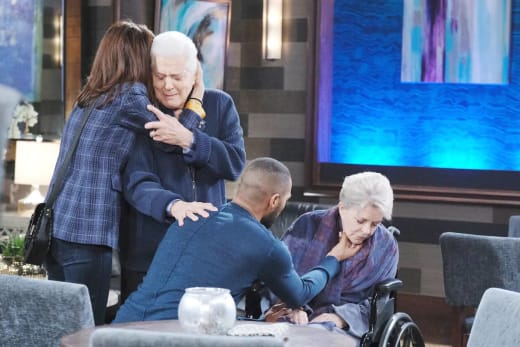 Doug and the rest of the family prepare to say a final goodbye to Julie.
As if the Doug/Julie scenes in the club weren't emotional enough!
Viewers will want to have their tissues handy for the family's final goodbyes as Julie struggles to hold onto life.
Will Gabi relent in time to save Julie's life? And just as importantly, will extended family members such as Jennifer and JJ be part of the goodbye scenes too?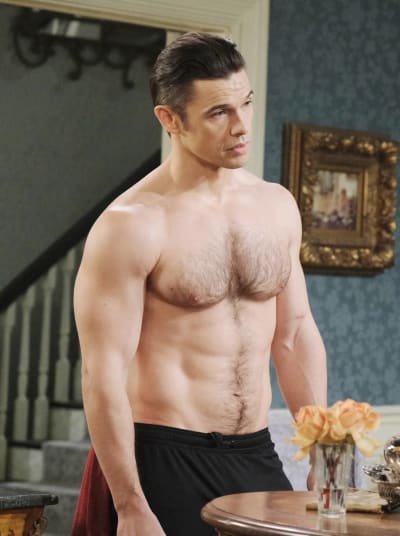 Xander tries to come up with a way to keep Sarah in town.
Some viewers would prefer that Xander fail in his quest to keep Sarah from leaving town. 
But on the other hand, Xander and Sarah make a cute couple, and it looks like Xander's going to go shirtless (again!) to keep Sarah from going.
Related: Lessons Days of Our Lives Could Learn from Australia's 'Neighbours'
Will he offer to pretend to be the father of Sarah's baby so that she won't have to keep her pregnancy hidden for much longer?

Gabi lashes out at Lani after Stefan's death.
A confrontation between Gabi and Lani was inevitable.
These two have been rivals forever, and the Stefan situation mirrors the situation after Theo got shot and Lani cheated on JJ with Eli while Gabi was trying to stop JJ from killing himself!
Any guesses on how long it'll take for this conflict to get physical?
Your turn, Days of Our Lives fanatics! Vote in our poll below for the spoiler that most excites you and then explain your choice in the comments.
Looking to chat about already-aired Days of Our Lives episodes? Check out our Days of Our Lives reviews and Days of Our Lives Round Table discussions!
Days of Our Lives airs on NBC on weekday afternoons. Check your local listings for airtimes.
Jack Ori is a senior staff writer for TV Fanatic. His debut young adult novel, Reinventing Hannah, is available on Amazon. Follow him on Twitter.