Grey's Anatomy Fans Divided over Meredith Grey's Fate
Paul Dailly at .
Meredith Grey has a long and winding road ahead of her. 
Grey's Anatomy Season 16 Episode 5 revealed that Ellen Pompeo's embattled alter ego went to jail after failing to appear at court. 
If you watch Grey's Anatomy online, you know that Mer's daughter, Zola, was in surgery, so the mother did not want to leave her side. 
Meredith has been in trouble ever since falsing insurance documents to allow a young girl who wasn't covered by insurance to get surgery at the end of Grey's Anatomy Season 15. 
Related: Grey's Anatomy Season 16 Episode 5 Review: Breathe Again
Meredith's medical license is at risk as a result, and given that she cut court after missing her community service, she faces a dark future. 
Naturally, fans took to social media following the explosive episode, and the response was split down the middle. 
"Did Meredith Grey do a good thing for that little girl. Yes, said one fan, who went on to say that the disgraced doctor does not regret that decision.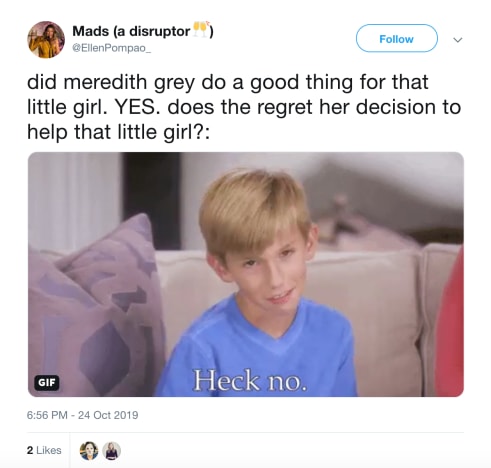 "Meredith couldn't care less about missing court, all that mattered to her was being with Zola!" wrote another fan.
Related: Grey's Anatomy Fans React to Off-Screen Return
"This is literally the purest and deepest love of all. Meredith Grey is an extraordinary mom to her kids. I'm extremely proud of her!"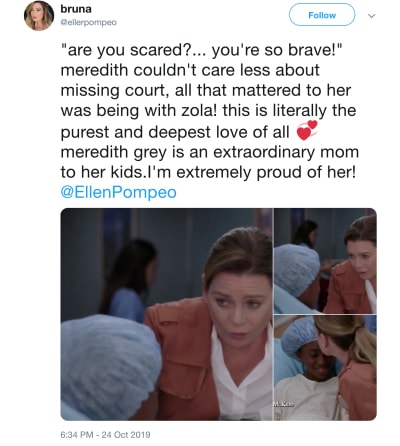 Other fans said that they felt prison would be good for Meredith because it would teach her a lesson. 
"I think jail will be good for Meredith," wrote someone else. "Finally she'll learn she can't get away with everything."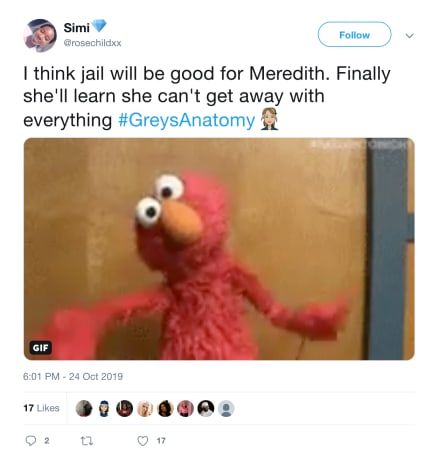 "You'll be making up your missed hours in jail. #GreysAnatomy THIS IS IT," added another. "MEREDITH GREY'S GOING TO JAIL."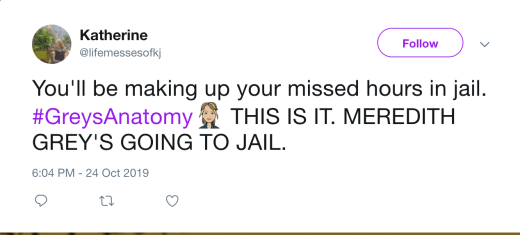 "Meredith Grey is going to jail to make up her missed community service hours," said another fan. "Kinda think its what she deserves. Break the law. Suffer the consequences."
Like we said, fans are divided over this development. 
Whether Meredith will be able to find a way to get out of this one with her medical license intact, we don't know. 
But we'll need to tune into Grey's Anatomy Season 16 Episode 6 next Thursday to find out.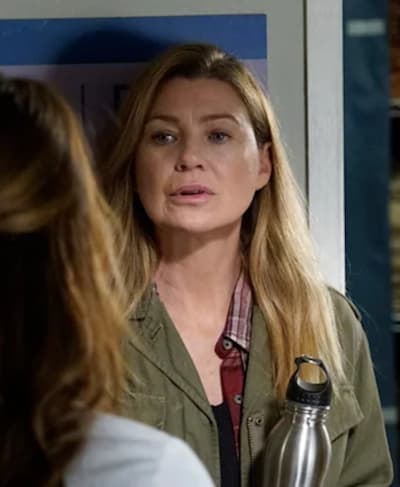 Where do you stand on this?
Do you think Meredith deserves jail? 
How do you think this will play out?
Hit the comments below. 
Editor's Note: Our system got updated! Now, you'll be able to scroll through many articles at once.
That required a bit of a change to the comments, though, and now you have to click the blue "comments" bar at the bottom of an article to access them.
There are also two segments to comments now. You can either comment using Facebook or Disqus. Either way, you can SEE both types of comments.
We hope that will be more inclusive of our community at large and that the conversations will grow as a result.
Paul Dailly is the Associate Editor for TV Fanatic. Follow him on Twitter.