Halloween Costumes You Need In Your Wardrobe This Year

Sylvia Lupien at .
Halloween is the one day of the year cosplay is socially acceptable, and there's bound to be some TV Fanatics out there dressing up as iconic characters.
We compiled a list of our favorite entertainment inspired characters with a killer sense of style. Here's how to get their wardrobe just in time for Halloween, and for more causal dressed characters, you can emulate them year-round!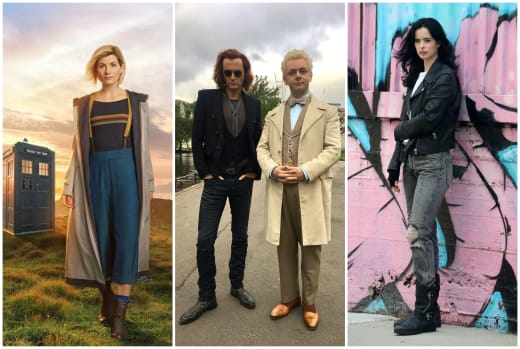 Madam Satan (Chilling Adventures of Sabrina)
The Chilling Adventures of Sabrina swept through Greendale to Netflix with a cold Autumn wind. The puppet master pulling the strings at the back of the show is Michelle Gomez's Mary Wardwell. But she's hiding something pretty big: she's actually Madam Satan. 
For a casual, Ms. Wardwell inspired look, pop on a long black cloak and a pair of spectacles, brown hair in a bun. Perfect for a night out at the cinema.
Full-on Lilith looks are slightly more challenging. The Queen of Hell's signature red dress can be screen printed for accuracy, or look for a red and black flowery dress in department stores.
Some fans have gotten creative by making finger crowns. 
Related: 23 Things We Love About the 13th Doctor
13th Doctor (Doctor Who)
The 13th Doctor made her debut when Jodie Whittaker fell to Earth last year in 2018. After spending a full episode in Peter Capaldi's bloody outfit (which would make a cool costume on its own), she gets her new look from a charity shop.
Brown boots and yellow suspenders are a must for a Whittaker costume.
You can find the grey coat she wears on the Her Universe website, as well as her rainbow-striped shirt and blue pants. For a bit of a high-end look, you can find the ear cuff she wears on Alex Monroe's website.
Whittaker's blonde hair is in a bob, and a similar wig is available on Amazon with brown roots. 
Mary Poppins (Disney Movie)
Emily Blunt brought the Victorian nanny dancing back to the silver screen this year. Now on Netflix, this movie takes a jaunt through 1940s London during the Great Depression, and Mary shows the kids the magic of imagination.
For Mary's main look of a long blue jacket, red hat with a bird decoration and carpet back, most of it can be purchased on Amazon.
  It is a bit pricey, so you might want to look up cosplay tutorials and sew it yourself just like Victorian women of the period. This look is instantly recognizable with curled hair and a pop of bright red lipstick.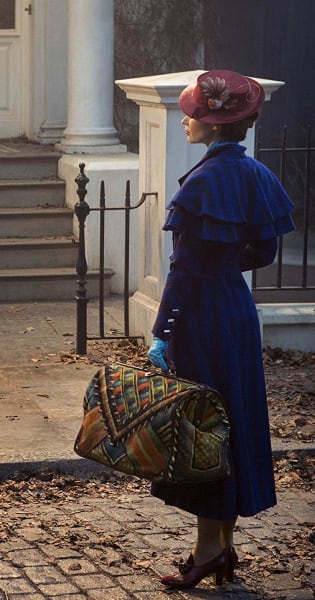 Missy (Doctor Who) 
Another Michelle Gomez character makes the list. The Queen of Evil from Doctor Who is the female incarnation of the Doctor's best friend turned enemy, the Master. Her Victorian nanny getup of an evil Mary Poppins is iconic.
A few versions of this costume are available for purchase on the hellocosplay.com website. She wears a purple skirt, purple jacket, and a crisp white shirt, pinned together with a victorian cameo.
Her hair is in multiple buns, and she has a Mary Poppins hat with flowers.
For her spending-500-years-in-a-Vault look, keep the skirt, but find a shirt with bowtie patterns. The hair is more challenging, as Gomez quips 'It looks like she ran through a bush backward.'
Tousle it up into a ponytail after some intense curling.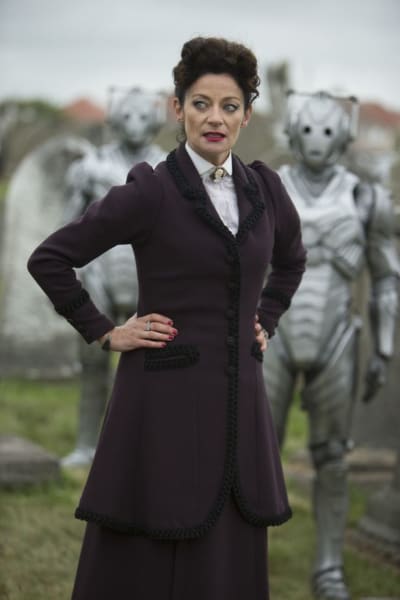 Sabrina Spellman (Chilling Adventures of Sabrina)
Kiernan Shipka launched the teenage witch into a new age of popularity with The Chilling Adventures of Sabrina on Netflix. She's fresh, with a rebellious streak of darkness.
For a more casual everyday outfit, go for an off the shoulder red shirt and black skirt with knee-high black socks.
A black cat is a cool addition if you have one. Her classic red coat is available on Amazon. 
When she writes her name in the Book of the Beast, she becomes darker and edgier. For this look, grab a black sweater and plaid skirt, again with black knee-high socks.
For extra touches, find a short silver-haired wig, add a pop of red lipstick and a black hairband.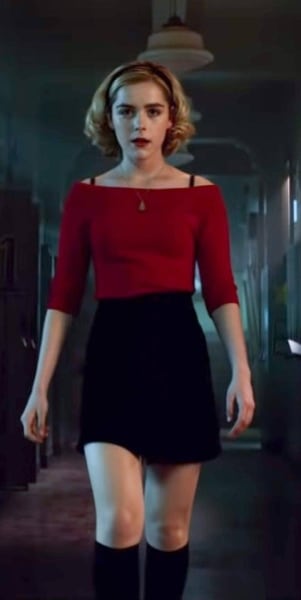 Related: Chilling Adventures of Sabrina Review: The End of Days
Archie Andrews (Riverdale)
The title character from Riverdale is always a safe choice for a fallback Halloween costume. This could work as a group outfit with Betty and Cheryl from the hit teen CW drama.
A popular character on the Bulldog's football team, he's always wearing his Riverdale High letterman jacket when he's not on the field. 
You know, the ones you get for joining student organizations like football or marching band.
Riverdale High colors are blue and yellow, and you can find the letterman jacket in multiple shops.
Hot Topic, Amazon, and eBay all have it listed on their sites. Cosplay could involve his besties, Betty and Jughead, shown pictured with him.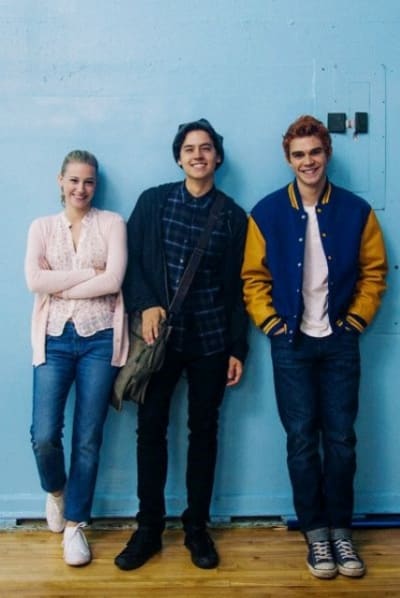 Cheryl Blossom (Riverdale)
Riverdale's redhead is a great Halloween costume with the right outfit. With a Twitter handle of Cheryl Bombshell, she has a great fashion sense that matches the Halloween vibes of the show. 
For this look, throw your hair into long waves and layer on the red lipstick.
A simple yellow and grey Riverdale High shirt and jeans will do fine for an everyday look to show your pride.
If you want a more advanced look, go for a black sweater (can be reused from Sabrina!), bright red skirt, and heels. Both the Riverdale shirt and a red wig is available on Amazon.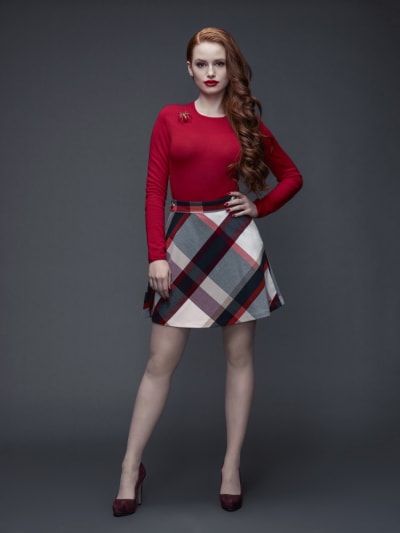 Related: Riverdale Season 4 Episode 1 Review: In Memoriam
Eleven (Stranger Things) 
This superpowered teen stole our hearts with her obsession for Eggo Waffles and her determination to protect her friends in the Netflix series Stranger Things.
For a classic Eleven look, find a pink dress with a blue jacket on Amazon and Hot Topic. A nosebleed from use of powers can be painted on with fake blood. 
On Stranger Things Season 3, her fashion sense develops as she grows up. The iconic paint-splattered black shirt paired with blue suspenders screams Eleven. Pair this look with a yellow scrunchie for your hair. You can get the shirt of Escapade and eBay.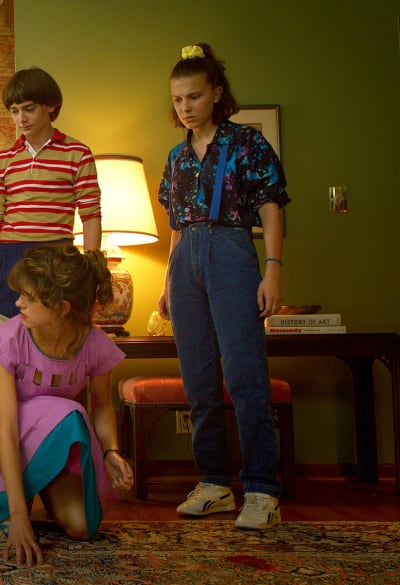 The Joker (DC Movie)
With the premiere of the Joker movie in October of 2019, it's safe to say this will be a popular Halloween costume. Even the design of this outfit has Halloween tones, with a dark orange vest, red jacket, and pants.
A light blue shirt and green hair bring it all together.
Who could forget about the iconic white face paint, with blue around the eyes and a huge red smile?
Practice your best Joker laugh and ask if people want to know how you got these scars. You can find the 2019 version of this costume on eBay.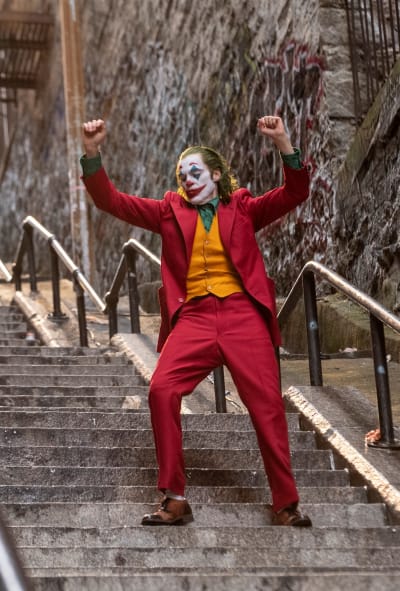 Crowley (Good Omens) 
Another popular show this year, David Tennant's Crowley and Micheal Sheen's Aziraphale try to stop Armageddon, the end of everything.
This would be great paired cosplay with Aziraphale, Crowley's best friend, who happens to be an angel.
Crowley can be easily recognized with black glasses to hide his bright yellow demon eyes, red hair and a black suit and tie.
The glasses and suit are available on Amazon, along with bright yellow eye contacts.
If you're going for more complicated looks, his Shakespearean costume that he wears to the Globe Theater is devilishly handsome, and you can sew it by hand, but you can find the huge neck ruffle online. 
Jessica Jones (Netflix Marvel Show)
Jessica Jones Season 3 aired on Netflix in June of 2019. The sarcastic and deadpan detective was back with a set of darker adventures, where friends turned out to be villains all along. (We're looking at you, Trish Walker.) 
For Jessica's signature look, get a black leather jacket and pair it with a grey scarf, casual shirt and ripped jeans.
Add a couple of fake cuts and bruises for collateral damage, and don't forget the booze. You can create most of Jessica's outfit by browsing department stores.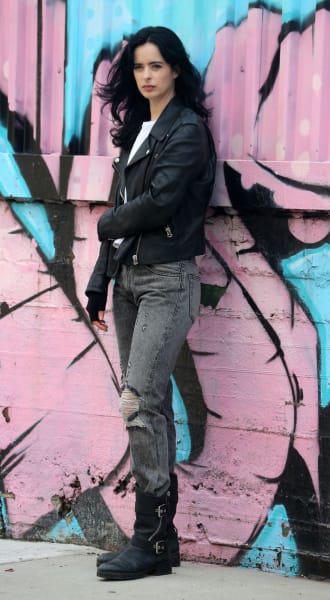 Related: Jessica Jones Faces One Last Enemy In Final Season Trailer

Vingentte Stonemoss (Carnival Row) 
The popular Amazon Prime Series starring Cara Delevinge dropped on Amazon Prime this year.
Imagine a Victorian London with fae and mythical creatures, the oppressed under beings brutally getting murdered by night, and you've got Carnival Row. 
It's a dark world, and this is reflected in the costume. Vignette wears a battered green overcoat with a fur lining, ripped jeans and boots. Get a pair of glittering fae wings and you're good to go. You can find the glittery fae wings on Amazon.
Pair this with Orlando Bloom's brooding detective Rycroft Philostrate for a couple cosplay.
We hope we gave you some inspiration for TV and movie characters who stole our hearts or stole the show.
It's time for you to get crafting and creating, and have a spooky Halloween!
---------------------------------------------
Editor's Note: Our system got updated! Now, you'll be able to scroll through many articles at once. That required a bit of a change to the comments, though, and now you have to click the blue "comments" bar at the bottom of an article to access them. 
There are also two segments to comments now. You can either comment using Facebook or Disqus. Either way, you can SEE both types of comments. We hope that will be more inclusive of our community at large and that the conversations will grow as a result.