Grease: Rise Of The Pink Ladies Cast and Creatives on Revamping Rydell

Mary Littlejohn at .
Even after all these years, Grease is still the word!
Grease: Rise Of The Pink Ladies premieres with two episodes on Thursday, April 6, on Paramount+.
The highly anticipated prequel to 1978's iconic musical film, Grease: Rise Of The Pink Ladies takes us back to Rydell High School in 1954, where we meet the young women who will become the first Pink Ladies.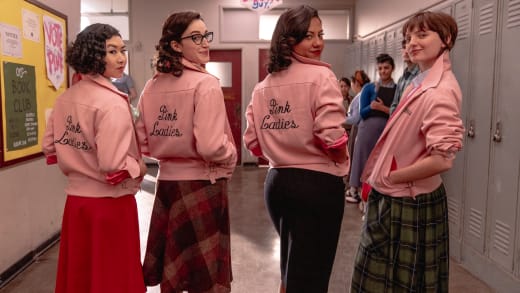 To learn about all the work that went on behind the scenes, we spoke to the cast and creatives behind this exciting new musical series.
You can watch all our interviews below!
Marisa Davila (Jane) & Cheyenne Isabel Wells (Olivia)
Marisa Davila plays the brainy and ambitious Jane Facciano, who won't settle for anything less than the best.
Cheyenne Isabel Wells plays Olivia Valdovinos, the tough-as-nails sister of T-Bird leader Richie.
Davila and Wells spoke of their joy of filming the show's big musical numbers, their similarity to their characters, and their love of the original film.
Tricia Fukuhara (Nancy) & Ari Notartomaso (Cynthia)
Tricia Fukuhara plays fashion-forward, no-nonsense Nancy, who spends her spare time designing and creating outrageous new outfits.
Ari Notartomaso plays tomboy Cynthia, who just wants to be one of the T-Birds, but unexpectedly finds other groups much more welcoming.
Fukuhara and Notartomaso talk about the inspiration behind their characters and the daunting task of representing for the under-represented.
Madison Thompson (Susan), Jason Schmidt (Buddy), & Shanel Bailey (Hazel)
Madison Thompson plays Susan, Jane's rival in more ways than one.
Jason Schmidt portrays Buddy, the golden boy letterman who runs for Rydell student council.
Shanel Bailey is Hazel, the shy new girl with much more going on than meets the eye.
We spoke to all three about how they approached their characters, and how their experience in live theatre compares to filming a musical television series.
Maxwell Whittington-Cooper (Wally) & Nicholas McDonough (Gil)
Maxwell Whittington-Cooper plays Wally, the football player who's a member of the Socs -- the popular rich kids.
Nicholas McDonough plays Gil, a member of the infamous T-Bird gang.
Both actors talked about how they see their characters and how this new series captures the quasi-fantasy feel of the original.
They also told us which episode is their favorite!
Justin Tranter (Songwriter/Executive Music Producer) & Jamal Sims (Choreographer/Director)
Justin Tranter is a prolific pop songwriter who has penned songs for Britney Spears, Gwen Stefani, and Imagine Dragons, just to name a few!
Jamal Sims is most famous for his work on RuPaul's Drag Race, but has also choreographed Disney's live-action Aladdin, Encanto, and the Step Up films.
We spoke to both of them about how they got involved with the show and their creative process to bring the songs and dances to life!
One thing is for sure -- this is no ordinary prequel!
There is plenty to love in this cast and crew, and they clearly hold the original film and musical in high regard.
Are you excited about the trip back to Rydell High? Will you be watching?
Grease: Rise Of The Pink Ladies drops its first two episodes on Paramount+ on Thursday, April 6.
Let us know your thoughts in the comments!
Mary Littlejohn Mary Littlejohn is a staff writer and critic for TV Fanatic. She loves television, cinema, and theatre (especially musicals!), particularly when it champions inclusivity, diversity, and social justice. Follow her on Twitter.