Who has ever been more excited at the prospect of the big one taking out California?!
When 9-1-1 Season 2 premieres in September, it's going to be a big one.
Not only will it feature a spectacular two-night premiere event, but that event will be one heck of an earthquake!
I'm pretty sure it was a stunt elbow in the actual footage, but it was definitely Jennifer Love Hewitt's voice saying what we've already grown used to hearing from the lips of Connie Britton during 9-1-1 Season 1:
"9-1-1, what's your emergency?"
Oh, that phrase sets off sparks, doesn't it? 
Related: 9-1-1 Season 2: Jennifer Love Hewitt Joins Fox Drama as Series Regular!!
Well, it could be any one of millions of people reporting on the growing number of incidents flashing on the screen in front of her. Three hundred sixty-two and counting!
Whoa nelly. That's going to require a much bigger team than the folks we've gotten used to seeing on a weekly basis, but I bet they'll be doing their best to get to each and every incident on their own -- as always!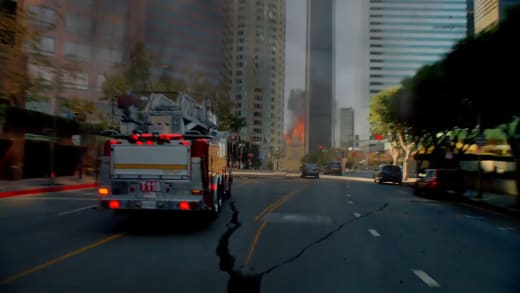 It also looks like they've gone all out for some of the best TV movie-of-the-week (old-school, you guys!) graphics.
Police cars and fire trucks are zipping all over the road trying to avoid cracks that are appearing as they are making their way to the next disaster calling.
How many new characters will be introduced during the two-night event? Hopefully all of them!
In the two previews that were released by Fox (we've strung them together for your viewing pleasure), the first focuses on the 9-1-1 call center as the phones start to ring and the next features the team getting ready to respond.
Related: 9-1-1 Season 2: Ryan Guzman Cast as Series Regular!
Athena (Angela Bassett) looks dumbfounded and her new beau (we hope that's still a thing) Bobby (Peter Krause) hotshot Buck (Oliver Stark) are looking up at the sky as a car seems to fall right in front of them.
We also get a quick look at Hen (Aisha Hinds) and Chimney (Kenneth Choi), so they're both around to feel the earth moving under their feet.
It's all kinds of exciting, isn't it?
Make sure you watch 9-1-1 online so you're all caught up in time for the series return on September 23 and 24!!