A Million Little Things Sneak Peek: Stranger Danger!

Jasmine Blu at . Updated at .
Sophie may be a daddy's girl, but she has more of her mother in her than she cares to think. 
There are a few concerning observations gleaned from this sneak peek of A Million Little Things Season 1 Episode 16. 
For one, Sophie must not have been paying attention during that discussion about "stranger danger."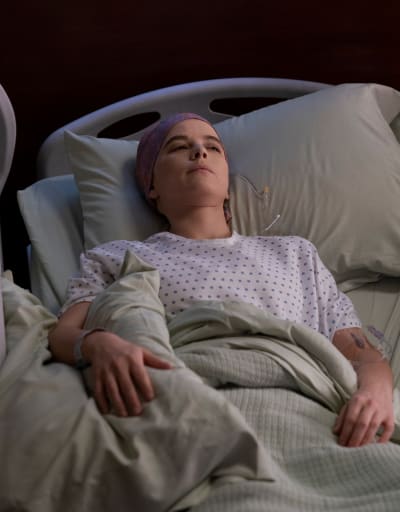 Sophie must not have watched a Lifetime movie or a horror film a day in her life.
Also, I guess teenagers don't take their cellphones everywhere with them or consider an alternative way for a complete stranger to leave their parent a message with the device instead of heading back home alone with a stranger. 
Related: A Million Little Things Season 1 Episode 15 Review: The Rock 
They call them smartphones for a reason, Sophie!
The most recent mysterious woman, Mrs. Nelson (Barbara Morgan?), was last seen spying on Delilah from outside the Dixon home and being dissuaded by her husband from approaching Delilah or doing and saying something. 
About what? We have no idea! 
Now, Nelson/ Morgan is taking things one step further and has approached Sophie outside of their home while Delilah is away. 
In the clip, Nelson jogs past Sophie and calls out her name as if she knows the teen. She introduces herself as Emma and claims that a mutual acquaintance, Sherry, introduced them to one another at the 5K run. 
Her confidence in the matter doesn't raise any flags with Sophie during that moment, and Nelson goes on to speak about how moving the Dixon family story is, and she implies that she can relate to Delilah's predicament.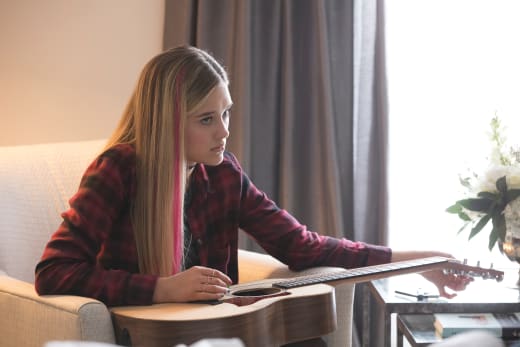 Nelson tells Sophie that she was pregnant when she lost her husband too. But what can that mean?
Does that mean she was involved with Jon herself and he abandoned her when she was pregnant? She said she lost her husband, but that doesn't mean he died. 
Related: Million Little Things Round Table: Will Katherine and Eddie Reconcile?
Could it be that Jon somehow caused something to happen in her life where she did lose her husband?
Maybe it's a lie that she's using to elicit sympathy and get Sophie to let her guard down.
She offers to speak to Delilah as someone who understands, and upon finding out that Delilah isn't around, she offers to leave a note for Delilah.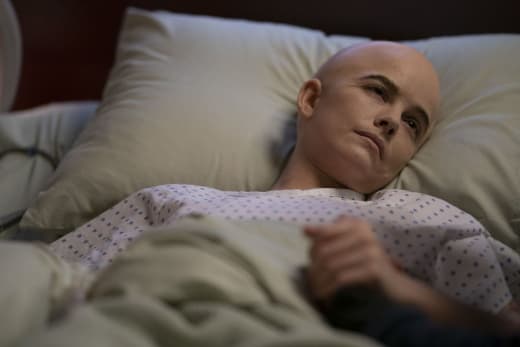 The problem is neither she nor Sophie has a pen. Joggers rarely do. 
And that is how Sophie brings a strange woman whose identity she doesn't know into the Dixon home and leaves her to explore the pictures and such while Sophie searches for a pen. 
-Related: Get Shudder via Prime Video Channels for Spine-Tingling & Provocative Films, TV Series, & Originals! -
She studies the photos and mail lying on the table and mentions that everyone looks so happy in all of the pictures. 
She then pulls out that yellow envelope that Jon sent Barbara Morgan! The mystery continues! 
Also, according to TVLine, this is the hour where we catch our first glimpse of The Walking Dead's Chandler Riggs. 
Riggs is supposed to be playing a character name PJ. Rome and PJ make a connection, presumably at the hospital while the others are waiting for news about Maggie after her big surgery. 
There is something that will lead to the two characters bonding, and it will be significant for both of them. 
This will be Chandler Riggs' first role since he departed The Walking Dead. 
So not only do we have more mystery to look forward to, but the introduction of a new character played by another fantastic guest-star. 
This series has the best guest-stars ever!
Check out the sneak peek of tonight's all-new episode! 
If you missed anything, you can watch A Million Little Things online here via TV Fanatic!