Ash vs Evil Dead Sneak Peek: Brock Screwed Ash Good!

Steve Ford at .
Isn't it cool to have Ashy Slashy's dad back in his Six Million Dollar glory?
In this exclusive clip of Ash vs Evil Dead Season 3 Episode 4, Brock returns to help aid his son in his quest against evil. That's right -- Lee Majors is back, and he's better than ever!
Better ... stronger ... faster!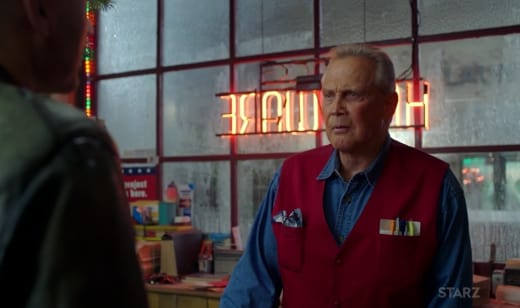 With Ruby's evil grasp on Elk Grove growing stronger with every passing minute, Ash and the gang are going to need every bit of help that they can get.
Related: Get Starz via Amazon Channels for Captivating Original Series & Hit Movies!
After "evil" Brock caused some problems for our pal Ash last week, it appears that this incarnation is the real deal, and it couldn't have happened at a better time.
In the clip below, the duo appears to be reliving a memory from Brock's past, where he was approached by a mysterious stranger with a perilous warning. 
Yet in typical Brock fashion, the fellow was completely blown off.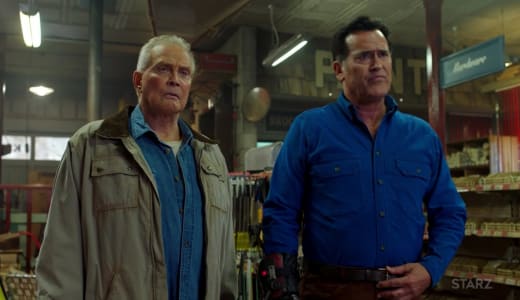 A warning of an evil threat looming over the town would have been some crucial information to know, don't you think Brock!?
Related: Get Shudder via Amazon Channels for Spine-Tingling & Provocative Films, TV Series, & Originals!
In Brock's defense though, the guy did look shady as all hell.
A huge opportunity may have been missed in the past, but hopefully, Ash will learn something from this encounter that can still be of use.
We'll have to see how it all unfolds, but the good news is that we don't have to wait too long to find out!
Related: Ash vs Evil Dead Season 3 Episode 3 Review: Apparently Dead
The next episode of Ash vs Evil Dead airs this Sunday, March 18th at 9/8c on Starz.
Missed last weeks episode? You can watch Ash vs Evil Dead online to get caught up with all the hacking and slashing fun!