Claws Official Trailer: Nailing a Brighter Future!
Dale McGarrigle at . Updated at .
Think of Claws as Steel Magnolias as written by Randy Wayne White.
TNT continues its walk on the wild side with this dark tale about five nail technicians at a Central Florida salon, each with their own secrets and crosses to bear.
They are led by the shop's owner, Desna, who is laundering money for the Dixie Mafia from a drug clinic further down the strip mall, plans to use the cut she's been promised to move her girls up to her dream salon.
But getting away from the mob, led by dangerous Uncle Daddy, is not going to be easy, and the women will soon find themselves in an uphill battle.
This dramedy is produced by Rashida Jones (Angie Tribeca), Will McCormack (A to Z) and creator Eliot Laurence.
It's blessed with a colorful cast of characters, as befits its Sunshine State setting.
The cast includes
Niecy Nash (Scream Queens), in the lead role of "Desna Simms," the pugnacious, cunning salon owner who is also the caretaker for her mentally ill twin brother Dean.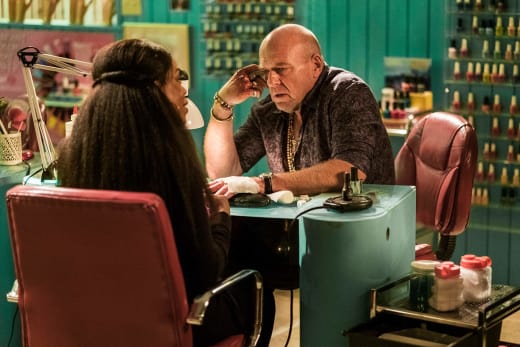 Dean Norris (Breaking Bad), in the lead role of "Uncle Daddy," a larger-than-life, bisexual crime boss;
Supporting cast members include:
Carrie Preston (The Good Fight) as "Polly," a mild-mannered preppy who was just released from prison after doing time for identity theft.
Harold Perrineau (Lost) as "Dean," Desna's autistic brother who lives with her.
Jenn Lyon as "Jennifer," Desna's best friend who is tenuously sober and fiercely protective of her two kids from two different dads.
Judy Reyes (Scrubs) as "Quiet Ann," the muscle who has a special way of pleasuring the salon's bored housewives.
Karrueche Tran as "Virginia," a slippery hottie who is looking for a place to belong.
Jason Antoon as Dr. Ken Brickman, who slings pills at Uncle Daddy's drug clinic.
Kevin Rankin as Bryce, Jennifer's husband and Roller's less-flashy older brother.
Jack Kesy as Roller, a muscle-bound gangster who runs the drug clinic.
The series debuts on TNT on Sunday, June 11, at 9 p.m./8c.