Fahrenheit 451: Official Trailer for Upcoming HBO Film Thrills
Carissa Pavlica at .
After you watch this trailer for HBO's adaptation of Ray Bradbury's Fahrenheit 541, you will want to be at home in front of the television when it airs.
The trailer alone raises the hair on your arms, so the final film should be something very special.
The drama is based on Ray Bradbury's classic novel of the same name, depicting a future where the media is an opiate, history is rewritten and "firemen" burn books.
Michael B. Jordan portrays Montag, a young fireman who forsakes his world and struggles to regain his humanity as he battles his mentor, fire captain Beatty, played by Michael Shannon.
Sofia Boutella stars as Clarisse, an informant caught between the competing interests of Montag and Beatty.
What I find frightening about the story in this day in age is the scene of Montag holding up the books before burning them.
With the advent of the e-reader, more and more books are disappearing.
There will come a time when book burning won't be necessary, but someone will only have to introduce a virus and all of our precious words and the knowledge that is born from them will be no more. 
Can you imagine?
Montag says he can't explain his dreams, and Beatty's answer is to take a look inside the books. There, he will find insanity. 
"Knowledge is a dangerous thing," Beatty says. Is there anything more dangerous than the lack of knowledge?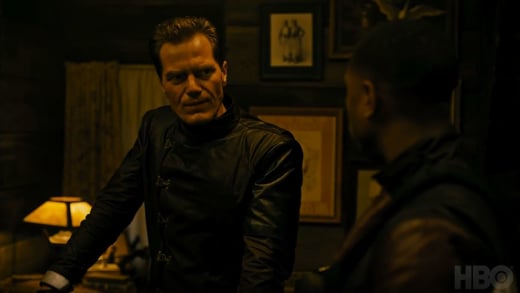 Is Montag like Beatty? What will he do to prove to himself he isn't like the other man? How will Clarisse help?
Reading Fahrenheit 451 was a life-altering experience.
While I realize everyone doesn't read (although you should give it a try), definitely make it a point to check out the film.
Fahrenheit 451 debuts on HBO Saturday, May 19 at 8/7c.
Be sure to join everyone else in the discussion on social media afterward that is sure to follow!