Is leaving a war-torn Earth behind the best course of action?
That will be the big question for the Robinson family when they leave the planet in order to find a new place to call home. 
The reboot of the 1960s series of the same name is set 30 years in the future and will focus on a group of people tasked with colonizing space. 
However, not everything goes to plan, and the team is forced to use their varying skills to their advantage when they crash-land on a planet way off course. 
The cast includes Toby Stephens, Molly Parker, Taylor Russell, Ignacio Serricchio and Parker Posey.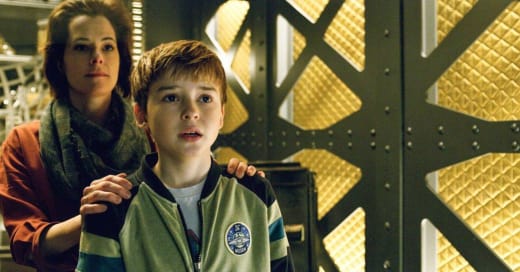 The official teaser shows the group taking to the sky in a spaceship when it becomes apparent that life on Earth is no longer viable. 
Netflix also reveals in the trailer that all episodes will bow Friday, April 13. 
Get your first look at the series below, and join us in the comments with your thoughts on it. 
Will you be adding this show to your Netflix list?
Tags:

Related Videos:

Uploaded by:

Uploaded:

Duration: