Preacher Season 3: Meet Jesse's Dysfunctional & Dangerous Family

Kim Russell at . Updated at .
Preacher Season 3 brings us to Angelville, Jesse's hometown, and with it a whole new set of characters.
These characters jump straight from the comic books and into the story!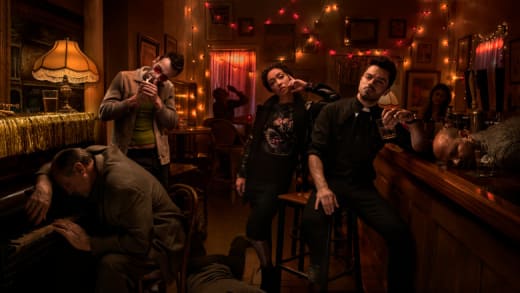 The whole reason Jesse is even returning to Angelville is to bring Tulip to the only person in the world who can save her. Grandma.
Grandma practices sourcery and can cast all kinds of spells. When Jesse was a child, Grandma brought his dead chicken back to life, so he knows it can be done.
The only question is, what will her payment be for this gift of life?
Related: Teaser Trailer for Season 3 Preacher
Whatever the price, we know Jesse will pay it, even if it's his very soul.
It's not like he hasn't given his soul before!
Before he can get to Grandma, though, he has to go through Jody, her right hand man. Jody is Grandma's muscle and isn't afraid to bust some heads.
It looks like when Jesse left Angelville, he also left some bad blood between him and Jody. Is Jody the forgiving type? 
We'll find out.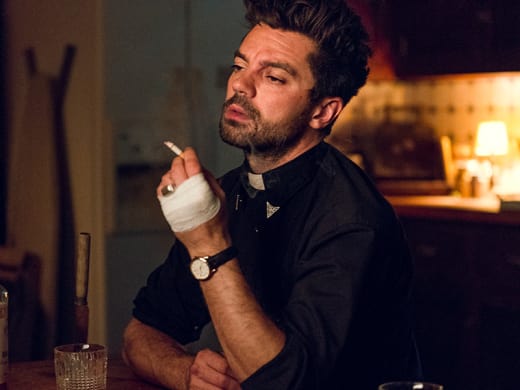 Then we have TC, who also works for Grandma. He's too tiny to be the muscle for her, so he does all of her other dirty work around town.
Jesse would walk through the fires of hell itself, if it meant Tulip could live again.
Even if that means a tense reunion with this extremely dysfunctional family he thought he left behind for good.
Related: Preacher Season 3: Jesse's Powerless, Tulip's Dead and The Group Heads To Angelville
Proof that you can never escape your past, no matter how hard you try.
Right, Jesse?
Check out this behind the scenes trailer where we get to meet the new players in the God game and get a peek at Jesse's past.
Need to catch up on Preacher? You should! You can watch Preacher online, here at TV Fanatic.