The game is getting more dangerous by the day. 
On Pretty Little Liars Season 7 Episode 8, it will become clearer than ever to the liars that A.D means business. 
After the big threat to stop looking for their tormentor, the liars are forced to think about whether they should really stop searching. 
This paves the way for the return of Miss. Grunwald, who stops by from Ravenswood to let the liars know they are in a lot of danger. 
Hanna and Miss. Grunwald bump into Noel Kahn at The Radley and it becomes clear that Noel is for sure one of their tormentors. 
He taunts Hanna and it leads to an intense confrontation. 
Will said confrontation lead to Caleb in trouble?
It sure looks that way. 
It could all be some nifty editing on Freeform's part, but it looks like Noel Kahn tries to run Hanna over, but Caleb ends up in the way and he's the one to be run down.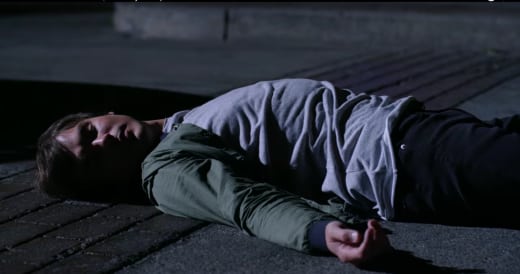 The Pretty Little Liars promos in the past have been known to be very misleading, so there's every reason to believe that this could all be some sort of dream sequence. 
Elsewhere, Alison is doing some sleuthing of her own and it leads her to being tormented by the their stalker. 
She's no doubt confused at learning she has a new cousin, who just might be out to kill her and her friends. 
She also needs to get to the root cause of how her mother ended up murdered. 
Will she get the answers she wants before it's too late?
Also, Ezra reels in the aftermath of learning that Nicole could still be alive, but what does it mean for his relationship with Aria?
Will they continue their silly plan to elope, or will they stick around Rosewood to find out how everything plays out?
We'll need to tune in to find out how it all plays out!
Remember you can watch Pretty Little Liars online right here on TV Fanatic. Get caught up now!
What do you think about this latest preview?
Could Caleb be dead?
Hit the comments!
Note: Pretty Little Liars Season 7 Episode 8 airs Tuesday August 16 on Freeform
Show:

Tag:

Episode:

Related Videos:

Related Posts:

Uploaded by:

Uploaded:

Duration: