Pretty Little Liars Season 7 Episode 8 Review: Exes and OMGs
Paul Dailly at . Updated at .
Are y'all pretty worried for Hanna Marin right about now?
On Pretty Little Liars Season 7 Episode 8, Mrs. Grunwald popped back up in Rosewood after Hanna had an alarming dream in which Noel may have murdered Caleb. 
It was bizarre to say the least, but it made for an exciting hour of this Freeform drama. Hanna has been trying to process what happened to her on Pretty Little Liars Season 7 Episode 1, but she's really struggling.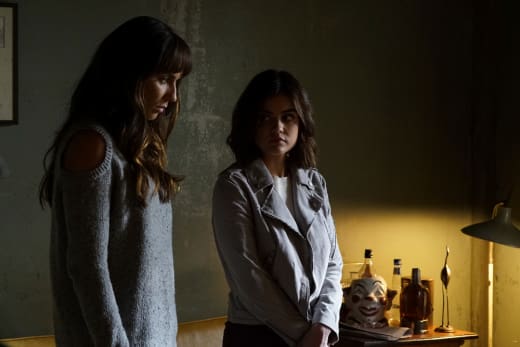 She went to her friends in order for them to support her, but it seemed like she was a last thought for them. Each one of the girls have a lot going on right now, but still, Hanna needed them to believe her on this. 
Granted, her claims sounded pretty ludicrous and all, but she probably never thought she'd be sidelined by her gal pals in a million years. 
Her decision to go rogue paved the way for some great character development. She's absolutely terrified at the thought of any of her close friends and family being hurt at the hands of A.D, or whatever the heck you want to call the latest villain. 
Hanna saying goodbye to Caleb meant she knew there was a chance she wouldn't meet him again. She didn't want to go out of that scenario without letting him know how much he meant to her. 
It's not every day you go hunting for a villain that seems to be everywhere at once. Mrs. Grunwald was the one who tipped Hanna over the edge, but it was needed in order for Hanna to take action. For far too long, these girls haven't taken the threats seriously, but with more lives on the line than ever before, it was time to step up or just give up. 
The news that Noel has a past of harming women pretty much confirmed what we all thought about him being the worst type of person. Whatever he's up to, it's going to be something pretty grim. 
It would be far too easy to rule him the one who roughed up Dr. Cochrane's office. I can't be the only one who would be ecstatic to high five the real person who did the deed. 
In the past, the show would have thrown a multitude of filler until the gals found another way around it, but the Doctor was scared enough to give out her father's location. 
Her father didn't reveal much, but his scenes were pretty awkward. Spencer's zinger at him when he was being vulgar took the words right out of my mouth. 
Hey, curb the perve, or the bottle walks.

Spencer
At least we now have confirmation that Mary's other child made it out of Radley alive, but could it really have gone to one of the liar's parents? It would be a head spinning twist, but would the show go that far?
The Aria Drake theory seems to be gathering steam, but I'm getting the feeling this mysterious child could be Jenna. Something just doesn't add up with why she was back on the show this season. That would mean she's served some sort of purpose. 
There's also a strong possibility it could be Spencer. Why else would she be rifling through a family photo album? Spencer's life would literally be turned upside down fi she was the adopted child, but she's never really felt like part of her family. 
"Exes and OMGs" was a crazy episode. The stage is set for a solid conclusion to this half of the season, but who won't make it out alive?
Other tidbits from the episode:
Alison's students are pretty horrible. I can't believe every single one of them had 'A' hoodies. Why didn't she refuse to teach them?
'A's not for Alison' in Noel's file was hilarious. 
The return of Paige fell flat. She was a great character at one point, but Emily's matured in her absence, and her relationship with Sabrina is going well. 
Aria accidentally revealing her secret to Ezra was predictable, but it gave us a lot of crazy drama. Wouldn't it be great if there was a live stream to somehow watch the search for Nicole? We need to know what happens. 
Aria getting Ezra the flight ticket was a nice touch, but does she realize she sent her fiancè back to his ex?
What did you think of the episode?
Hit the comments below!
Remember you can watch Pretty Little Liars online right here on TV Fanatic. Get caught up now!
Note: Pretty Little Liars Season 7 Episode 9 airs Tuesday August 23 at 8/7C on Freeform.
Here's your first look at the episode:
Paul Dailly is the Associate Editor for TV Fanatic. Follow him on Twitter.