The Mist Promo: The Mist Takes Form - What is Out There?!
Carissa Pavlica at .
With every trailer released, the upcoming Spike reimagination of Stephen King's The Mist gets more exciting.
In the latest, we get our first peek at what's "Out there."
And if the itty bits of nature taking over – you know, the creepy crawlies that descend on behalf of what's in the mist, aren't enough to make your skin crawl – trying to guess what's really behind the evil in the mist might.
And how Eve's daughter, Alex, fits into the puzzle.
Because guess who can walk into the mist and return unscathed. That's right! Alex. 
She obviously has a connection to the mist that we're doing to discover once we watch. Let's hope it's not like the connection between Red and Liz on The Blacklist, or we'll be in the dark...err...mist a very long time scratching our heads.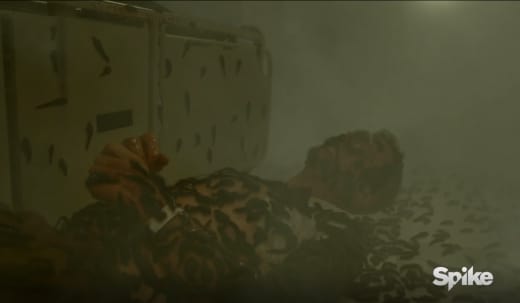 The body count increases in this promo, and it's not hard to imagine the town will be down to very few in only a short time. 
There isn't word this is a one-season limited series, so I hope we're lucky enough to see some survivors as the mist rolls out and new occupants come in for a second go around for Season 2, you know?!
Start putting together theories on what secret could be linking Alex and the mist.
Who cares if we know nothing at this point. Speculation is always the most fun we have all summer, right?
Get ready, because The Mist premieres on Spike Thursday, June 22!