The Resident Promo: Everyone, to Your Corners!

Jasmine Blu at .
On an all-new The Resident, some of Chastain's best are clashing with one another, and others are getting a little too close with each other. 
The Resident Season 2 Episode 3 may give Resident Fanatics that Marshall vs. Bell showdown that they have been waiting on for a while. 
It's no secret that the two men don't see eye-to-eye. So far, Marshall has been playing the middleman and trying to mediate between Conrad and Bell.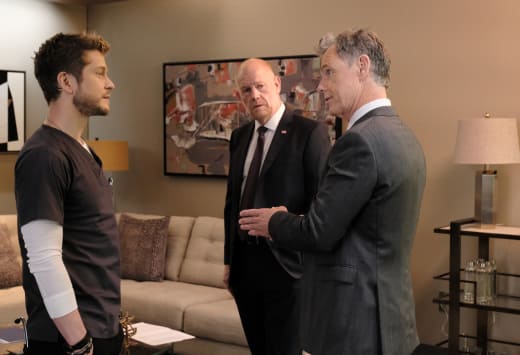 The tides may be turning because he doesn't hesitate to put Bell in his place during the promo. He taunts the man a little by telling him that he should leave the business to the big boys. 
Well, alright then, Marshall! 
Marshall can also be seen sharing a few brief words with Conrad.
Related: The Resident Season 2 Episode 2 Review: The Prince & the Pauper
The two of them have barely reconnected on a personal level since Marshall took over the board, but it doesn't stop Marshall from telling Conrad that they're similar. Those are probably not the words Conrad wants to hear given how much he resents his father. 
The head honchos aren't the only ones battling it out. CoNic will be butting heads, too.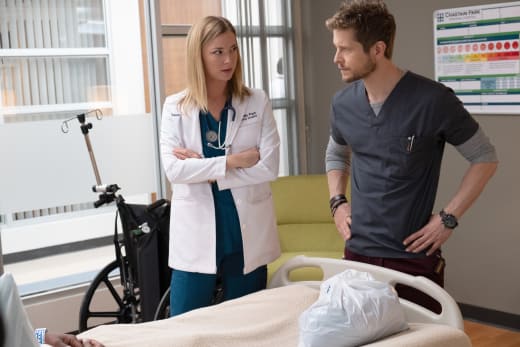 Conrad wants Nic to believe in him. So far, he's committed to their second chance at a relationship and is open to doing the emotional work. 
Nic, however, is taking issue with Conrad going rogue in the ER again. It's so quintessentially Conrad that one has to wonder what could possibly send her over the edge after all they've been through. 
Related: Get True Crime Files by ID via Prime Video Channels for Over 1,000 Real-life Mystery & Suspense Shows!
Julian will undoubtedly continue to elicit mixed feelings from fans because now you can see her and Devon getting a little too close and friendly. What reason could they possibly have for slow-dancing with one another at work? 
Maybe we can't jump to conclusions. What if it's perfectly innocent and tied into Devon's impending wedding? Setting aside the chemistry he and Julian had, of course. 
If you need to catch up on an amazing second season so far, you can watch The Resident online here via TV Fanatic! 
Check out the promo below, and hit the comments with your thoughts!