Two Episodes Scheduled to Air Tonight
by Steve Marsi at .

Seriously?
Seriously.
The Insider would not lie to you... and neither would ABC or our local TV listings. A pair of Grey's Anatomy episodes from Season One -- "Shake Your Groove Thing" and "If Tomorrow Never Comes" -- are being shown tonight, at 8 p.m. and 9 p.m. EDT. Be sure to check these episodes out, if you are new to the show, or if you just want to re-live the early days.
We've compiled a list of quotes from "Groove" and "Tomorrow" for your enjoyment as well. As usual, there are no shortage of memorable lines.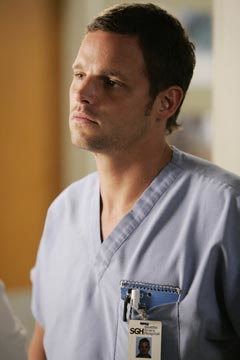 "Responsibility. It really does suck." -- Meredith

"We are workaholics with God complexes." -- Cristina

"Want to grab a drink and hear about my secret pain?" -- Alex

Quality stuff. Please see our comprehensive list of quotes for each episode if you are looking for a good laugh, or wondering what the heck a character said during that scene. You can also share your thoughts with fellow Grey worshippers in our

Steve Marsi is the Managing Editor of TV Fanatic. Follow him on Google+ or email him here.

Tags: Grey's Anatomy
Related Stories