Taylor Hicks' New Album: Insight From the Man Himself
by Matt Richenthal at .
We've got the scoop on Taylor Hicks' highly-anticipated debut album, with quotes from the man himself. Courtesy of a Taylor Hicks fan site -- cleverly and fittingly titled Gray Charles -- this is the latest on his record. Below, the Soul Patrol king dishes on what he can expect from him in the coming months, and what he's been up to lately...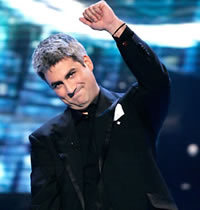 ~~~~~~~~~~~~~~~~~~~~~~~

On his progress and the album's sound:

"Everything is happening -- we're really moving forward with the album. I think that after today we'll have nine songs that the band has laid down. We're recording drums, keyboards, guitar and bass live -- the foundation for the song. I'll do the vocal overdubs later but I'm in there singing my ass off -- old school style with energy."

On the overall feeling about this record [due out November 14] now that he's really had the chance to sink his teeth into it for awhile:

"This record definitely grooves, it's a groovy ass record. The thread running through the whole thing is that it grooves. It's pretty cool man, the more I hear the songs the more I think 'It's a Groove Thing', but I'm conscious that I want to make it radio friendly at the same time. I've taken the whole idea of my sound, what made me 'me' and pushed it towards the groove end of things while always thinking about being radio friendly. I'm spending 8-9 hours a day in the studio."

On performing his new tracks in concert:

"This stuff is gonna be great fun to play live and I've got my hands in all of it. I'm listening to the mix, putting my opinions in -- it's a great give and take. The whole thing is gonna sound like what a Booker T and the MG's record would sound like it it were made in 2007. For example, I've taken a couple of my songs and completely grooved them out. The spin that I had before doesn't compare to what the sound is today. I should have grooved them out in the beginning, the songs were always leaning that way so really I'm just pushing them in the direction they want to go."

On how he spends his down time:

"Normal stuff, going to the cleaners, trying to get outside a bit. Honestly, I don't think I'm completely rested from the tour yet. As soon as I got back from my little vacation I was in the rehearsal studio the next morning then I did a private function the next day. Usually, you'd get more than five days off after a three month tour. Hey, I'm not complaining I'm just trying to get my feet back under me as much as I can and get acclimated to West Coast time after spending the last part of the American Idol tour on the east coast."

Closing words of wisdom:

"Everything's cool man, it's all cool."

Matt Richenthal is the Editor in Chief of TV Fanatic. Follow him on Twitter and on Google+.

Tags: American Idol
From Around the Web