Katharine McPhee isn't in Kansas anymore - or, to be more precise, she isn't singing the beloved tune, "Somewhere Over the Rainbow," anymore.
It's part of an image makeover the American Idol runner-up is excited about.
"It's a really great thing," McPhee told MTV.com. "Love that song, it's been a great run, but it's time to put it down."
In fact, when McPhee's record label announced plans to include her signature song from Idol on her upcoming debut album, the singer replied in the negative, saying it didn't fit in with the album.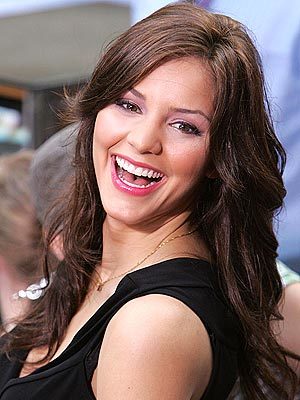 During her run, critics implied McPhee's greatest downfall was overconfidence, but her strong sense of self is also her greatest strength, as the 22-year-old Los Angeles native sets out to transition that fame into a career.

"The one thing you learn about American Idol is that you have to be really tough," McPhee said. "You learn how to be a powerful businesswoman right away, and I have gotten really strong about what I want and what I don't. And, for me, it's fun because it's me against all the guys."

What McPhee doesn't want is to be rushed. While debut Idol albums are typically released at the end of the same year as the finalists' season and subsequent tour, she's been vocal about pushing her LP to 2007.

The release date for Katharine's debut looks to be January 30.

"The most important thing is making it the record that is really me," McPhee said. "I think people didn't know what I was going to be. Was I going to be the Celine Dion, the Barbra [Streisand] or the Pussycat Dolls?"

McPhee insisted she's the same "classy Katharine" she was on Idol, but called the new tunes a sort of combination of the three.

"With everything I had to deal with [during the tour] with my voice being down, a broken foot and all of that stuff, it was nice to take time to really think about what I wanted to do," she said. "I was getting submitted a lot of songs that just weren't right and I didn't think I could make them mine, so it's been taking a little bit more time.

So now we've been building the songs like how you would if you were making a record if you weren't on 'Idol' and you would take five months. It's been a cool creative experience for me. I'm really a songwriter and I'm learning from the best people in the business."

Those people include Babyface and songwriter Kara DioGuardi (

Kelly Clarkson

, Hilary Duff), as well as less predictable names such as Chad Hugo of the Neptunes and Timbaland's production partner, Nate "Danjahandz" Hills, who worked on Justin Timberlake's "My Love" and Nelly Furtado's "Promiscuous."

"I don't know if we have the actual club record yet, but we definitely have some stuff you can dance to and I can move my booty to just a little bit," McPhee said. "I went to Boston Conservatory for musical theater and I was buddies with all the guys across the street at Berklee College of Music, and they were all the beat guys — they played the keys and that was the stuff I improvised with.

"If people are surprised with the sound that I come out with, it's because they get to see a side that already existed but wasn't really shown as much because I was always so nervous on Idol, " she continued. "But yeah, I think it's a little more edgy, a little more current.

As Simon Cowell said in the first audition, 'You're very current.' "

Don't worry, fans, McPhee's confidence won't carry over into a Kanye West-like media campaign.

"I just try to keep things in perspective," she said. "If I don't have a hit record then I'll try the record thing again and try the movie thing. And then [if those don't work] I'll just get knocked up and be a happy married woman."

Matt Richenthal is the Editor in Chief of TV Fanatic. Follow him on Twitter and on Google+.

Tags: American Idol