While Amerian Idol judges have been a bit overly harsh this season, there's another group of people who, perhaps, deserve even more of our collective criticism than the judges. FOX News is talking about the parents in this commentary.
Sometimes, the disturbing parenting is obvious, like when a concerned-seeming mom is comforting her completely tone-deaf child by saying they should go home right away and start practicing for next year.
But other times, the signs of slightly off parenting are more difficult to spot.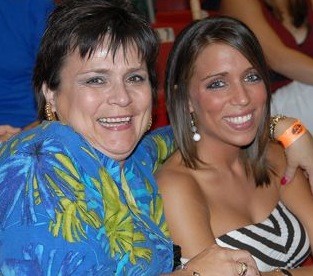 In the case of Nichole - a 17-year-old accompanied by a group of people wearing bright pink "Team Nichole" T-shirts during last night's

American Idol auditions

in Birmingham - it seemed like the family was really supportive at first.

After all, who but a blindingly proud parent would wear such a heinously misguided shirt?

But then Nichole confessed that her mom essentially thinks she's talentless. And when the girl was dismissed by the judges, her mom stopped comforting her to ask whether or not she actually did her best.

Your kid has just been "Simonized" and you're on national television wearing a T-shirt that's meant to show how supportive you are. Is that really the question you want to ask?

Then there was Tatiana McConnico, another 17-year-old girl who was about as adorable and self-aware as they come and happened to actually have an outstanding voice.

When she returned from the audition room - triumphant, clutching the golden ticket and surrendering to the familial hugs - you can hear her mom say: "We made it."

Look, we know the girl is 17 and that her mom was probably incredibly proud. But we? Um, Mom, we didn't see you in there when Tatiana was putting Aretha to shame.

Of course, the same can't be said for Victoria's mom, who stood ramrod straight in the audition room, proudly listening to her girl sing Josh Groban with all the pizzazz of an agoraphobic high schooler trying out for a church choir.

And while the mom in this case didn't do anything overtly creepy on camera, influencing your daughter to never cut her hair has got to be considered a crime in some parenting circles.

Finally, there was Jamie Lynn — aka Kellie Pickler 2007 — who sang sweetly and, in just as sugary tones, explained to the judges that her dad was paralyzed because he shot his ex-wife and then himself.

We know that one of the people hearing this story is Paula, so rational behavior isn't going to prevail, but this is essentially handled like it's a precious little tale of a pretty daughter hoping to pull the family up by its bootstraps by singing her way to American Idol fame — and that's just plain weird.

Matt Richenthal is the Editor in Chief of TV Fanatic. Follow him on Twitter and on Google+.

Tags: American Idol