The following is taken from an article in The Courier-Post:
The guys of American Idol approached the stage for their first live performance Feb. 20, knowing all eyes were on them. It is up to America to decide now.
The final 12 men chosen by the judges last week each performed one song of their choice while judges Randy Jackson, Paula Abdul and Simon Cowell took the roles of back-seat drivers. After each performance, America called or text-messaged their votes.
So, how did the singers do for their first time?
"The first live performance by the top 12 guys was just OK," said Rhonda Schaffer, 45, of Marlton. "Interestingly enough, not many stood out from the others."
Maybe it was the pressure.
"It's rough being the opening of the show and the season," said Lorena Melcher, 45, of Somerdale, "but none of the first four singers were that exciting."
Still, some seemed to make the best of the night and attracted the attention of the South Jersey American Idol devotees.
"Phil Stacey, whose wife just gave birth to their second daughter the day of his original audition, performed last and was tops," said Schaffer of the man pictured here. "He'll go far in this competition based on that performance."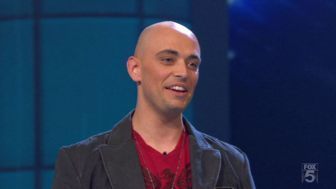 Said Michelle Costello, 53, of Williamstown, "My favorites to go far in this competition are

Chris Sligh

and Blake Lewis. They have a great stage presence."

However, the judges could only agree on one favorite.

"Only one singer got the satisfaction of getting the approval of all three judges and that was Blake Lewis," said Tabitha Dupree, 28, of Lindenwold. "He got the title from Simon for being the best performance of the night."

While most of the guys seemed to have failed in this round, a couple of contestants made an impression.

"Chris Richardson, whom the judges compared to Justin Timberlake, had a great song choice and performed it well," said Schaffer.

Added Melcher, "Chris Sligh's performance was pretty good, but I think he went overboard with his zing to Simon about Il Divo and Teletubbies. Simon is paid to be the nasty one. He's usually right on with what he says and if he needs to revise his opinion he states it, as he did with AJ Tabaldo, when he said he might be better than he originally thought."

The girls of American Idol may not have had a hard act to follow, but still gave their first live performance their best.

Garden State Idol fans are looking forward to see how far Antonella Barba of Point Pleasant will go as more contestants are voted off the show, and how she keeps her composure following the media buzz about risque photos of her that surfaced last week.

Meanwhile, the judges thought the girls posed as a threat to the guys. Some fans thought so, too.

"The girls were amazing," said Schaffer. "I couldn't believe the talent of these 12 women."

Some shown brighter than others.

"Sabrina Sloan took command of the stage and showcased her talent," said Melcher. "She showed America she wanted to win."

To read the rest of the article, click here.

Matt Richenthal is the Editor in Chief of TV Fanatic. Follow him on Twitter and on Google+.

Tags: American Idol