American Idol Reject, Grammy Singer: What's Next for Robyn Troup?
by Matt Richenthal at .
When MTV News interviewed Robyn Troup backstage at the Grammys, she had been a celebrity for about 45 minutes. And yet she skirted questions like a seasoned veteran.
After American Idol co-executive producer Nigel Lythgoe revealed a few days earlier that one of the three "My Grammy Moment" finalists had made it to the Hollywood round on the show's sixth season, Troup was asked if she ever had Idol aspirations.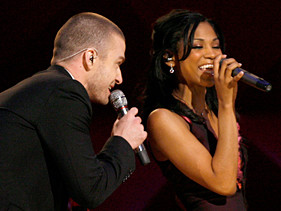 "No, not really," she replied after winning a performance with

Justin Timberlake

and T.I. on the Grammy stage. "I really didn't know what this was when I got involved in it, but I'm glad that I did and I think it's a lot different from

American Idol

in a way, 'cause it's one time. You're not on this show for, like, three months and everybody's getting to see you over and over and over again. It's just like, that's your moment. Take it."

As any of the 30 million or so Americans who watched Idol on Tuesday know, Troup was in fact on the show and was eliminated after her group song with early standout Sundance Head. Troup legally had to keep quiet Sunday because the episode had yet to air.

Still, she showed her dodging prowess again when asked if she already has representation to field the calls she was likely to get after her performance with Timberlake aired.

"Um, you know, I'm just going with the flow right now," she said.

So what is Troup's next step?

"Just bigger and better things," she said vaguely.

To read the entire article, click here.

Matt Richenthal is the Editor in Chief of TV Fanatic. Follow him on Twitter and on Google+.

Tags: American Idol
From Around the Web