What do TV Guide's American Idol experts have to say this week? Let's find out ...
TVGuide.com: Did you happen to catch this weekend's Saturday Night Live? They had "Sanjaya Malakar" interrupt Weekend Update singing "You Really Got Me," then cut to a crying girl in the audience, and then a crying Fred Armisen, and then a crying Dan Aykroyd.
Rosanna Tavarez: [Laughs] Oh, my god... brilliant!
TVGuide.com: Was it me, or was last week the most enjoyable performance show of the season to date? The '60s pop theme really suited a lot of people.
Kimberly Caldwell: Yes! Everybody who seemed to be having trouble stepping up really rose to the occasion, and the contestants who have consistently given stellar performances wowed us once again.
Rosanna: Everyone just really embraced it. I feel that had to do with the guest artists, Peter Noone and Lulu. They were very inspiring and full of energy, and I think that influences what the contestants do with the songs. And then the songs are from the '60s and pop-py.... I loved it.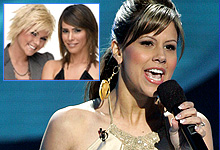 TVGuide.com:

What was the biggest mistake made by

Stephanie Edwards

?

Kimberly:

I think it was song selection, song selection, song selection. Her voice is obviously amazing, but I really enjoyed Stephanie when she did more upbeat numbers.

Rosanna

: What I noticed from the beginning was that her voice sounded "tired." I think that's why she wasn't as good as she could have been. I don't think it was song choice, it was that she had a lot less control and power, so it sounded warbly in places. I think her voice was shot.

TVGuide.com: I was wondering about that. The finalists who aren't trained backup singers or who don't sing this frequently, are their voices subject to wear-and-tear at this point, several weeks in?
Rosanna: Yes, you do build stamina when you sing more often. At the same time, professional singers lose their voice more than people realize. Christina Aguilera has had to cancel shows, Bono has had laryngitis several times on tour.... It is very common to exhaust yourself when you're singing that much. And in real life, you don 't always sing every song live! [Laughs] Eden's Crush [Rosanna's Pop Stars group] was never able to do this and we had to sing everything live. But the bigger you are the more you have these vocals in the stadium, so it sounds like you're singing live....

TVGuide.com: How is it that Chris Richardson landed in the bottom two? I'd say that was a bigger shock than Stephanie being there.
Kimberly: This happens every year. Someone delivers a killer performance and their fans presume that they're safe for that week and don't burn up the phone lines voting. I bet he'll be safe this week.
Rosanna: Chris has a style obviously reminiscent of Justin Timberlake and he did really well last week, but he lacks a little bit of charisma. Other than his singing and his performance, what can we say about Chris as a person? That he smirks a lot? I think there's a "politician" side to American Idol where they all find their niche and then they campaign with that. Chris needs to finds his "Fro Patrol," something like that.

TVGuide.com: Who would you give the award to for "Most Improved of Last Week"?
Rosanna: Haley Scarnato (pictured above right). Thank goodness, too. Haley seemed like she was finally having some fun, she looked her age.... Before, she was always wearing these formal outfits and singing some off-Broadway-style tune. This week she was cute, she should wear shorts all the time, that girl has a pair of gams on her and was working it. Not to perpetuate sexualizing yourself, but she looked cute. Just enough flesh. Those shorts were really doing her some service — as Simon noticed.
Kimberly: I don't know about "improved," but who was I most impressed with? Blake Lewis, without a doubt. He's gone this far without overdoing the beatboxing and just giving us a little taste or his original style, but now that we know that he's a great vocalist, we get to see all of the perks that are Blake — dancing, beatboxing, stage presence... His just being different than anyone else who's ever been on Idol.

TVGuide.com: I don't care what Simon said about Jordin Sparks, her performance gave me chills, she sang her song that well.
Rosanna: He said he wanted to jump off a bridge, but the song is somber. She did a a great job because she embodied it. Jordin is one of the stronger contestants for sure. I get chills every time I watch her.
Kimberly: I really agree with Paula Abdul on this one — 17 or 75, she's amazing for any age. I know I'm not supposed to say I have favorites, but... oops, I just did.

TVGuide.com: Any predictions for the week ahead? Will Gwen Stefani coach the kids in yodeling?
Kimberly: I sure hope not! But she's my fave! Can't wait to see her!
Rosanna: I'm actually going to talk to the producers and have them plant me in the audience so that I can be like ["crying girl"] Ashley Ferl, watching Gwen Stefani. Because I love her. I love her. And I love The Sound of Music, so when that song of hers comes on, I'm like, "Wind it up!" I'm constantly singing "Wind It Up."

Matt Richenthal is the Editor in Chief of TV Fanatic. Follow him on Twitter and on Google+.

Tags: American Idol