Thanks again to TV Guide for the following review/preview of American Idol. Let's read this week's entry ...
TVGuide.com: In last week's chat, Rosanna predicted that Chris Sligh would face an obstacle with the Diana Ross theme, and sure enough....
Rosanna Tavarez: Mm-hmmm! [With false bravado] I'm telling you, I'm an expert!
Kimberly Caldwell: I think he faced an obstacle, but I definitely don't think he was the worst by any means. The reason he got into the competition and the reason he got into the top 12 is because he is so unique. But for him to just take a song and just sing it and do a weird arrangement, and with the whole wardrobe and losing the glasses... I think people were disappointed because they hadn't seen such a different side of Chris.
TVGuide.com: If rendering "Endless Love" unrecognizable wasn't the worst affront to Ms. Ross, what was?
Rosanna: Oh, lord... I'm not going to answer that. I'm trying to be nicer this week!
Kimberly: I will say that while everybody thinks that Sanjaya Malakar should go home, at the same time I feel like everybody is being harsh on him. He actually upped his game and gave one of his best performances.
TVGuide.com: Kimberly, you spoke to Sanjaya at the top-12 party. Is he feeling beat up on?
Kimberly: No, he's fine, actually. I thought that he was going to be upset or in tears or whatever, and he was totally fine. Maybe he doesn't equal up to everybody else, but that's not his fault. America's the one that put him in the top 12, and now America's mad.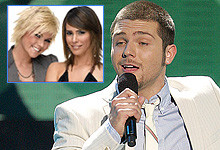 TVGuide.com

: The judges will say on the one hand, "Own your own spin on the song," but then last week they'll say, "Dawg, let the classics be the classics." How are the singers supposed to reconcile such conflicting advice?

Rosanna

: I was thinking precisely the same thing, because they also say things like, "Challenge yourself" and "Do a big song," and then if you do Mariah or Whitney and you don't do it as well, they'll make sure we all know. I say just go for it. Chris Sligh stumbled, but at least he attempted to do something original. I almost prefer that he took the risk.

Kimberly

: It's a really difficult call. If you really do believe in putting in a different arrangement, if you really think it will show who you are, then I say go for it. A lot of times

Chris Daughtry

changed up the classics, and they wound up being amazing. But at the same time, if you do it wrong you're ruining the song instead of giving it your own life.

TVGuide.com: The judges came down kind of hard on your boy Chris Richardson, Kimberly. What did you think of his performance?
Kimberly: At this point I don't think that anybody's safe, so I think he needs to really, really, really start showing off his vocal ability more. I think he's better than what he has shown.

TVGuide.com: This week, the theme is the 1960s' British pop invasion, with Lulu and Peter Noone mentoring the singers. Who might have the biggest trouble with that? Is this the week LaKisha and Melinda stumble?
Kimberly: If by British pop you mean Spice Girls, then I guess everybody's screwed! [Laughs] I think that LaKisha Jones may run into her first obstacle. Do I think that she will blow it? Hell, no. She's going to be amazing, but it will be a challenge for her.
Rosanna: I'll tell you why those two won't stumble: There's this incredible singer named Amy Winehouse, and she has a completely soulful voice in that same category, and all of her music is of that genre — '60s Motown, and '60s pop kind of borrowed from Motown. I don't think they're going to stumble at all.

TVGuide.com: Brandon Rogers explained that he forgot the words because he was simply having "too good a time" out there. How easy is it to forget the words like he or Haley did?
Kimberly: It's really easy. But how you handle it is what really matters. It isn't about, "Oh, my god, I forgot a couple of the words," it's about how you recover and if the audience can't tell you forgot the words. I remember Clay Aiken forgot the words during my season [of Idol], and that was during the top four or five.

It's not like, "You're a bad singer and can't be the next American Idol," it's just that Haley and Brandon, both of their faces just went blank. You could tell they were hunting for the words. Do a crazy dance or start doing runs, but don't let the audience know that you forgot.

TVGuide.com: Any other predictions about this week? Do you think we will we lose another guy before we stop chipping away at the girls?
Kimberly: I do. I think there might be another guy to go first. Do I think it will be Sanjaya? Probably not. But yeah, probably one of the guys is going to go.
Rosanna: If Haley doesn't wow us this week, it may be her [leaving]. She forgot more words than Brandon did!

Matt Richenthal is the Editor in Chief of TV Fanatic. Follow him on Twitter and on Google+.

Tags: American Idol