Thanks to People magazine for this report on last night's American Idol ...
Everybody Loves Ellen: Ellen DeGeneres, who cohosted Wednesday's Idol Gives Back from L.A.'s Disney Concert Hall, came out to greet the crowd before the show and show off some of her signature dance moves as she shook her hips and did some tricks for the roaring audience. The talk-show host got a standing ovation and the audience chanted her name – "Ellen, you rock!" screamed one fan – before DeGeneres introduced R&B supergroup Earth, Wind & Fire to kick off the night.
Heart-y Support: As the Idol Top 6 walked to the center of the stage for the show's opening, Jordin Sparks scanned the crowd to find her family. Dad Philippi caught his daughter's eye and held up his hands in the shape of a heart. She smiled and winked at her proud papa.
Life Is Beautiful: An audience member had the opportunity to ask Simon Cowell how his trip to Africa affected him and he sincerely replied, "You don't feel sorry for yourself anymore." The audience responded with polite applause.

Tearful Moment: After Josh Groban performed an emotional rendition of "You Raise Me Up" with the The African Children's Choir, they got a two-minute-long standing ovation from the crowd at the Disney Concert Hall. And over at the Idol studio, the Top 6 were equally emotional about the tender song: When the show went to commercial, Jordin buried her head into her hands and turned away from the audience as she tried to regain her composure while LaKisha Jones rubbed her back.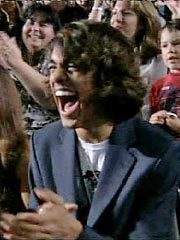 Chris Richardson

was also in tears and quickly left the stage to pull himself together. Upon his return, Melinda Doolittle embraced him and patted him on the back.

Thumbs Down, Thumbs Up: For a crowd who had been anticipating surprise duet, there was an audible letdown when it was Celine Dion and Elvis Presley, who made a "guest appearance" next to her in the form of a 1968 performance. There were grumblings and light boos from the audience, who talked amongst themselves during the performance. Much more well-received was Annie Lennox's show-stopping closing performance of Simon & Garfunkel's "Bridge Over Troubled Water." While Lennox sat down at her piano to prepare for her song, an excited DeGeneres came over to greet and hug the British singer.

All Hail Sanjaya! Only a week after being ousted from Idol, Sanjaya Malakar returned to the Idol studio as an audience member and was the talk of the night. After Jack Black's performance of Seal's "Kissed From a Rose," and Simon snarked that the funnyman sang it "worse than Sanjaya," producer Debbie McVickers asked the 17-year-old during the commercial how he liked being teased.

The smiley Seattle native's response? "I liked it!" During the next break, Simon summoned Sanjaya to the judges' table, where the he was greeted warmly with hugs from him, Paula Abdul and Randy Jackson. Later in the night, during another break, Sanjaya reunited with the Top 6 contestants on the stage. They all embraced him, especially an excited Phil Stacey, who picked him up and swung him around before putting him back on his own two feet.

Matt Richenthal is the Editor in Chief of TV Fanatic. Follow him on Twitter and on Google+.

Tags: American Idol