Editorial Points to Jordin Sparks as Adding... Sparks
by Matt Richenthal at .
For quite some time this season it appeared as if American Idol had a serious problem on their hands.
While Sanjaya was a part of that problem he certainly wasn't the whole package. Rather it was the general lack of interesting contestants and distinctive voices that threatened to take the drama out of the competition. Early on there was the belief that it was a two way race between Melinda Doolittle and LaKisha Jones for the title.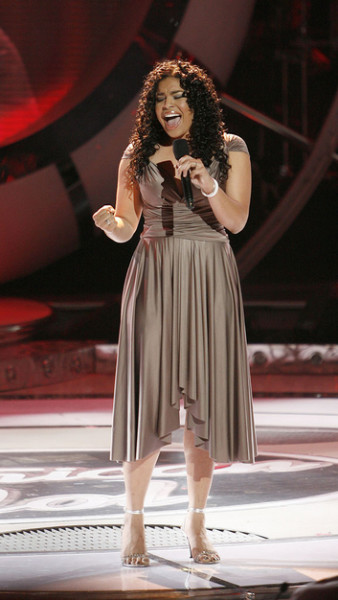 When LaKisha began to falter and strung together a few less than impressive performances, it seemed like the right thing for

American Idol

to do was just crown Melinda and call it a season. But as is often the case in life, when somebody stumbles there's usually somebody waiting to fill the void - and in LaKisha's place stepped

Jordin Sparks

.

Now things have gotten interesting. Perhaps Melinda peaked too early and won't be able to withstand the growing number of voters that have rallied behind the 17-year-old Sparks. One thing is for certain: Simon, Paula and Randy won't stop talking about the Jordin.

After Sparks sang "You'll Never Walk Alone" on Tuesday night's show, Randy called it one of the best vocals the show has ever heard, on any season. Paula threw her normal compliments in about how fantastic Sparks is and added her ritualistic fare of generalized superlatives that highlight nothing specific about a performer. Simon then noted that Jordin could take the 60-year-old song and turn it into a hit record.

While the praise and accolades are fresh for Sparks, the judges are running thin on new things to say about Melinda.

Of course, she has consistently been the best performer on Idol - but when a judge tells you that he has run out of good things to say it kind of hurts your appeal. Melinda truly did a great job with "There Will Come a Day" and Randy told her that she had arrived. Not sure what he meant being that Melinda had been the only one to show up for the past six weeks.

The other four performers are really just in it now. The only thing to determine is the order in which they go home. LaKisha has found herself in a bit of a free fall as of late and covering a song from a former Idol champ might not be the best way to stop the drop. She sang "I Believe" from Fantasia Barrino and just didn't present it in the same manner.

As for the guys, they're interchangeable. One week one is hot, the next week their in serious trouble. Blake Lewis opted to sing "Imagine" and delivered a flat performance. The power behind that song was that John Lennon actually believed what he was singing and lived accordingly, hearing it from a kid just doesn't carry the weight that Lennon projected.

Chris Richardson took on Eric Clapton's "Change the World" and did a fairly good job, but everybody knows he is more than capable of coming out in a week and bombing, so it's almost like you don't want to give him too much credit. All the judges enjoyed the performance, but don't expect Chris to be in the top three.

Phil Stacey is now realizing that he should have entered Country Idol rather than American Idol.

While it seems acceptable for the ladies to cross over from country to pop, it doesn't happen often with the guys. The list of women from Faith Hill to Shania Twain to Carrie Underwood proves the women can do it. Not exactly sure who Phil could follow. Kid Rock? Bon Jovi? Phil did get a positive response form the judges, but he is just in the wrong competition.

After finding herself in the bottom two last week, LaKisha could be in big trouble. Who would have imagined twelve weeks ago that of the top five contestants, three would be guys?

Matt Richenthal is the Editor in Chief of TV Fanatic. Follow him on Twitter and on Google+.

Tags: American Idol
From Around the Web